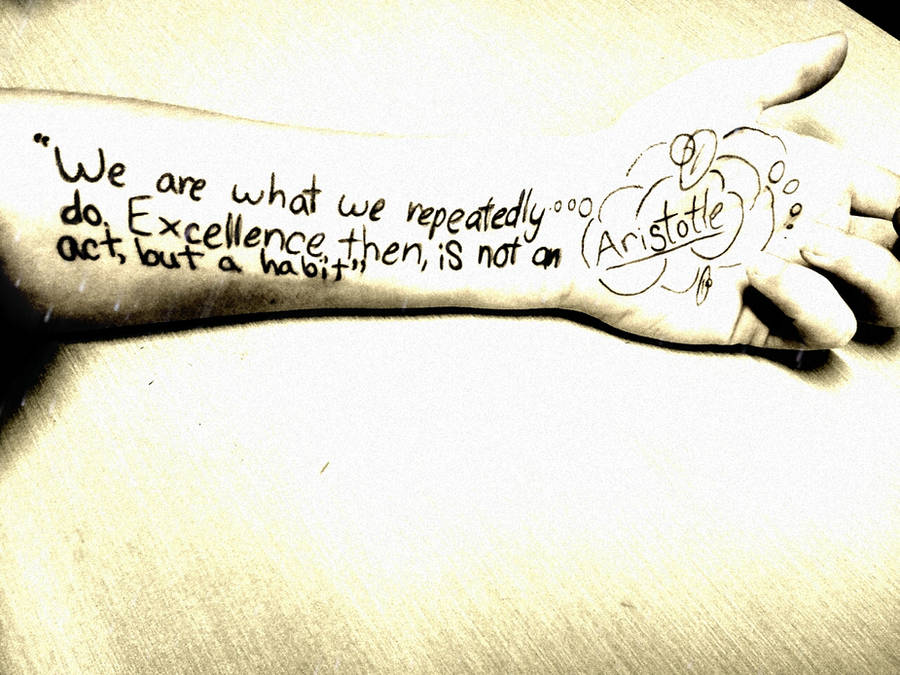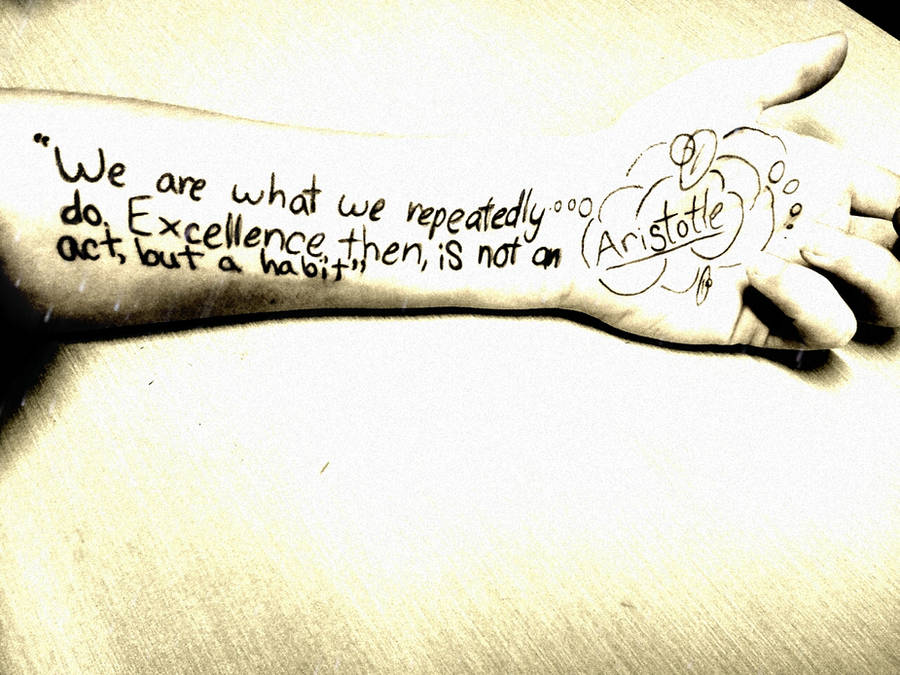 Watch
Photo was edited via Pixlr-o-matic (and if I botched that app name, I apologize profusely!). "We are what we repeatedly do. Excellence, then, is not an act, but a habit" - Aristotle.
This quote did a great many things for me today. It made me ponder the way I've dealt with certain situations (most notably procrastination) and it motivated me to do better - that is, until it was out of sight and out of mind. To keep myself motivated throughout the day, I wrote it on my arm. I did not procrastinate today!
So, for however long it takes me to break my terrible, unwanted habits, I'm going to write a quote like this on my arm. Something that I'll see and want to prove. Something that will make me feel wrong for not living up to its greater expectation.
Three

s in under a minute O.O Thanks guys!

This would make an amazing tattoo

Reply

Reply

This reminds me of my favorite quote by William Blake.
"To see the universe in a grain of sand and a heaven in a wild flower, hold infinity in the palm of your hand and eternity in an hour."
Reply

I like that quote, I don't believe I've heard it before.
Reply

Humans are great beings.
People who talk like we have de-evloved or are all robotic idiots piss me off.
Reply

Well. I think in some regards we have de-evolved, but that's because of the fact that those skills aren't necessary anymore and we've evolved in other areas. I mean, not speaking of every individual person but rather of humans as a species, going off the evolutionary perspective in psych, I think because of the way we as humans have lived the past few centuries, if we were thrust into a world where the most primal instincts were necessary as a means of survival, we would preeeetty much be goners. But we have evolved to where it suits us where we stand today. A general rule of life is trading skills. When you get better at one thing, you usually get worse at another simply because you cannot devote the same amount of time to it. Same goes for evolution, I'd say. Don't quote me

Reply

Exactly. I'm just talking about how there are people who assume that every other person is an idiot.
There are only a few things i can't tolerate and that's one of them.
Reply

i love it i think im gonna do something like this ^_^ i would like collaborate
Reply

Brilliant! We can work on our stuff together - pick something every Monday and Wednesday and share a good quote that would keep us to it (MW cuz we see e/o, but that doesn't mean we can't/shouldn't do it the other five days of the week

)
Heck, we could probably even turn it into a psych experiment and run it past Cassens, see if it's logical xD
Reply

where were you in psych today!!! hmmm *stamps foot*
Reply

Ach! Sorry, I was getting my keyboard from a friend's house and then by the time I got back class had started so I figured I'd just do some reaction papers xD (for once...)
Reply