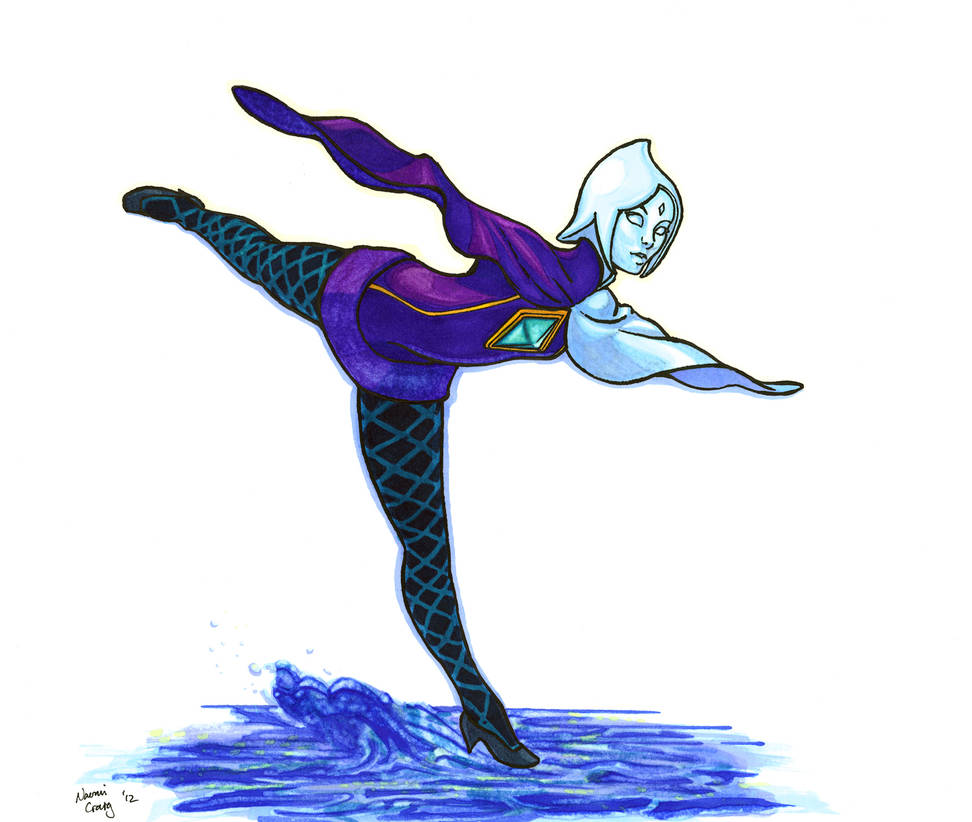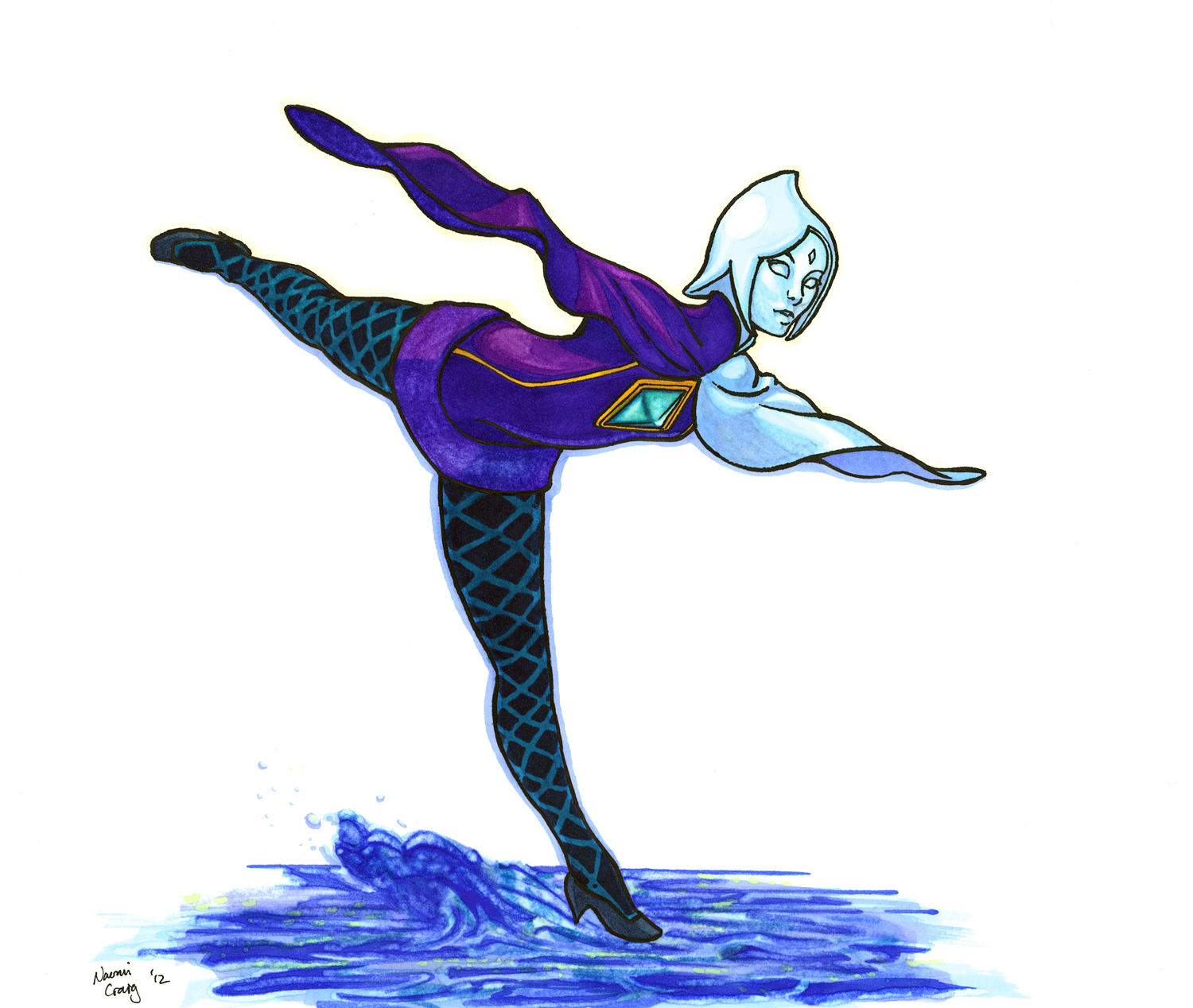 Watch
Brush Pen and Alcohol Markers (Spectrum Noir)

The Marker Madness continues with Fi. If you thought I was going to do a bunch of fanarts without doing one of Fi, well...you just don't know me very well.

I think this one went well (until I did the water, at least /sigh). Actually I am so happy with this one that I may not have it for sale at CTcon, as I am intending to do with these.

(Note: I am aware that ice skating is no longer judged on a 6-point scale. But I think the reference is clearer this way.)
Beautiful! Exquisite! Fantastic! Awesome! Cool! Great! Good! I personally like your art! You will make a great artist someday! I want too see more of your work in the future! Right now your art, almost made me want too get a turtle and hide in it`s shell! I can`t describe any other words, so just keep up the good work and you will do fine. But seriously I want too see more of your art work! Any who thanks for sharing your art with me and the rest of deviant art and I hope you have a fantastic time making or drawing or whatever it is you do in your spare time!

Seriously, keep up the good work!

mrzero777
The Artist thought this was FAIR
2 out of 2 deviants thought this was fair.
Critique? Alrighty! I was looking through some Fi artwork when I saw this, and I thought it was absolutely beautiful. Since you're asking for a critique, I'm more than happy to spend my time on one, so here we go

To start, this is absolutely beautiful. I really love how you drew this, and the values look absolutely incredible. I personally think Fi is a really pretty character, especially with her shiny colors, and you did a great job capturing that beauty and luster. I love the different shades and values on her arm-cloak, and that sort of "plastic" look continues on her face. You did a great job keeping it consistent with the rest of her and I love how you did the jewel! Her face is also absolutely gorgeous and I can't stop staring at it--I love how you gave her a more human look while still sticking to her original features! (I think you're missing a line on the side of her neck though, by the purple side of the collar--from what I understand, Fi's hair is actually a separate piece and is not blended in with her head, though I might be mistaken.)
There's really not much here that is absolutely terrible in any sense of the word, however I do believe there are some areas that could use a little improvement on. To start, her right leg, the one touching the water, seems a little off to me. Her thigh seems too thick, like the line on the left should be brought in a little more. The way her leg bends too by her foot just seems sort of odd to me as well--it's almost as if her foot can't fit into her shoe and is trying to pop out (I think the foot in general might be a little small, actually.) You did a WONDERFUL job getting the perspective right on her raised leg, not to mention her arms, though I think the ribbons on her leg seem to almost get bigger the farther it goes. The way they criss-cross is a bit inconsistent on her right leg as well, though then again I certainly can't blame you as doing that sort of pattern would get anyone.
Her arms, I feel, seem a little...off, somehow

They are certainly not bad at all and I love how wonderfully well done the folds are, but the blue one seems a bit small to me, even talking from a perspective point of view. She also seems to be missing that sort of "bunched up" look she has at the bottom of her arms, and if they are there, it's not obvious enough to notice. The side views of this reference sheet has a good view of this sort of look:
[link]
I really, really love how it waves up and down and how you can the other side, though. Great to see you paying attention to details like that!
The pose itself is very well done. I've seen plenty of dancing Fi's that just look way too stiff, but you captured a great sense of movement and she actually looks like she's dancing instead of holding a pose. I don't think the water is bad at all either, in fact I quite enjoy the sort of swirly look you gave it with mixing the colors. I don't think it really seems like Fi is interacting with it though, her foot just looks so detached from it even with the wave behind her. Maybe it's the line by her foot, though I think if you were to add some sort of waking effect, or even just a little overlap of water at the tip of her shoe, it might seem more connected.
To conclude, while I love the colors you used, I think Fi looks a bit too textured in some places. The most obvious examples are the bottom of her dress and the bottom-left side of her chin. I don't have much experience with markers so I can't really say what's causing it, but the effect it gives off makes Fi look a little rough, which may be appropriate with her dress (assuming it's actually made of fabric), however it sort of defeats the smoothness on her face. The one of her chin isn't so obvious, but at the same time it doesn't look smooth because of it. It seems almost as if these markers were a little dried out, and again since I have not much experience with markers maybe that's just the normal type of effect they give off. I just don't think that sort of medium really fits Fi, at least if you are trying to achieve that smooth effect. It certainly doesn't break the picture, but it's something I noticed after looking at the finer details of this piece.
Overall I think you did a fantastic job and created a great piece of Fi that really does her justice, but just a few improvements here and there will help

If you are selling just this individual piece I am certain it will sell immediately, for if I saw it at a con I would definitely snatch it up. I think with its simplicity though it works better as a single poster--if it were to be produced in a run of more than the original piece, I think a little more substance will help it sell (that is, of course, if you are trying to sell it as a poster piece, and not a smaller item.) Good luck at the convention and I hope I helped

The Artist thought this was FAIR
2 out of 2 deviants thought this was fair.