Hello ladies & gentlemen, & welcome to another edition of Mini-DDs! The show where we feature the best in DD-worthy artwork for your amusement, at the cost of our sanity. Still totally worth it.
Sooo...Been a slight while, huh? Well, allow me to give you all a recap: We had our
Best of 2010 Extravaganza
, along with
the contest results later on
, & I had vowed not to put up a new edition until I finished the latter.
...In retrospect, that was a stupid decision, seeing how backlogged things got. It probably doesn't help by that point I had made the decision to switch to a monthly edition. That's right,
we're going monthly now.
Weekly wasn't working out for me lately, & since bigger editions yield more attention, it just makes sense.
But anyhow, the end result is that A. Each edition will now feature 40 Deviation, about I would've featured weekly per month, & B. We have 4 months of Mini-DDs to catch up on (haven't prepped May yet), so yeah. Slightly over 160 Deviations for your pleasure this time around!
Let's see, what else do have here that's notable...Well, aside from the occasional emotional breakdown, not much has happened with - Oh, wait! We actually have some semi-official sponsors this time around! Intrigue, yay!
Sponsor #1 is one of our affiliates here on DA,
DD-Factory!
They're devoted to helping you suggest your favorite artwork for Daily Deviations, which (unsurprisingly) is a damn fine cause! So after you hopefully fave-rape what we're about to feature, feel free to stop by their neck of the woods & drop off some suggestions for the art you truly love! Thanks, guys!

And Sponsor #2 comes courtesy of the Kaiser Chiefs & their new album,
The Future is Medieval
! The Kaiser Chiefs, the Brit art-rockers behind such hits as "Ruby", "I Predict a Riot", & "Never Miss a Beat" return with their latest amazing album,
with an extra special edition available exclusively here via this link!!
Yep, here only! Only place you can get it, right there! No ulterior motives or...Um...
Okay, I'm sorry. The new album has a unique "Make Your Own Album" feature, & I decided to try it out, thus I get some money with every purchase of the album there. Sorry, but I was looking for a good way to advertise it...And honestly.
The album is really damn good.
Not just my, mind you, I can honestly say all of the tracks are winners, & definitely make for some excellent listening. So if you aren't going to my edition (though I would prefer it), at least buy
some
edition of & it & support this kickass album.
...Oh yeah, this had something to do with Mini-DDs, right? Well, the album
is
a form of art, & a unique one at that, that I would give a Daily Deviation to myself if I could. Plus, as usual, due to the huge length of article, we will be having little musical interludes during the breaks, & I thought it would be a neat way to help promote the new album! So we'll be playing clips the Kaiser Chiefs' greatest hits as a sort of soundtrack to this edition, for your pleasure.
Actually, you know what I said about the Kaiser Chiefs deserving a Daily Deviation? I'm going to give them a Golden Fefcaine Award! For
The Future is Medieval
& all their...Oh crap, the Golden Fefcaine Award!
The show!!
Right, I actually need to do that...
Well, as per tradition, all the people behind the amazing Deviations here will receive the
Golden Fefcaine Award!

Yes, the Golden Fefcaine Award, symbol of the finest DD-worthy artwork DA has to offer, a symbol of prestige & honor...& one with a tasty milk chocolate center! With some toffee bits & mint flavor thrown in as a bonus this time around!
Well, the people backstage are telling to wrap up the monologue, sooo...First, a huge shout-out to Mini-DDs contributor
delSHARK
, whose quick & to-the-point descriptions in the Best of 2010 Extravaganza inspired me to drop the addition format & just try spouting out the first thoughts that come to my head...Whiiich somewhat failed, because as you see from the length of each description going down, things stopped being less quick for me. Still, it felt more natural, more like the old days, so props to delya. I owe you something...
Oh, speaking of the old days, it was our 5th anniversary in May.
Yep. Accidentally missed it somehow. Dumbass move on my part. Granted, I still have roughly seven months to make up for in, so if there's anything you'd like to see...Eh, but I digress, I can tell all this rambling is losing your attention.
So enough already! Hit the lights! Open the concession stand! On with the show,
& on with the latest Mini-DDs!!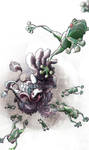 Day 22 Quina
by
JohnDevlin
...iD did a damn fine job on his "30 Days 30 Pictures" project, but this lovely drawing of an underrated
Final Fantasy
figure seemed to stand out the most, thanks to a unique perspective & a superbly-captured bit of action.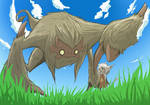 Innocence
by
dragonmanX
...I always am a sucker for these "gentle giant" types of pictures with a lovely contrast between the stars. Of course, the great creature design & charming style help as well...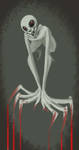 The Rake
by
Kastia
...I don't know much about
EverymanHYBRID
, but I don't need to to tell that this is one creepy, clever, & kickass portrait with one priceless pose. Gotta love those claws...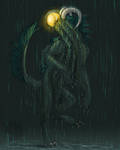 lol light-bulb XD
by
DemonML
...Impossible or not, this is one damn fine example of a cute & creative monster design, nicely showcased with a bit of an "innocent" glow mixed with a perfectly murky color scheme.
.: Llama from the Void :.
by
Ishton
...This one is pretty much self-explanatory when it comes to kickassery, but nonetheless, let it be known that a nicely spooky atmosphere, a sweet use of neon, & a great sense of humor always add up to a winner.
:thumb206665702:
Acidic
by
rockaaar
...A clever concept, a unique color scheme, & a grand amount of emotion poured into everything all work together to create this surreal stunner. Plus, now that we know lemons can really burn people, we can move on to life's house...(Sorry, couldn't resist.)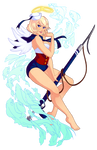 Chip on My Shoulder
by
snowkatt101
...A '40s pin-up design, a lovely spread of marine elements, & a sleek style perfectly blending the cute & the sexy all work together in harmony to create this inspired & kickass angel design. Full speed ahead indeed!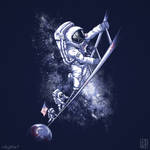 July 1969 design
by
C0y0te7
...A lovely, clever, well-executed & humorous take on an iconic bit of history that makes for one cool design. And let's face it, this is how we all wish it
really
happened.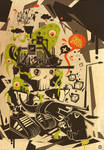 fyi
by
kirpluk
...I always love action-packed, funky little vector jams like this. Such fun & cute designs, a good chunk of action, the slick, grafitti-esque style & unique color scheme...All just a joy to look at.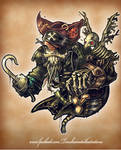 ONE EYED JACK color version
by
telegrafixs
...Anything inspired by
The Goonies
was probably going to be pure win anyway, but with tele's unique style, incredible coloring & lighting, & eye-popping designs, it ends up being pure win with a cherry on top.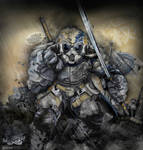 IN LUX WE TRUST
by
Sonicbeanz
...A mash-up of gritty colors, old-school manga, a ton of detail, & sheer badassery results in this straight-up kickass design. Seriously, you just sense an epic battle down the road here.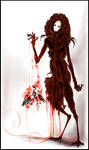 King of dead birds
by
Kuroi-kisin
...If the artist's description here is any indication, this design just mysteriously popped into their head one night...But then was quickly captured in a nicely creepy, unique, surreal & eye-catching portrait. Eerie excellence all around!
incorrect theory
by
vezeta
&
Ia08
...One of those collaborations where the two styles just blend together perfectly, with sone fun & cartoonish designs, some sweet coloring & textures, & a great, playful feeling all around.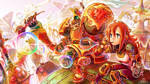 Soap Bubbles on Steam City
by
Kyokimaru
...Insanely cute, insanely clever, insanely classy, insanely detailed, insanely awesome style & lighting...and yet it's fave count isn't in the hundreds by now. THAT, my friends, is insane.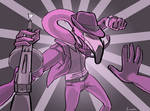 You Messed with Me
by
Jolon
...Gangster flamingo punch. Any Deviation involving those three words would be pure gold, but Jolon's unique P.O.V. take of an old-school beatdown topped off with an attractive style & nice use of a sunburst effect make it even more golden.
Musical Interlude: "Little Shocks" (the new single!)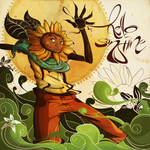 Steal My Sunshine
by
pyrotensive
...This is one of those pics where it feels like you could get a contact high just from looking at it. The delightfully trippy style, lovely character design, groovy typography & several other cool details all make for one psychedelic stunner.
:thumb87206463:
DJ Bot
by
MikeHaff
...Despite what the artist says in their description, there's no need to apologize here: You've got a cool concept, sweet bot design, nice use of symmetry, a ton of detail & a great style...What's not to love? Just put on some tunes & celebrate!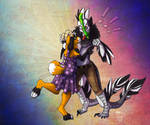 Sketch Commission - Korth
by
kobbie3
...Cute & Quirky Couples, Vol. 1: This simple yet stylish little number with some nice coloring, a great background, & some lovely interaction between the two...Worth it for that priceless expression alone.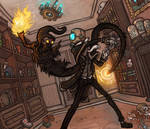 CN versus Crow
by
CyborgNecromancer
...I don't know who exactly requests a fight scene for a Sceret Santa gift, but god bless them! They helped create this stellar scene with some wicked characters, a great signature style, sweet use of a Dutch angle view & a lovely Victorian backdrop...Hats of to you, sir!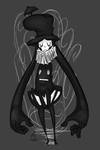 Apathy
by
Rezllen
...Another simple portrait, but one that captures apathy (the character & the feeling) just so perfectly. The curvaceous cartoon style, the monochrome coloring, the gloomy pose & the scribbled background that nicely accentuates the gleefully offbeat mood...Truly an amazing gift.
:thumb198040971:
Plant Shrine
by
Vanilla-shiroi
...The artist says she failed at this, but unsurprisingly, I beg to differ. With a calm, cute, colorful style & a great palette of colors & colors that perfectly nails an enchanting atmosphere, she succeeded in making one damn fine illustration.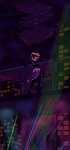 Rave is loud
by
NightMargin
...Yeah, I know how that feels. Still, that lovely pose & expression contrasted with the bright, vivid colors & energetic setting & atmosphere, all done which such a great style makes for one eye-catching, cute, & relatable cartoon.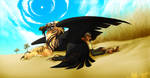 Noontime Rest
by
Hauket
...Because nothing beats a well-drawn, stylish, calm & relaxing desert scene. And of course the creative, kick-ass tiger/vulture hybrid definitely doesn't hurt, either.
:thumb202404558:
Hang Another
by
Coyox
...Coy just always has a knack for creating these warm-colored, slick, unique anthro pieces that always show a lot of love & end up being damn impressive. And shockingly enough, this one - with a nice dose of surreal fantasy - is no different!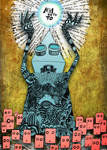 6 We are That
by
Ace0fredspades
...Even if you don't understand the message behind Ace's Circle seria, there's no denying that it has some amazing imagery. Especially here, with the eye-catching deity-like figure, some astounding textures & typography, & a grand amount of detail.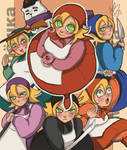 Matruska
by
Abeille-Brillant
...A perfect combination of cute & crazed, showcased oh so amazingly well through a lovely layout, a terrific style with some great coloring, & a perfectly fun & energetic feeling to it all. Besides, tell me you can't resist those eyes.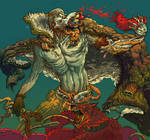 72
by
bigconejo
...I don't know what the artist is talking about when it comes to this piece. His unique style has made for some jaw-dropping bits of work, & this bizzare & twisted bit of eye candy is no exception, with a ton of hard work & detail put into every muscle & vein.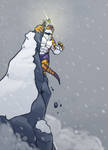 Kilo Monster VS The Mountain
by
Kilo-Monster
...Needless to say, this is a portrait of triumph & sheer kickassery, built up with a bold style, some perfectly cold & stormy colors, & a great character design. That expression plus the flower's little glow is worth it alone.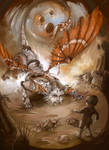 Sphinx
by
mltc
...Creating a steampunk sphinx would've been an impressive & creative feat in its own right, but the way this artist handles it...DAMN. The surreal atmosphere, the impressive design with a gigantic amount of detail, the swirls of amazing coloring that perfectly set the mood...All made of pure win.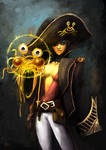 a spagnostic pastafarian
by
unded
...If this were to be an actual poster advertising Pastafarianism, then consider me converted, thanks to unded's lush style, gorgeous shading & coloring, & mix of realism & surrealism making it seem so damn attractive!
Musical Interlude: "Oh My God"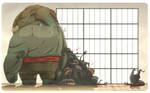 an elephant never forgets
by
raps0n
...And hopefully that means he'll one day tell us about the epic battle that led to this kickass scene, showing our lovably bulky & unfazed hero in his triumphant victory, all done in such an amazing style with a sweet sense of humor.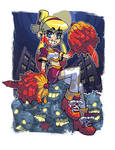 Zombie High
by
Lysol-Jones
...Done in such an eye-popping signature cartoon style, draped in a variety of bold, bright colors, & striking a pose & mood that would make Kristy Swanson proud, our heroine shouls indeed be damn proud to star in something as cool as this.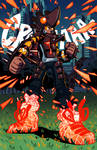 VIBE 20
by
SoulKarl
...SK's comic
Vibe
is definitely one awesome read you need to check out, especially for stunning artwork & moments such as this. The funky style, the grand amount of detail, the explosion of energy that realy gives the feeling of an epic battle...Simply a kickass comic book scene!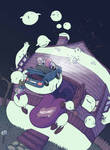 Welcome
by
BattlePeach
...And in his latest in a long line of epic illustrations, BP takes the classic idea of a haunted use, applies his attractive, eye-pleasing, signature style as well as a creative touch, injects a healthy dose of humor, some amazing coloring, some cute designs, & voila! Yet another winner in his gallery of sheer awesomeness!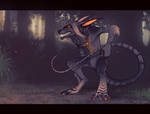 AT Hatzblut
by
LiLaiRa
...Simply put, this a portrait of sheer badassery. The sleek style, the menacing pose & expression, the perfect spread of dark colors & some nice, eerie glow effects...You can seriouly just feel this guy ready to rip into those background intruders.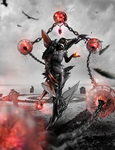 M y H e a r t
by
paradoxchild
...A piece that really just captures the feeling of pain the heart goes through sometimes. A terrific blend of gloomy colors & atmopheres, a surreal style, & some impressive attention to detail definitely make this one a twisted winner.
:thumb203722843:
gaaaaaay
by
two-for-flinching
...Dammit leigh, why did you have to make your signature character so freaking adorable? He's already a creative design constantly drawn in such a fun & cute style & with a perfectly playful spirit, but then you put him in a such a sweet, card-like drawing like this...You just knew I couldn't resist loving it, could you?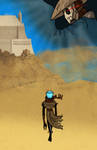 The sand that stole my soul
by
Clock-workable
...Man, this really does feel like the teaser to an epic story...And go figure, creative character designs in a killer layout, some perfectly warm coloring & texture work, & a bold & attractive style definitely make you want to know more of that story!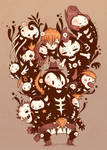 lee gion
by
Bisparulz
...Now, given that Bispa is my number-one favorite artist on DA, I'm afraid there's not much more I can add to any praise I have for this clever & humorous take on a classic demon with several cute & funky designs, amazing colors, & that unique, signature, psychedelic cartoon style. So instead, here is
"Don't Stop Me Now" by Queen
, a song that hopefully matches how epic I feel his latest work is. Thank you.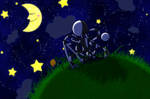 Mr. Moon is sleeping
by
Imp-Da-Cat
...Starring a unique character design, an attractive & vivid style, & a perfectly nightlit landscape & atmosphere that feels like something out of a kid's storybook, this is definitely one charming & cute stunner that definitely shouldn't go unnoticed.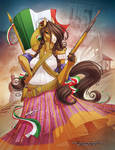 Adela la Yegua
by
jesonite
...To say that jeso does his homeland proud here might be an understatement. His killer take on a bit of Mexican heritage involves a jaw-dropping style with an unholy amount of detail, some nicely bright & energetic coloring, & a perfectly-captured feeling of the Adelita's strength & confidence. Bravo!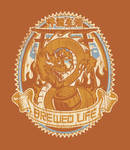 Beer Dragon
by
Winter-artwork
...So none of us on DA can really resist kickass dragons or kickass shirt designs, but then you combine them & throw
beer
into the mix as well? WA, you diabolical bastard. Throw in an amazing style, a stunning color scheme, & several sweet touches down to the wood texture, & I think we can add diabolical genius to that as well.
Heavy Lies the Crown
by
scumbugg
...Nothing much to say here, except that this is truly one well-drawn nicely detailed, creative & kickass metal-inspired fantasy pic worthy of an epic guitar solo. So can we maybe get some Dio going here?
:thumb195134004:
a bad day
by
theumbrella
...Isn't that just how it is sometimes? Simple yet very creative & effective with some perfectly gloomy colors, textures, & great lineart, this is one stellar illustration that really does capture how we can form our own troubles.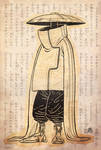 Daruma
by
Andrew-Ross-MacLean
...Even if this guy's role in the artist's story is brief, I think we can safely say that this is still one extremely impressive bit of character design. Showcased in such an impressive style, a grand amount of detail down to the paper textures & each fold of clothing, & with a pose, expression, & overall feeling that suggests an epic martial arts fight, I do indeed want to see this mofo in action!
Musical Interlude: "I Predict A Riot"
Sefu, Sword of the Sands
by
jouste
...Speaking of kickass character designs, jouste is an artist with no shortage of them, with one of his latest here oozing badassery in every area from every well-detailed scratch & spike down his cigar-chomping expression, all drawn in such a killer style. Hats off to you, sir.
:thumb201603378:
Love Yourself
by
TeaZS
...Lauren just always has this knack for creating such cute, fun pictures with inspirational messages to them. And with her lovable signature character, warm colors, & fun style, she adds yet another lovely little masterpiece to that category!
Haters gonna hate
by
NightmareHound
...Admittingly, I have not played
Prototype
yet. However, I don't need to to know that this rich, killer style, that great sense of humor, & that epic strut & expressions all add up to one fun & kickass little drawing worth checking out.
:thumb201844837:
Kesper's Shadows
by
Kocoa
...Okay, so far in my past few editions, I have featured
four
of Koco's characters, a good indication of kickassery on its own. But not only is Koco a talented designer of incredibly unique, lovable, & classic character designs, she is also a flat-out amazing artist, as seen with wicked Deviations like this with her wild, eye-popping, fluid & cute style, gorgeous spread of dark colors, & a lovely little bit of story told in it all. Aren't watching her yet? DO IT.
Let's Ride The Lightning
by
Croxot
...Well, to say that this is an energetic bit of work would be an understatement. The wicked character, the grand use of neon, & the bold & eye-catching style create this sort of "electropunk" vibe that definitely makes this piece a looker. Oh, & some sweet clothing design as well.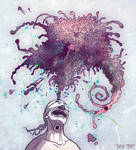 Amuse Me
by
Craniata
...Who would've thought that violence against clowns would make for entertaining art?...Well, a lot of people, really. But still, this is a trippy & stunning piece of work with a nice spread of candy-like colors constrasting with the guts, & several cool touches down to the confetti & streamers.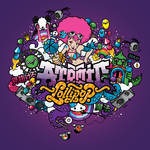 Atomic Lollipop
by
j3concepts
...This is one artist who never stops making extraordinary vector logos & designs, & his latest is quite a doozy! A perfect blend of eye-catching styles, a great palette of bright & vivid colors, & several cute & funky designs with a sweet Japanese & anime influence all make for one stunning pic you'll definitely fall in love with!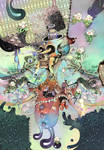 Na bolha do plastico bolha
by
mude
...Gonna be honest, I don't even know how to begin to describe this one. It is just incredibly, mind-meltingly trippy...And that's why I love it. It's just such a gloriously bizarre & well-drawn, well-crafted sight with ton of killer little touches in every corner, & you just won't be able to take your eyes off it.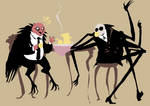 this n that
by
Spoonfayse
...Spoony just has a way of creating these simple yet amazing pics that are slightly cute, slightly calm, & slightly creepy all at once. Case in point, two little carnivores clad in tuxedos enjoying a cup of tea, drawn in such a charming, lineless style with some nicely darkish colors & a delightfully odd demeanor. Simply marvelous...
:thumb100747062:
Halloween Cactus
by
JRJay
...Speaking of cute yet creepy, here's a cool little tribute to a kickass Pokémon with some delightfully dark coloring, a genuinely spooky atmosphere, & an amazing amount of hard work & detail in every stroke. Screw Halloween, this deserve to be enjoyed year-round!
Nursery Cryme
by
wasawasawa
...An artist with a lot of love for psychedelic & progressive rock basic, wasa's artwork definitely does an amazing tribute to their music, especially on this trippy, stylish, inspired & action-packed interpretation of a Genesis album cover. Once again, I am getting a slight high just looking at this beauty...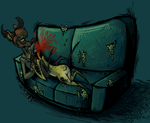 You Take My Breath Away
by
defauts
...I didn't think a headless body on a maggot-filled couch would ever be so hypnotizing, but go figure, defauts found a way to pull that feat off! Maybe its the cartoonish style, the surreal flavor & story behind it, or the perfectly creepy colors in every stroke, but something here just makes this little slice of macabre a winner.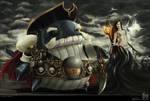 General Whale and Shadow
by
2MindsStudio
...Okay, tell you wouldn't pay through the nose to see this duo in battle. Especially after being displayed in such a stellar portrait with an eye-pleasing mix of styles, some perfectly stormy colors, a tremendous amount of detail & grand, proud, ready-for-battle pose & feeling. Just epic all around.
You're late.Sorry.
by
Firell
...Once again, Firell goes & creates a lovely bit of fantasy using her eye-popping style, perfectly capturing what feels like a bit of an epic tale with some astounding little touches down to the background spirits & that perfectly sneaky pose & expression. Gotta love her.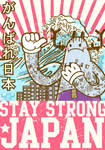 STAY STRONG JAPAN
by
ExoesqueletoDV
...Out of all the designs made supporting Japan in the past few months, this is hands down my favorite. The great character, the inspired concept, the attractive style, the positive message, the amazing amount of detail down to the poster texture...There's just too much to love here. It's an amazing piece definitely worth hanging on your wall...Especially since proceeds from the
print sales
will be donated to help Japan reflief efforts! So go ahead & support a noble cause & great artwork, & don't forget to salute Exo for putting this all together! Bravo!
Musical Interlude: "Everyday I Love You Less and Less"
Bombatier
by
ALRadeck
...Because who
wouldn't
go out on an egg-bombing spree if they had a dragon for a friend? And who wouldn't want to see that captured in such an amazing painting that perfectly nails a playful & mischievous spirit with a lovely style & some great coloring? And why am I asking stupid rhetorical questions like these?
U Like Singing
by
kepalakardus
...Imagine all the concentrated essence of a j-pop singer in a single image, & this what you'd probably come up with. Lovely, cute designs, a bold & funky vector style, & a perfectly vivid & playful mood makes for a wonderful little ditty completely worth checking out!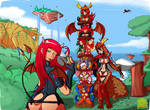 TOTEM
by
GunShad
...Because who doesn't enjoy a cheeky little bit of cheesecake fun now & then? And with such a creative & fun idea, a playful, humorous, & cartoonish style, & an amazing amount of work put into every pose, expression, & bit of scenery, this is definitely a bit of cheesecake worth indulging in?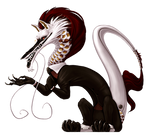 Monster Ball
by
Tikall
...Okay, if the sight of an Oriental dragon attending a fancy ball in a long, custom-fit suit doesn't at least bring a smile to your face, then you have no soul. And of course, the lush style, lovely character, & priceless pose & expression should definitely help things as well.
:thumb203145153:
Charlotte
by
Noxipie
...Granted, I have yet to experience
Puella Magi
as well, but I can still tell that this is one incredible piece of work, with an incredibly cute & slightly surreal atmosphere, some nice & bright coloring with some cool textures & effects, & the artist's charming & playful signature style. Definitely a tasty treat indeed!
Fishing in the Cloud Ocean
by
Emchromatic
...That Dr. Pepper contest produced a lot of great & creative entries, but I think I'd have to mark this as my favorite of the bunch. Maybe it's the lush & astounding landscape, the perfectly calm & serene atmosphere, & the amazing & attractive style...Or maybe it's just that the idea of flying Dr. Pepper orcas is pretty awesome. Whatever the case, it's just an amazing drawing in general, plain & simple.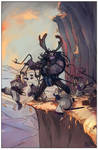 Mountain Rage
by
tim-mcburnie
...I don't know what the story behind this piece is, all I know is that it's an effing badass slice of fantasy with some terrific creature design, an action-packed & eye-catching style, & a great blend of colors perfect for those snowy mountaintops. An oldie but a goodie...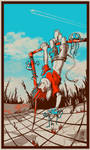 JELLYFISH DAY -part 6-
by
XimonR
...Now, if the words "Jellyfish Day" weren't enough to get you interested (though they should have), perhaps the lovely style, great perspective, unique coloring & playful spirit in every corner will help close the deal. If not, god help you.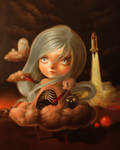 the new clouds generation
by
ponyania
...One Deviant already put it best for me in the comments..."This is just too awesome for me to describe!" Indeed, my friend. Though I may as well mention the surreal & mesmerizing concept & imagery, the slightly eerie yet charming feel, the perfectly warm colors, & the luscious & beautiful style with a ton of hard work in everything down to each puff of cloud. Just saying.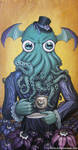 Reign in Purple
by
mykeamend
...Once again, if you can't find anything to enjoy about a Cthulu-like figure enjoying a cup of tea amongst the flowers, then there is seriously something wrong with you. Because let's face it, this inspired concept, that lush & detailed style, the perfect color scheme & that hypnotic stare should immedaitely make this one of your faves.
:thumb179889968:
blinding
by
britishbearboy
...Mythology & alternative music seemingly come together to create the inspiration for one intense illustration here, with a perfectly psychedelic style & feel, a dazzling array of colors, & an amazing amount of detail in everything down to each little pattern contributing to the sheer awesomeness of it all.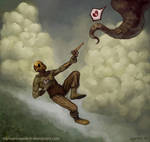 Free Fall
by
AsyaYordanova
...Once again, Swann graces us with another clever & surreal masterpiece, this time using dark humor to paint a picture of what is arguably the world's most entertaining divorce, with a gleefully twisted style, some gorgeous coloring, & grand amount of detail backing it up as well. Keep 'em coming, madam!
Pulseman
by
Elksign05
...Comebine two underrates action platformers into one picture, & what do you get? This simple yet lovely little gem, with an impressive & energetic style, some nice & bright colors, & a perfectly epic, ready-for-action feel to it all. Damn, now I wish this game combo really
did
exist...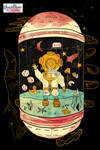 Unlock your Imagination
by
choppre
...Damn, for a design that was made in the hopes of becoming a t-shirt endorsed by Thermos, there is one truly inspired & lovely concept behind it all. And of course, the surreal & mesmerizing style, great use of vivid colors amongst a black background, & great deatils that perfectly capture the essence of childhood imagination help as well.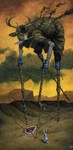 The Hunt
by
js4853
...Hmmm, I wonder who's actually hunting who...Seriously, though, js adds another notch to his belt here when it comes to surreal masterpieces, thanks to his gorgeous, Dali-esque style, unique & inspired concept, & amazing coloring & shading in every corner. And I may I say, that is one damn well-deserved notch.
Musical Interlude: "Modern Way"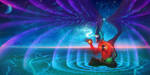 Door of Material Transcendence
by
Venishi
...Admittingly, I'm not 100% sure how a reflection upon one's life leads to an image like this, but
holy crap
, I'm glad it does, because this is one jaw-dropping piece of work! It's just so gleefully mind-melting & trippy in every area, from the mesmerizing & impressive style to the eye-catching array of bold colors, the surreal figure & the tranquil yet intense, spaced-out setting & feeling. Hands down, a visual high that's made of nothing but concentrated win!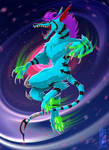 Csentrifuuge
by
Lizkay
...Appropriately enough, I always feel a thunderous guitar solo whenever I look at this killer drawing. Chalk that up to the slick, energetic, & eye-catching style, the superb spread of shocking neon colors, & the wicked, action-packed pose & expression that all help towards perfectly capturing the feelings of ferocity, insanity, & pure crazed '80s awesomeness that make this rocking portrait a sure-fire winner.
Depth and Decay
by
calvii
...The ocean is always home to both beauty & danger, as this amazing piece so perfectly illustrates. And a spread of perfectly aquatic colors, a bold & attractive style, & a great layout with a nice use of perspective are all used to make this scene into quite the impressive cover indeed.
Rise Poster
by
Dansome0203
...How do you capture the epicness of one of DA's many OCTs in a single picture? Like this. Duh. But to elaborate a little, you do it with a fun & attractive, cartoonish style, a wide variety of nicely-detailed poses & expressions with a lot of personality, & an impressive layout that helps capture the feel of a blockbuster movie poster. Once again, duh.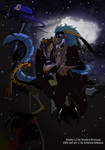 silent hours
by
Blachalkar
...Cute & Quirky Couples, Vol. 2: A lovely little bit of fantasy with some fun character designs, a lively & enjoyable style, & a perfectly-captured feeling of warmth & heart amongst a beautiful snowfall. Simply precious all around, & a real treat.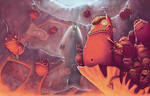 Demons
by
thurZ
...Huh, for some reason I never expected Hell to be so...Cute. Or drawn with such a lovely, humorous style, or with some perfectly warm coloring & shading, or having a perfectly mischievous feel to it. How about that.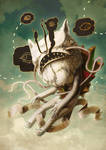 don dragon
by
alejandrosordi
...This is yet another artist who just seems to continually produce amazing works of surrealism, & his latest is unsurprisingly quite a winner, featuring a unique & cool dragon design, several neat & quirky little touches, some lovely coloring, & that irresistible signature style. Needless to say, it's definitely worth at least taking a look at.
Stupid truck...
by
CorrosiveFool
...Leave it to a talented artist like SP to come up with a creative concept like a redneck foo dog & turn it into such a lovable character as well. And leave it to him to take a simple drawing of someone walking to a gas station & turn it into something cool thanks to a wild & lovely style, a lovely variety of colors, a unique side view, & a nicely-captured feeling of frustration with a bit of Southern "twang" in there. Actually, you know what? Just leave it to him to kick ass, plain & simple.
:thumb192849339:
Speedpainting: Frost Bat
by
KristenPlescow
...Given the amount of eye-popping speedpaintings in CD's gallery, I dare imagine what kind of awesomeness she'd come up with when she takes longer to work on something. But for now, we have this impressive gem, with a fun & creative monster design, a spectacular spread of ice-blue colors, & a ton of detail to really help create an action-packed feeling. Quick yet killer!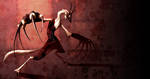 Come and get it
by
Nikaleles
...Damn, Nik really knew how to capture the creepiness of our star character here. I mean, look at that pose, those claws, that stare...Not to mention the lovely shading, the great use of a "splatter" pattern, & an impressive & attractive style. But man, that stare...It give me a little chill...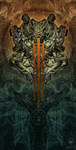 Lemegeton Clavicula SalomONIs
by
FabioListrani
...Cyperpunk meets King Solomon meets Japanese mythology, & the results are quite damn stunning, if I may say! The jaw-dropping & unique style with a ton of hard work in it, the astounding coloring with the perfect feel of cold steel, the impressive touches from the nice use of symmetry to the neat patterns & textures...All creating an amazing piece of work.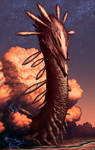 The Goddess
by
turbofanatic
...Once again, turbo manages to carve another piece of her own intriguing mythology & part of an interesting fantasy tale, showcasing her creativity in such an amazing way with some unique creature design, a gleefully surreal style, & a great array of warm, sunset-like colors topped off with a few thunder effects to show off both the power & beauty of our star. And once again, it just straight up
rocks.
teatime in the blue forest
by
Duckstapler
...Well, I can definitely say that I wouldn't mind having tea with this dapper chap! And that's largely because the portrait of this unique & lovable character is executed with such a pleasant, fun, & slick style, an eye-catching & lovely blend of blue & orange, & a perfectly-captured conniving, mischievous, & mystical feeling that the kitsume legend is known for. The end result? You can't help but fall in love with this guy. Plus, the top hat. Gotta love the top hat.
Furnace
by
benjaminclair
...Once again, I'd like to image that there's a bigger, epic little tale behind this image, but even just as is it's still one stunning piece of work. The amazing machinery design, the perfectly chilly color scheme with touches of a fiery glow, the killer style that perfectly captures the feeling of a harrowing journey...All just wonderful.
Rose
by
Devicho
...This artist definitely has a lot of love for the
Puyo Puyo
character Oshare Bones, but I think this may very well be her best fan art of him. The simple yet cute concept, the lovely & warm color scheme, the impressive style with a lot of detail...Truly an incredible tribute to a cool character.
Musical Interlude: "Ruby"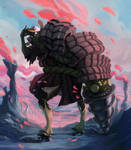 Candy Mountain Drilla
by
matjosh
...The title alone intrigued me, & the actual illustration did not let me down in the amazement department when I saw it. The nicely-designed, hulking figure, The stellar coloring including the appropriate pink, sweet highlights, the incredible amount of detail & the nice whisper of a surreal setting & atmosphere all made for one spectacular bit of work in my book.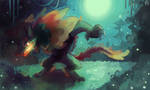 Fenrir
by
crayon-chewer
...First, watch
the animated short.
Then, after you reassemble your now-blown mind, watch it get blown again thanks to this stellar tribute. With a lush & gorgeous style, a perfect spread of slightly haunting forest colors, a ferocious pose & expression, & several cool touches down to the spiral pupil in that priceless stare, this is one terrific bit of fan art that deserves all the love it can get.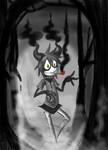 Mist and Shadows
by
Coffeetology
...Going back to the "slightly creepy yet cute" well again, we find this lovely little cartoon, starring a unique & lovable character design, a great use of gloomy colors contrasting with our cheerful star, & an eye-catching style with some swell effects. Overall, a charming bit of fantasy you can't resist.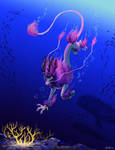 Dive
by
FablePaint
...It takes a skilled artist to make a dragon/poodle hybrid seem pretty badass, but Esda here was more than up to the task. With a gorgeous style, a pose & concept with a nice bit of action, & a great amount of detail in everything down to the way the fur moves in the water, she whipped up one killer bit of work definitely worth checking out.
Copy+Paste Artpocalypse
by
Chiko190
...And this, ladies & gentlemen, is why you shouldn't steal artwork. Because by doing so, you contribute to a nightmarish apocalypse. Still, this is one kickass image, pulled off with an inspired concept, a funky & unique style, a perfect spread of colors, & several cool design with a bit of humor behind them. So while it may make for an attractive apocalypse, seriously, don't steal artwork. Or we'll cut your hands off.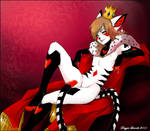 Prince of Cards
by
Majime
...Dammit, I'm a sucker for pieces inspired by/with motifs of playing cards. And of course, it helps that this one has a unique & cool character design, a slick & charming style, a nicely regal setting & details, & the perfect feeling of a bratty attitude all attatched to it.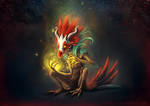 The Creator
by
Lintufriikki
...And appropriately enough, this is one incredibly inspired & eye-popping creation! The unique & amazing character with the perfectly deity-like aura, the impressive & mesmerizing swirls of vivid color, the astounding style perfectly capturing the feel of an ancient tribe or civilization, & a superb amount of detail in everything down to each star & feather...Just pure amazement, plain & simple.
Pallet
by
DelineationCreation
...One great artist essentially creates another great artist & if I may say, the results are pretty damn sweet, thanks to the help of an eccentric & lovable design, a bold & eye-catching style, & some lovely coloring & details down to the simple yet stellar background. Can't wait to see what this guy ends up creating down the road.
c07
by
deadro
...Yet another addition to the "simple yet stunning" category, the attractive style, gorgeous shading & lighting, & lovely little touches down to the punctured strawberries & perfectly-captured smarmy feeling & expression all work together to make this one irresistible portrait.
:thumb193367386:
EC - Far East Cumuluses
by
ArsonDadko
...Okay, a ton of hard work clearly went into this drawing, &
holy crap
, was it worth it! A combination of a wild & action-packed cartoon style & the influence of traditional Japanese artwork makes for one eye-popping sight, along with a pair of lovable & cool characters, a dead-on perfect color scheme with a stellar touch of "ancient scroll"-style texture, & a mind-blowing amount of detail in everything down to the shoutouts to a few friends. Needless to say, it's an astounding sight you'd be crazy not to love!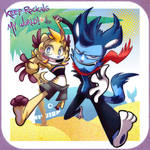 Rock around the clock
by
vaporotem
...Cute & Quirky Couples, Vol. 3: An action-packed shot of a crazed cartoon duo no doubt up to some shenanigans that'll make them the next Bonnie & Clyde, captured with a wild, vivid, & irresistible signature style, a nice spread of cheerful colors, & a perfectly carefree, rebellious, reckless in love kind of aura surrounding every sweet little detail. So cheers again to the lovebirds!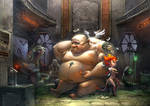 The Hospital
by
zzjimzz
...One commenting Deviant already put it best when he asked "Is this what happens to all those poor monsters that we beat up in so many fantasy games?" Indeed it is, but we can at least take consolation in knowing that they at least wind up in a place that makes for an eye-popping drawing. An innovative, inspired, & humorous concept, a great style perfectly capturing a wide variety of subjects, some stunning scenery & an incredible amount of detail in every crack, scratch, & odd fountain all help to make one damn impressive Deviation! Bravo!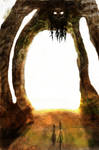 The Sand Elder
by
Borruen
...I don't know what the artist is talking about, I think this is pretty much perfect as is! You have the inspired & impressive design with a lovely mix of influences, the perfect desert color scheme with a nice blast of bright light, & a killer style with several cool touches down to the little man showcasing the sheer, awe-inspiring size of this giant. What more could you need!

Melancholy
by
samgarciabd
...Feeling like a scene out of a unique & eye-catching children's story, this is just an absolutely stellar bit of work. With a charming & colorful style showcasing a lot of personality, a crew of lovable & cute signature characters, & an inspired & creative setting & concept with a lovely layout, this is one epic cartoon with a lot of heart that you definitely won't be able to resist! Plus, can't go wrong with a classic robot/alien duo...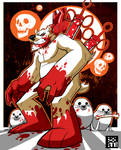 POLAR BEAR PAYBACK
by
Hodori
...Haven't played the game, but I gotta say a picture this astounding easily gets me in the mood for it, thanks to the bold, cartoonish, & eye-pleasing style, the impressive amount of detail in each background texture, blood splatter, & baby seal, & that perfectly-captured badass feeling of an epic battle about to break out. Definitely one killer piece of work (pun semi-intended)...
Musical Interlude: "Everything Is Average Nowadays"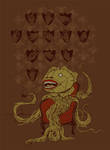 Handhunter
by
HillaryWhiteRabbit
...The sight of a mutated venus flytrap with a monocle, moustache, & pipe alone was totally worth it, but the clever & funny concept, perfectly "gentlemanly" color scheme & attractive style all help make it an impressive design as well, to say the least.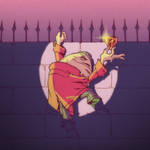 Le Dumpte, Master Thief
by
RYE-BREAD
...We all know it ends in tragedy, but for now, let's all just enjoy this wonderful illustration of our thieving egg friend, envisioned so cleverly with a lovely style perfect for fairy tales, some excellent coloring & lighting, & that dead-on feeling of cockiness & confidence in that smirk alone. Let it be known that before the fall, there was a moment of pure glory in this pic alone.
HB Ch02 pg04
by
Rocky-O
...Because anything that combines harmonica knives, wild west shows, a classic cartoon style with a lot of energy, clever & fun character design, & a lot of deatil in every little sound effect, bit of clothing, & piece of action into one comic page with a neat layout is a sure winner in my book. And did I mention the harmonica knives?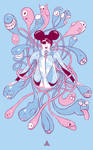 Scatterbrain
by
deaddreamer
...Yep, this is what my head feels like at times, too. Props to DD here for taking a unique & inspired idea & turning it into quite the tasty little vector piece, complete with a funky & lively style, a nice use of light & breezy colors, & a lot of hard work poured into each tattoo & crazed face. Overall, an impressive, surreal little beauty definitely worth checking out.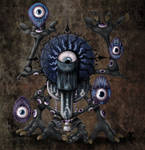 See right through you....
by
BloodhoundOmega
...There are a lot of great Deviations that've been inspired by Japanese mythology, & this is one that can easily stand amongst the best of them. Some absolutely inspired & creative creature design is backed up with an incredible & exquisite style, a great spread of greyish colors & perfect textures, & an incredible amount of detail in every all-seeing eye, & the end result is truly something amazing.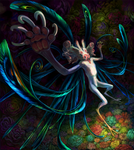 down
by
buriedshovel
...If an assault of techno music at 1:00 AM in the morning eventually leads to these kinds of visuals, then please pass me the Daft Punk CD, as I want to escape to this realm of sheer awesomeness. With an incredibly inspired & surreal concept, some delightfully odd creature design, a terrific use of perspective, some eye-popping coloring with a great amount of variety, an unholy amount of detail in every feather & flower...Well, I could go on forever. Bottom line, give this beauty as much praise as possible ASAP!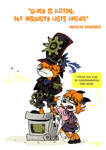 Borderline Adorable Back Cover
by
RedmondJFox
...Misinterpretation of not, our beloved hero here takes a bit of Napoleonic inspiration here & makes it into quite the cute & chuckle-worthy image, thanks to the help of a classic cartoon style, classic cartoon characters, & (go figure) a classic cartoon sense of humor. Stand tall, my friend, for you have earned it.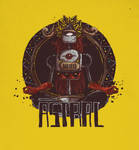 Astral
by
BountyList
...You know, I think just looking at this picture is actually putting me in a relaxed state, which is definitely a good thing for a deviation with a nice bit of a "zen" aura thanks to its inspired deity-meets-machine concept, eye-pleasing colors, & unique style. Definitely a lovely piece of work overall.
BANG
by
fusspot
...Two words: Bullet fairy. Even more words: A unique an inspired concept, a lovely & cute style with a lot of detail, a priceless pose & expression, & a sweet & light-hearted sense of humor. Seriously, though, "bullet fairy" should've clinched the deal alone for you.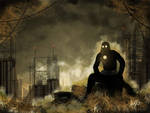 Environmental Hazard
by
iRashman
...A bit of a tragic tale leads to an epic & inspired character here, along with an impressive style, some perfectly gloomy coloring & lighting, & a grand amount of detail & hard work all backing him up. He may be a hazard, but at least in this Deviation he's quite the pleasure to look at...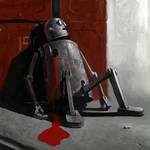 Robot is dead
by
Waldemar-Kazak
...Huh. So machines really
do
bleed. I guess I owe someone a Coke. But anyhow, with an inspired concept, a rich & gorgeous style, & some eye-catching imagery with a nice shot of dark humor, this is definitely one impressive illustration I highly recommend checking out.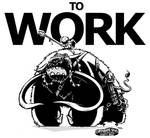 Corporate Skull WORK
by
icanseeyourmonkey
...Because if anything can make the 9-to-5 work life seem completely badass, it's this killer Deviation. The energetic & fun cartoon style, the cute & clever character designs, the great use of black & white, the excellent little details down to the huge bold letters that make this seem like world's most kickass motivational poster...All pure win. Now can borrow that steed for the commute?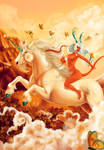 Fire Country
by
chutkat
...I honestly don't have much to say other than the fact that this is truly one epic bit of fantasy, but I may as well try: There's the inspired concept that feels like a stellar piece of mythology, the perfect spread of warm colors, the nice amount of action going on, the incredible amount of detail in every stroke...Okay, I guess I
do
have a lot to say. Long story short, it's an amazing bit of work you've gotta love. Now let's get this kickass image airbrushed on a van!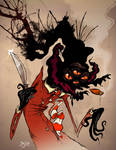 Mr. Inkhead
by
Themrock
...Dirk is an artist who's no stranger when it comes to creating amazing & unique characters, & this is no exception. With a wild & energetic signature cartoon style, a killer blend of colors with a dead-on, great use of pitch black, & the way you can just feel the natural sliminess of this guy's personality in every area, this is one terrific villain showcase that'll leave you wanting more of this guy!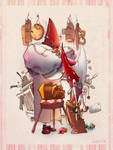 Cut it
by
AlexLandish
...Because all of the great ones have to get their start somewhere. And as usual, DP illustrates that idea what his signature, fun & eye-catching cartoon style, some very cute & creative imagery, some peppy & bright coloring, & several stellar touches down to the variety of pastry hung up in a butcher-like fashion. Execution & bread forming a killer drawing...Who would have thunk it?
Musical Interlude: "The Angry Mob"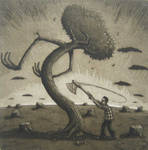 Swipe
by
Esurio-Citadel-1996
...Because it's not like nature isn't going to not put up a struggle against the more reckless humans. And EC illustrates this in a unique & clever way here, thanks to the help of a cool & attractive style, a great amount of detail, a nice sense of action, & a cute little sense of humor. Simply wonderful.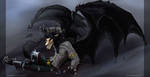 Death from above...
by
drakhenliche
...You can really just feel the pain about to be brought down royally by our star here, thanks to an impressive style, some superb, dark coloring that paid off, a badass character design & a great pose capturing a nice chunk of action. Truly the bits epic fight scenes are made of.
Treenand
by
MagusVerus
...Needless to say, this is definitely one appropriate showcase for a shaman, largely thanks to a perfect "otherworldly" feeling radiated throughout everything here, from the unique & slightly surreal design to the eye-catching style & the superb colors & textures that seemingly capture nature, magic, & technology all in one. Just astounding overall.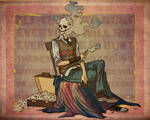 Dust
by
TovMauzer
...Sad but true, we will al eventually die in the end, someday, somehow...But for now, let us at least live our lives by immerses ourselves in such amazing works of art like this. Because I don't know about you, but with an inspired concept, some superbly dark, surreal & mesmerizing imagery, a bold & eye-catching style, & an incredible amount of detail in everything from the suitcase ashes to the eerily calm mood, I sure as hell wouldn't mind if this was one of the last sights I saw before I passed away.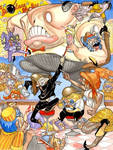 Dust-Up at the Soda Fountain
by
Adoradora
...Like the artist herself, I'm not fully sure what led to this clash either...But thank god it happened, because the end result is a slice of pure awesomeness through & through! Whether it be the array of twisted, unique, & kickass character designs, the gloriously wild & energetic classic cartoon style, the wonderful sense of action in every pose & expression, or the mounds of lovely details that give everything a perfectly old-school, kind of '50s atmosphere, every little bit here makes for one mind-blowing scene you won't want to miss!
(NOTE: Yes, this one already has a DD, I know. Another one of those cases where a Deviation I originally scheduled to have here got an actual DD in between, but it was just too awesome to pass up. My apologies, it'll never happen again.)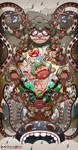 Which side are we in?
by
caramelaw
...Both sides are actually pretty damn amazing to look at, largely thanks to the artist's eye-popping signature style with a nicely psychedelic cartoon feel, a great contrasts of colors, & several funky & cute little designs, but an inspired concept & message behind it all will indeed make you stop & ponder things for a second. Nontheless, both sides still manage to make for an absolutely stunning whole.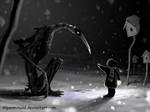 Are you a bird
by
Alpenminuial
...Bird or not, this is one incredibly amazing image right here, with an inspired & offbeat concept with a nice tale seemingly behind it, a stellar use of monochrome color with some superb red highlights, & a terrific & entrancing style with a ton of hard work in every area. Just simply a beautiful piece of work.
:thumb172008409:
Bas Fonds SteamPunk
by
CorbacFactory
...Have I mentioned that the steampunk genre is the source of tons of amazing imagery here on DA? Probably, but just in case, here's another kickass illustration of a steampunk scene to help prove my point. With some gleefully surreal imagery, a gorgeous spread of industrial colors, some cool characters & a mesmerizing style, this is one gorgeous piece of work you won't be able to resist.
What? I'm busy.
by
TuxedoDemon
...Worth it just for that priceless expression alone. Though of course, the bold & eye-catching style, wicked character design, sweet coloring complemented with a nice bit of fog, & a good amount of detail in everything down to the great landscape (love the rocks) helps as well. Now please leave, we don't want to disturb our friend's stabbing business any further...
AT: Fall Colors
by
VivzMind
...Needless to say, Viv's apparent love of Autumn more than shines through on this stellar portrait! Everything from the sharp, vivid, & signature style to the dead-on perfect color scheme, impressive details, & terrific pose pays perfect tribute to this season & the lovely character embodying it, & the end result is an inspired bit of pure win you'll definitely fall in love with! Bravo!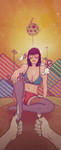 Eat Me
by
hexthor
&
MkDsg
...Well, once again, I really don't have much to say other than this is a really damn good pin-up, what with the smooth & excellent blend of vector styles, the nice touch of surrealism, the warm & lively colors, & the vibrant patterns. Oh, & the hottie at the center of it all I wouldn't mind digging into myself. Just satin'.
::redroses and mountains::
by
KaijuRomance
...Adding yet another amazing & innovative character design to his own unique mythology, amai whips up quite the killer showcase here with an energetic pose, a perfect blend of both the beautiful & the odd in the atmosphere, & a gorgoeus style with some nice, soft coloring & some lovely Japanese influences. Just stunning in every area.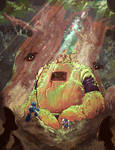 Megaman TRIBZ
by
scrotumnose
...Another year, another Udon tribute book, & another challenge for me to decide which tribute piece was the best...But HOLY CRAP after seeing this masterpiece, I think it's safe to say we have a chapion here! It's
Mega Man
meets Miyazaki in this jaw-dropping drawing, with an absolutely rich & detailed style perfectly capturing a killer reimagining of a classic Robot Master bathed in some breathtaking colors, lighting, & scenery & surrounded by several cool touches down to each minor enemy, topped off with an aura of mure magic, like a meeting from an epic fantasy scene. Just. Effing. Amazing.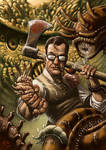 Family Man
by
SpineBender
...Because a real man not only knows how to bring home the bacon, but also how to slaughter an invasion of commie aliens as well. And with sunch a clever concept executed with a perfect sci-fi style, a perfect spread of otherworldly, greenish colors, & several sweet details down to that classic steely expression plus pipe, I think its safe to say we all wouldn't mind seeing more of this badass dad.
:thumb199461153:
Flamenco EQUINOX.
by
KittyPaint
...I have been looking for an excuse to feature some art from KP's comic "Holiday" for quite some time now, & needless to say, this easily fit the bill & then some! After all, you take that epic, joyful, signature catoon style along with some inspired & amazing character design, a perfect contrast of vibrant & dark colors, & an intense amount of energy in every speck & step, & how can you
not
resist a combination like that?
Musical Interlude: "Never Miss a Beat"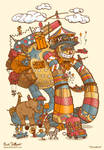 Circusbot
by
nickv47
...Giant robots + Old-school travelling circus = Epic win. I really don't need to say more, but just for the heck of it, please note the unique, fun, & action-packed style, the perfectly whimsical color scheme, & the mounds of incredible detail & hard work in everything. There, that should hopefully clinch it for you...
Kyle the Cyclops
by
hyamei
...Creating a modern-day take on a bit of classic mythology may be a challenge, but as the artist shows here, the results can be incredibly rewarding. A clever interpreating of a menacing monster, a lovely & fun style with a nice touch of humor, & some dazzling coloring & several cool touches down to the background mural all make for one terrific scene the ancient Greeks themselves would be proud of.
No, I insist, you go first
by
jnkboy
...Proof that not all giant robots are evil or awkward, & some gorgeous-looking proof at that. After all, with such a pleasant syle, a lovely & clever concept, & a great amount of detail in every stroke, who wouldn't fall in love with such a pleasant chap like this?
Clumbsy Beauty
by
GhosteKey
...And I would really like to emphasize the "beauty" part of that title, if I may. Not only has our mister here created a unique, fun, & even cute litlle kickass character design, he did so using such a slick & eye-catching style, a spectacular use of sunset-lit colors & setting, & an absolutely charming pose, expression, & scenario that can't help but love this pleasant little painting.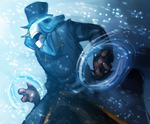 DARNED KIDS, GET OFF MY LAWN
by
BechnoKid
...Once again, I don't watch Sgt. Frog, but BK just has this knack for taking the character of Yukiki & whipping up such a creative, charming, & straight-up kickass version of him that I can't help but admire the guy. Of course, scenes like this with such a dazzling array of blizzard-like colors & an amazing dose of fierce energy executed with such a fun & energetic cartoon style help showcase his potential as well, naturally.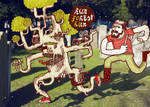 Run, Forest, RUUUN
by
Frost-mur
...A bit of a corny pun there, but out of that bit of corn comes a clever & charming illustration, one with a lovely sense of humor, an attractive & gleefully offbeat style, a perfect color scheme & a nice use of a photo backdrop. Besides, who doesn't love a well-executed chase scene?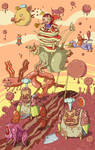 meat_prince
by
ZheSyt
...I gotta say, on the twisted/awesome scale, this is easily hitting the high points in both areas. You've got the artist's eye-catching, surreal, & zany style, several whacked-out yet cute & fun little designs, & of course, a unique concept that only could've come from such a deranged yet brilliant mind. Sir, I gladly tip my hat to you.
:thumb200550540:
My name is
by
Tersakoff
...And how about that, another entry in the "gleefully twisted yet charming" category! And what a contender we have here, with such an excellent, intriguin, & well-drafted character design, a lovely little sort of "blacklight" color scheme that makes everything stand out, & several cool touches from the charming pose to the background writing. Needless to say, it looks like we have a little slice of win here, wouldn't you say?
Beware the Dead Sisters
by
JWiesner
...GU is an artist who tends to perfectly blend both the macabre & the surreal into some astonishing imagery, & her latest creations are quite doozy. Just looking at these laides, you can tell there's quite the epic tale attached to them, although their inspired designs, perfectly haunting aura & atmosphere, great use of symmetry & a lovely amount of detail alone should be enough to make you give props to them. Yet another winner, unsurprisingly...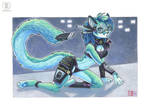 Plug Me In
by
KaceyM
...Needless to say, I think our lives would be a lot better if we actually cute little critters like this assisting us with our computer work. But for now, we'll just have to settle for this incredible Deviation, starring an inspired & charming character, a lovely & attractive style, & the perfect color scheme & outfit design to help give everything a futuristic feeling. Still, we can dream...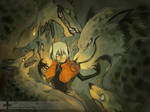 today
by
Neuntoeter
...I don't really know why one needs a pack of wild dogs to find one's name, but god bless them for it! With some intriguing & clever story & character designs, a gorgeous fantasy style, & a well-formed, action-packed huddle with a lot of detail, we get a killer portrait of one demon's journey to discover himself (namewise, at least).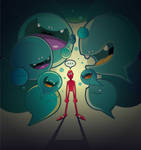 around me
by
utria
...Honestly, I can't wait to see what would go down next in this scene. But for now, everything is just set up perfectly, with the cute yet menacing designs, the perfect light & shading, the slick & attractive vector style, & a nice little bit of humor tying it all together. Nonetheless, I sense a ghost smackdown soon...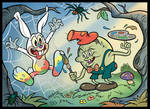 Revenge Of The Easter Egg
by
HammersonHoek
...Well, we all knew the day was coming when the eggs would strike back after years of being humiliated. So before they exterminates us, let's just enjoy this amazing cartoon depicting their revolt, complete with a crazed, classic, & eye-catching style, a great spread of murky & bright colors, & an inspired & excellent sense of humor in every corner & expression. Good times...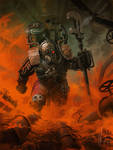 Man of pipes
by
neisbeis
...Once again, this a picture that just instantly makes you want to know the story behind it, even if it just boils down to the world's most dedicated plumber. After all, with such an inspired & amazing character design, an amazing style with a lot of hard work behind it, & a perfect blend of rusty colors & incredible metallic textures, this portrait paints an astounding tale you'll instantly fall in love with.
Naru and Yaru
by
sukyura
...This is one of those artists known for creating unique & amazing characters & equally unique & amazing universes to go with them, & shockingly enough, we get a nice bit of both in this excellent piece! A pair of lovely design drawn in a terrific signature style, topped off with a perfect blend of sunlit coloring, a great amount of detail in everything down to the semi-symmetric pose, & the intriguing little bit of backstory, that's what makes for a killer drawing like this.
Musical Interlude: "Good Days Bad Days"
:thumb204789331:
Touch of Death
by
GR1MA
...I know it's a tragic tale, but it's just drawn in such a damn cute manner...Anyhow, thanks to an inpired concept, a lovely style, & some lovely coloring & texture work in everything down to the bits of dirt, this is one terrific cartoon that you definitely need to check out, pronto.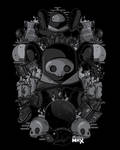 Magie Noire
by
recycledwax
...It may be a darker side of RW's funky, signature vector style, but it's still his brand of awesomeness found all throughout it, from the inspired idea to the cute & fun characters to the insane amount of detail in every bit of magic shown here. Once again, he knocks it out of the park with yer another terrific design!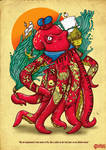 The Sailor
by
CALLit-ringo
...Because even if we are imprisoned in life, that still can't stop us from out such kickass masterpieces like this. As usual, the unique & inspired concept is a huge selling point here, though the eye-popping & detail-packed style helps, with a perfect blend of nautical colors & textures also backing things up along with an aura of pure badass in every tattoo, expression, & bit of action. It's an amazing sailor tale that'll knock your socks off, I say.
Empire Disguise
by
camillerosegarcia
...O. M. F. G. Why the hell does this not have a faves count in the hundreds yet?? This is just a straight-up, kickass, mind-blowing painting in every single area, from the mesmerizing, dazzling, fluid style with gleefully trippy visuals to the maelstrom of vivid color & intense energy in every corner, along with the terrific creature design (punk flamingo) & the astnoishing details down to each eyedrop & recurring face...I don't know what else to say. I's just too awesome. Fave it. NOW.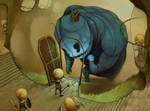 Knock, knock... who's there?
by
SamYangArt
...Apparently one epic scene is what's there, apparently. And beyond the initial charming & clever concept, we have a unique & attractive blend of colors, some creative monster designs, & a fun style to help make this one a winner. So now that you know who's there, why not give them some well-deserved praise?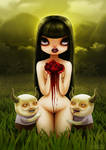 out there be monster
by
liransz
...Because killer images like these are why we have the term "gloriously twisted". With an amazing, smooth, & unique style, an inspired & intriguing setup, some astounding coloring with a bit of a soft feel to it & a lovely amount of detail down to each drip of blood & blade of grass, this is one meserizing & surreal bit of excellence you won't be forgetting anytime soon.
Sundog
by
tetramera
...Once again mixing excellent creature design with sheer beauty, May whips up yet another glorious Deviation starring a lovely & creative character, a lush style with a lot of depth & hard work in it, & some glorious coloring & shading breathing life into every corner. Truly a terrific portrait you need to check out immediately!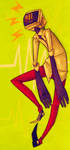 FRESH BEATS
by
SLAREN
...A truckload of neon gloriously spread out amongst everything, a simple yet awesome character with a monitor for a head, a slightly yet delightfully crazed style with a lot of energy, & a funky pose & feeling that makes me feel like breaking out the techno...Yep, I'm sold! Someone give this little slice of win a prize!
:thumb203640402:
The Birth of Estefan
by
Sajira
...Taking the classic painting of Venus & throwing in her own unique twist, this artist has created her own lovely masterpiece in the process, thanks to a charming, fun, & slick style, a cute sense of humor, a sweet blend of light & soft colors, & a grand amount of detail in everything down to each magnificently-styled hairdo (a shocker, I know). Needless to say, Botticelli would be proud!
Lounging
by
OhThatNK
...Another artist with a knack for creating some awesome characters, NK shows off some of her latest creations in this stellar little cartoon, featuring a fresh & attractive style, an eye-pleasing color scheme, & a setting & atmosphere that just give off that perfect "mobster" feel. Feel free to throw in a
Scarface
quote here if you want...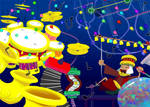 Secret Santa: Color Harmony
by
BlackHarpyGoddess
...Every time I picture the song being made here in my head, it always comes out as a burst of glory. And credit for that goes to BHG, who made a wonderful little gift/tribute here containing an inspired concept, an attractive style, & an amazing burst of bright color & energy in every corner, & the end result really brings this stellar symphony to life.
There's only one king
by
Firnadi
...I honestly think I am speechless here. This is just such a mind-blowing, creative, expertyl drawn, brilliantly colored & shaded bit of fantasy, with a nice little sense of humor & several awesome touches down to the slash marks on the card...I really don't need to say anything more, because the awesomeness speaks for itself. Fave it now!
(NOTE: Aw crap, it happened again. Like the other case earlier, this one already has a DD, I know. Another one of those cases where a Deviation I originally scheduled to have here got an actual DD in between, but it was just too awesome to pass up. My apologies.)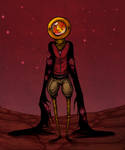 this isn't the library
by
jin-rikkun
...I don't know what it is, but it has a lava lamp for a head, therefore it is awesome. Oh yeah, & the gleefully trippy & attractive style, spark of imagination in every area, mesmerizing choice of colors & loads of sweet touches definitely help as well. Just sayin'.
Lift
by
delSHARK
...I think raygirl's reaction down in the comments says it all. Delz has definitely whipped one jaw-dropping gift here, perfectly capturing this cool character in her fun, lively, & amazing signature style, then topping it off with a great assortment of bright & cheerful colors, along with several stunning details down to the bursts of magic help create a perfect aura of pure joy. Just phenomenal all around, & another winner for an astounding artist!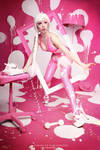 Splash
by
Ophelia-Overdose
...Now, it's extremely rare that I come across a photography that impresses me so much that I have no choice but to fall in love with it. But as this wicked little number demonstrates, it can indeed happen. The clever & fun concept, the excellent, slightly surreal setting, the eye-catching, candy-like color scheme, the insane amount of hard work that went into every little detail...Simply superb all around, plain & simple.
Community: Modern Warfare
by
damnskippy
...Perfectly capturing the essence of the show, this amazing bit of...Wait, wait, I just realized: Every minute you've spent reading this is a minute you could've spent watching
Community
episodes & reruns, & thus being able to gain more appreciation for this kickass piece & supporting one of the best sitcoms current on television. So what the hell are you waiting for?? Go, man, go! Let nothing stop you!!