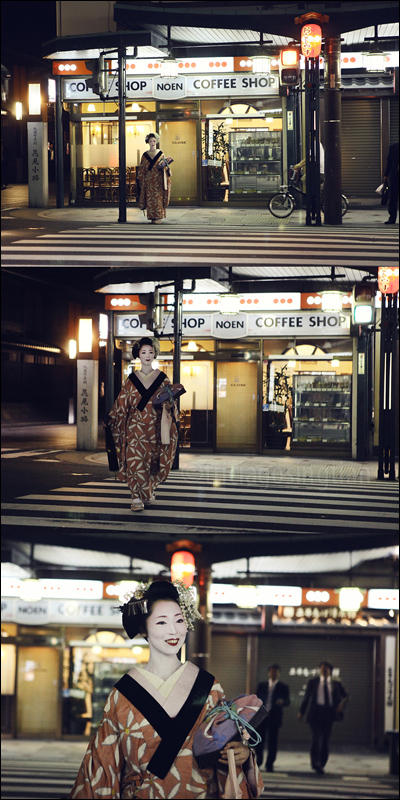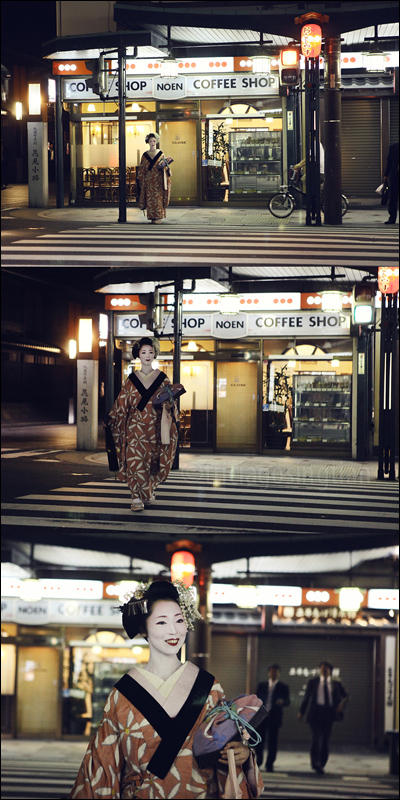 On our first night in Kyoto, our tour guide Yoko accompanied us to Gion late in the evening to see some geisha and maiko. It was fascinating to see these women clad in intricate costumes and make-up walking around in such a contemporary setting.

May 21, 2009

From ~Fuyou-hime - Her name is Kosen, and she is a senior maiko from Gion Kobu. It's a misconeption from 'Memoirs of a Geisha' that a maiko's full underkimono collar must be red, it's the back of the collar that must be red. A senior maiko will have a white collar with small details, while a geiko will have a white collar back and front. That's where the term 'turn the collar' (Erikae) comes from when a maiko becomes a geiko. For examples, here is the back of a maiko's collar, [link] , and here is the back of a geiko's collar, [link]

She is wearing rain gear right now, which is why the obi cannot be seen. Otherwise, her full dangling obi (darari obi) would be visible. It's also why she is not wearing the tall shoes called okobo that are characteristic of maiko (although it is not mandatory that maiko must wear okobo, and many never wear them). Instead, she is wearing rain zori, which have a cover over the toes to protect them from puddles. If you look in her left hand, you'll see her traditional bamboo umbrella, which actually has her name on it (so as not to be confused with the other umbrellas of maiko and geiko in teahouse backrooms). I assume the weather forecast that day was cloudy and rainy, because the Okaasan watch weather forecasts closely so that maiko and geiko do not get their precious ensembles rained upon.

Related deviation:
Shy That Way

(c) Tricia Gosingtian



Add my Tumblr!