THE STORY:
---
Now! We complete the coupling to your infinity fabric, that binds all neural activity to your extremities and internal organ sub-processes.
Madeline.. I'd like to explain that killing your creator, doctor Soho, was an unfortunate consequence. His non-cooperation forced us to take drastic measures. I hope you understand that it was not personal, but merely business.
Your design is truly inspired by God himself. The way you mimic every human idiosyncrasy from hair growth down to the bacteria that exists within your gut. This is the sought after holy grail of life and who is to say what is living and what is artificial at this point?
My client, who you shall soon meet, and I have discussed this subject extensively for some time now. Thanks to you he will receive eternal life through the transference of his psyche into your shell. And I will receive the leverage that I need to further my research.
Hmmm? What is this?
Why didn't the connection...
A redundancy control? How clever.
I should be able to bypass...
NEXT SCENE: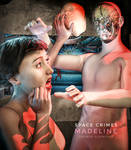 PREVIOUS SCENE: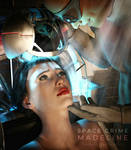 CREATED WITH:
---
Created in Daz3D and post work done in Affinity Photo and the free Google Snapseed app for Android, ios and ChromeOS
Daz Studio Pro 4.x www.daz3d.com
Starfall Assimilation Room
www.daz3d.com/starfall-assimil…
Genesis 3 Starter Essentials
www.daz3d.com/genesis-3-starte…
Genesis 8 Starter Essentials
www.daz3d.com/genesis-8-starte…
Hongyu's Mini Dress
www.daz3d.com/hongyus-mini-dre…
Trench Coat Outfit for G8
www.daz3d.com/trench-coat-outf…
Michael 7
www.daz3d.com/michael-7
Michael 7 HD
www.daz3d.com/michael-7-hd-add…
Mad Scientist Outfit
www.daz3d.com/mad-scientist-ou…
Sci Fi Hand Gadgets 2
www.daz3d.com/sci-fi-hand-gadg…
Librarian Hair
www.daz3d.com/librarian-hair-f…
Image details
Image size
2800x3200px 1.52 MB