THE STORY:
---
Upon reaching the destination it was clear that it was a most bizarre craft, large in size and ablaze. Explosions and smoke rose high from different portions of its hull. I then saw a single woman.. blue.. markings on her face like that of a warrior wearing strange clothes and injured.
A clan of thieves had arrived just before me and she was embroiled in the fight of her life.
* Pzzzssshhhh *
A strange sound was heard and a bright light jumped from her weapon landing on one of the thiefs. Instantly the pirate, who had charged her, was engulfed in flames. Muffled by the explosions and the intense crackling of the burning fires the screaming ended and peculiarly no smoke or remains were left behind.
Another pirate came from behind her and was about to strike when my sword came swiftly to her defense. Weapon raised she turned and made eye contact with me. Instinctively she knew I was a friend and lowered her aim.
NEXT SCENE: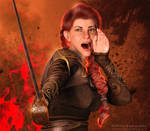 PREVIOUS SCENE: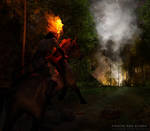 CREATED WITH:
---
www.adobe.com/products/photosh…
www.daz3d.com
ps.adobe.com
www.daz3d.com/rons-magical-sno…
www.daz3d.com/ufo-crash-site
www.daz3d.com/southern-noble-o…
www.daz3d.com/x-fashion-sci-bo…
www.daz3d.com/zelara-8-pro-bun…
www.daz3d.com/zelara-8-starter…
www.daz3d.com/zelara-8
www.daz3d.com/valentino-8-star…
www.daz3d.com/deck-hand-hair-f…
www.daz3d.com/instant-grass--p…
Image details
Image size
3200x2800px 5.15 MB