THE STORY:
---
Day three and with the help of the multi-use tool Sarah has been attempting to reanimate the astronaut. Bio and brainwave scans indicate that the process is working but there is still so much that could go wrong.
Other than occasional movement and pounding on the crystals walls the alien, whose name translates loosely to Protector, has been unable to access his thoughts. All Sarah can do is watch intently for any eye movement or possibly even words to be formed. While she knows quite about human physiology she's never helped revive someone that has been frozen for 300+ years.
It wasn't until the fourth day that she was awoken by someone calling to her. "Hey! Hey! Sleeping beauty let me out of here! I'm starving."
NEXT SCENE: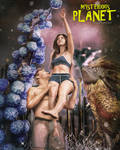 PREVIOUS SCENE: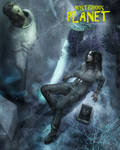 CREATED WITH:
---
Affinity Photo (Thank you
damnmad660
) affinity.serif.com/en-us/photo/
play.google.com/store/apps/det…
www.daz3d.com
www.daz3d.com/rons-magical-sno…
www.daz3d.com/billie-hd-with-h…
www.daz3d.com/armand-hd-for-ge…
www.daz3d.com/tjark-short-hair…
www.daz3d.com/callan-hd-for-ge…
www.daz3d.com/astronaut-for-ge…
www.daz3d.com/mrl-dforce-long-…
www.daz3d.com/spaceship-jumpsu…
www.daz3d.com/world-of-glass-c…
www.daz3d.com/planet-gaya
www.daz3d.com/sci-fi-lab
Image details
Image size
4000x5000px 8.98 MB