THE STORY:
---
"Clara... Clara, it's me Cedric!" as he removes his helmet.
"I knew it was you, I found your sword in a dungeon I was exploring. Then I saw the initials I had carved into the blade back when we..." she pauses. "Do you remember?" Clara responds.
"How could I ever forget those days" He says as he gently touches her cheek.
ORIGINAL HAIR VERSION: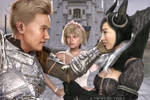 NOTES:
---
Yes, still taking a break of sorts but it's more on the social side of things. Imagine this as a soap opera like "Days of our Kingdom" or "As the Kingdom Turns"... etc.

CREATED WITH:
---
www.daz3d.com/
Affinity Photo (Thank you damnmad660) affinity.serif.com/en-us/photo/
Google Snapseed
play.google.com/store/apps/det…
www.daz3d.com/dforce-voila-hai…
www.daz3d.com/joanna-hd-for-ge…
www.daz3d.com/lily-hd-for-gene…
www.daz3d.com/valentino-8
www.daz3d.com/hair-and-glasses…
www.daz3d.com/princess-ensembl…
www.daz3d.com/orleans-armor-fo…
www.daz3d.com/tjark-short-hair…
www.daz3d.com/the-sinful-witch
www.daz3d.com/devourer-for-mic…
www.daz3d.com/fantasy-castle-2…
www.daz3d.com/albert-mansion
www.daz3d.com/albert-mansion-s…
Image details
Image size
6000x4000px 6.36 MB