About Me
~ Female ~ Asian (87.5% Vietnamese; 12.5% Chinese) ~ HerpDerp ~
Hai ~ Call me Slime. c: I'm weird, tend to have lots and lots of distractions, and procrastinate a lot. I have almost no patience, but once I'm determined to finish it, I will do it.
My Art
I am a digital illustrator, mostly painting humans and animals, though I also draw tattoo designs. I used to do a bit of pixel art and might get back into it. I hope to improve my techniques with the help of tutorials and amazing people, so join me on this journey!
Contact Information
I'm most easily reached through my Insta, though you are welcome to send me a note through dA! c:
Other Art Sites
Other
Points for a llama? ; u ; Or llama for a llama?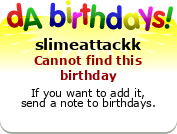 There is no need for a thank you! c: A llama is enough.