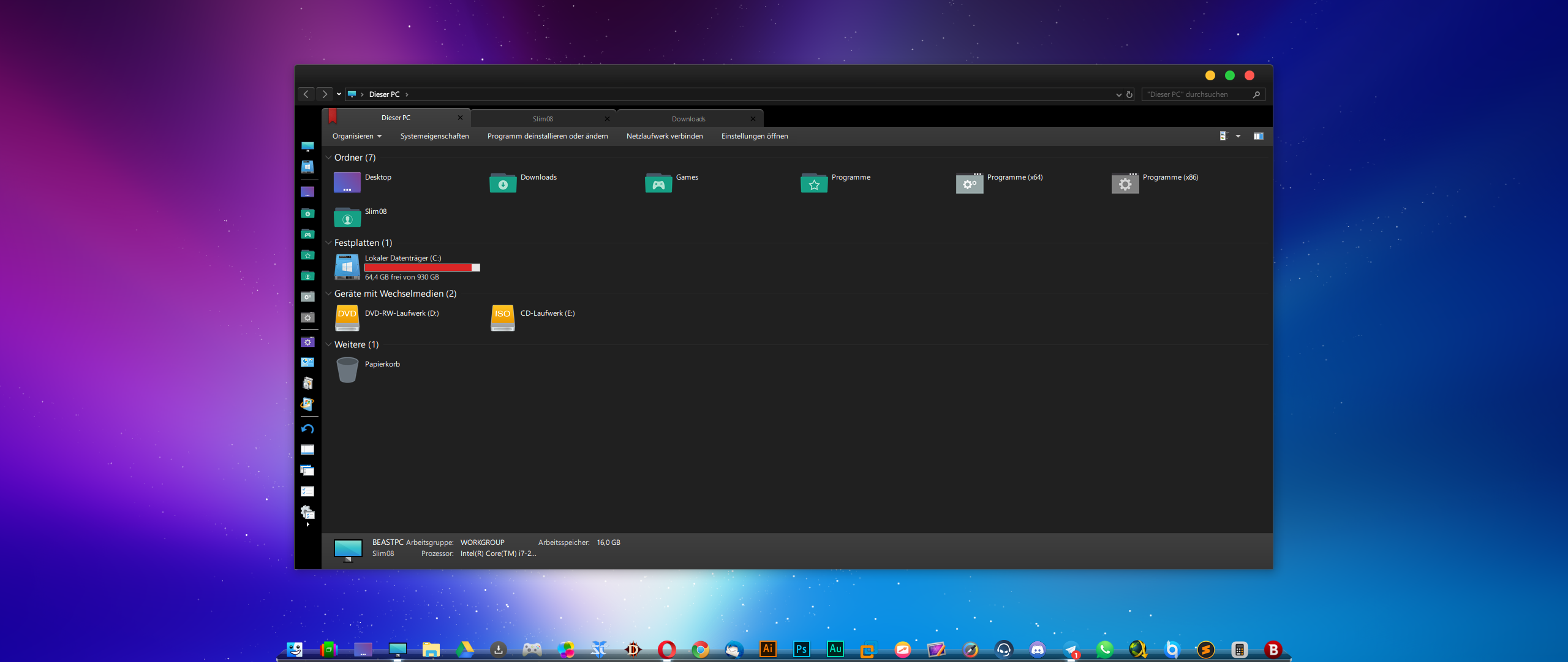 So, please enlighten me: Why would I choose to have 4 or 5 Apps running to achieve the look, instead of doing so by only using a Visual Style? I know people claim those apps are lightweight and one wouldn't even notice. Well guess what, I do notice. My system doesn't like those apps. I admire the work you did here, but an updated VS would be my preference here.
Reply

There are 4 programs I can recommend and for which I provided skins here. 3 of those 4 "run" more or less all the time in the background. If you don't find them all that useful then you don't need to run them. You see, other than in a traditional VS, you can pick and choose parts here. Microsoft did for once not a terrible job with their dark mode VS in 1809. I quit like it so I'm using it as a base without changing it. Big positive side effect with this method is that noobs pretty much can't brick their PC this way - you know all this comments you see under other VS like "does it work with 1803, 1809... ect.?" Your System seems to be pretty crappy if it can't even handle those 3 (low resource hungry) programs - mine is now about 7 years old and I have absolutely no issues. Maybe it is time to upgrade your setup or simply not to invest resources in cosmetics if your system can't deal with that.
But hey - if you have ideas to improve on my work by creating a VS that you would deem superior then please be my guest and create one. I would love to see what you come up with.
I hope that was enough enlighten for your taste.
Cheers
Reply

Great! But we can't get rid of the black background of the toolbar of QTTabBar right?
I try it in QTTbBar settings to set it to grey but doesn't work

Reply

Yeah it's a bummer. Since Quizo updated QTTabbar for 1809 we have to stick with black there. I also would love to customize that setting but somehow he missed that when updating. Considering it took him 3 years to update I don't expect a fix from him in the near future.

You can try to contact him directly via e-mail --> qtquizo@gmail.com
Reply

this looks absolutely incredible but, how do you install the Aero Glass skin? Also, i followed every single step in your DL but how do you do that with the Navigation Bar Icons?
Reply

Download this and put it into the
AeroGlass folder -->
glass8.eu/files/AeroGlassGUI.7…
It is the GUI for
Aero Glass which gives you access to all the settings you need.

The bar full of icons on the left side of the explorer window is not the navigation pane but the versatile bar that comes with QTTabbar. Little pro tip if you are using the
versatile bar - QTTabbar does render icons in a weird way if you select a plain .ico file as source but if you select a .dll file with your desired icon in it as source it looks a little bit sharper.
Reply

Thanks for the reply. Got the AeroGlass working but you said the Side Icon Bar came with QTTabbar, but i searched it up and found nothing named Versatile Bar at all. Not even on google and i dont see it in the QTTabbar options window.
Reply

Reply

That's why. They must of changed it recently because for me it's called Command Bar, not Versatile Bar.
But thanks for the images, I found it now

Reply