Hi guys! Sorry I haven't been as active lately. It's very difficult for me to try to reply to everyone's comments so i'm making an FAQ:
Q: "Can I use (your work) for ________?"
A: If it is for non-commercial use (meaning you do not make money or sell it) it is ok.

Please credit me/link back to the deviation page.
Q: "Can you remove the watermark/ is there a bigger resolution of ______?"
A: No. Due to art theft with intent to sell (ebay amazon etc) I do not remove watermarks/allow for high res versions of my works.
** exception is any work that has a high-res file downloadable for
my patreons
that is mentioned in the deviation's description.
Q: "Do you take requests/ can you draw _______ for me?"
A: No, I do not take requests.
I do NOT take deviantart points as payment.
However, I am open for commissions
Commission examples and pricing can be found here: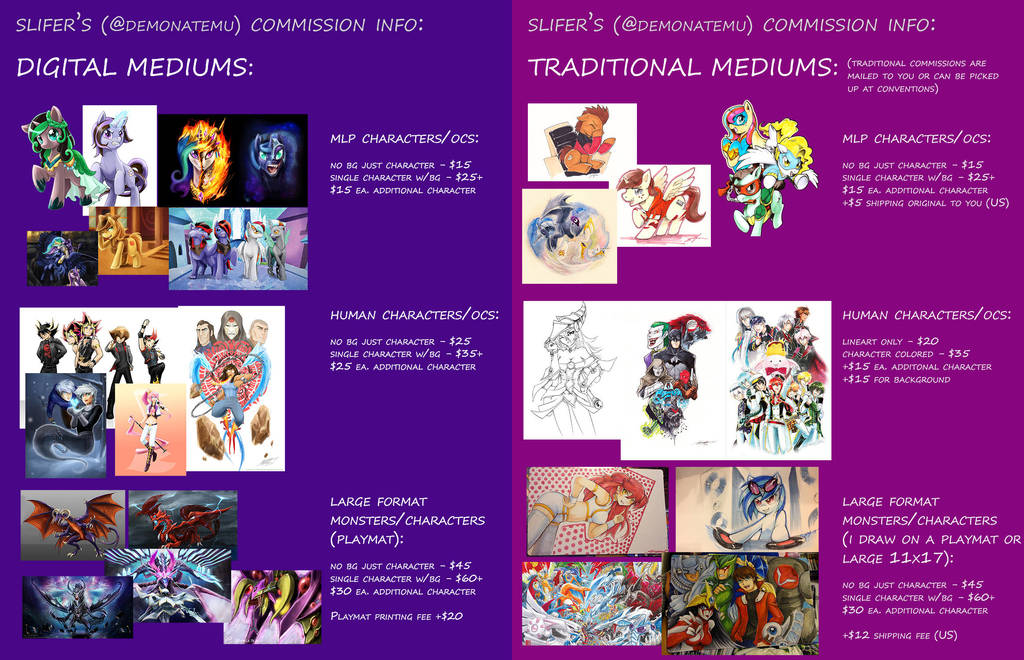 Q: "I really like your work! Where can I buy a print/support/etc?"
A: I do have a patreon if you like monthly updates and seeing stuff before I upload it to social/deviantart with high res images:
www.patreon.com/slifertheskydr…
I do have a few online stores as well:
I have a storenvy with some prints and small product with my fanart:
slifer.storenvy.com/
(There are also some playmat designs on there/more in the future)
I also have a Teepublic if you like some of my works on t-shirts/apparel:
www.teepublic.com/user/slifert…
and a redbubble:
www.redbubble.com/people/slife…
I DO NOT SELL THROUGH AMAZON/OTHER WEBSITES THAN THOSE LISTED ABOVE. IF YOU SEE MY WORK ON ANY OTHER SITE PLEASE NOTIFY ME AS THEY HAVE STOLEN MY (AND PROBABLY OTHERS) WORKS.

Upcoming confirmed conventions list:
SakuraCon 2018 (Seattle, WA) March 30th-April 1st
A-Kon 2018 (Ft. Worth, TX) June 7-10
Otakon 2018 (Washington D.C.) August 10-12th