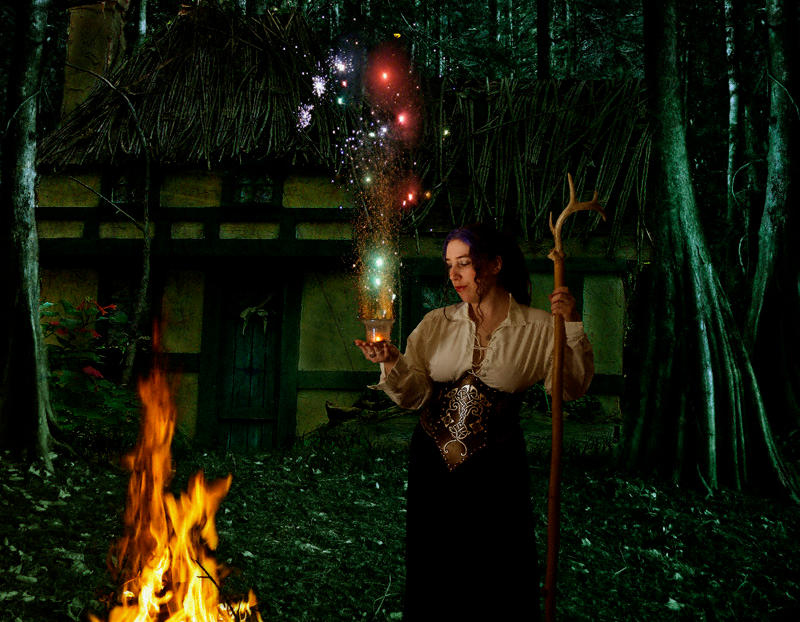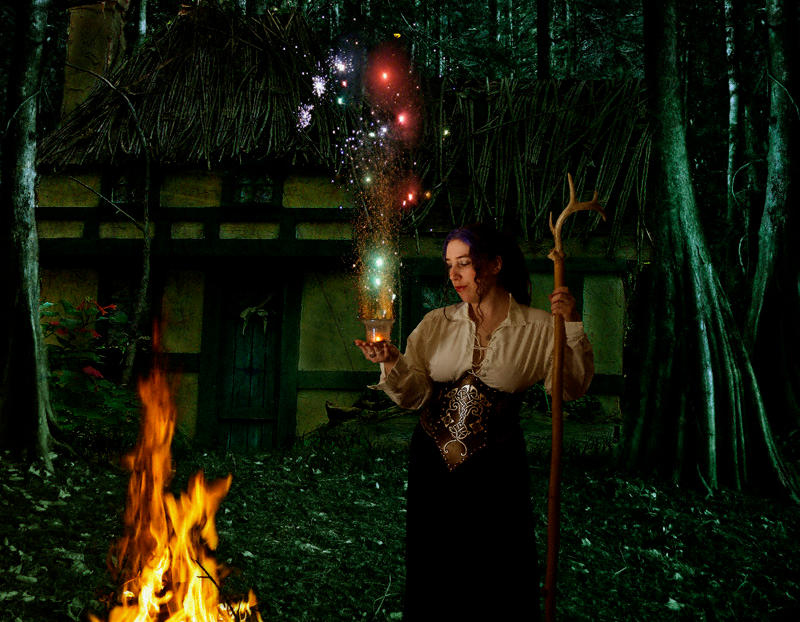 Watch

I enjoy the "Wiccan" feel that this picture has. It looks like CGI, but of course I mean that in the best possible way. Its a great image and great background.
Reply

Awesome picture. She looks like a witch and her magical fire works coming out of her goblet. The crooked magical staff and the old style house thatched with branches. It looks like a Germanic house with two materials used wood and the white cement or plaster. (I'm not sure which.) I love the trees and the plants. The woman model isn't bad looking either in the corset. It looks almost medieval fantasy like.
Reply

Thank you, that's very much the feel we were going for with this idea. I appreciate the detailed review.
Reply

No problem, I like doing that. I enjoy telling you what I like about your pictures and writing style. It was a pleasure to help you in any way that I can.
Reply

Awsom. i love her staff. and that corset is the bomb
Reply

We actually based the entire idea around that corset.

Reply

I think ~
Imortalbelovd
is kinda right about adding a green tint.
Considering that she isn't lit by the fire everywhere, there could be some green in the shadows.
Or at least there should be more orange on the other stuff, since it doesn't seem logical that the light only hits her. (While I'm not even sure if she's orange enough in the lit areas.)
Either way it could use some "tinting" to make the overall light situation more believable. Ö.Ö
Reply

Very sexy.

Reply

I turn around, you blow my mind.
Reply

Thanks David

I'm debating swapping the image out for a larger version. It's got a TON of find details, Eric did a fantastic job over multiple revisions with me bitching about the details.
Reply

Yes! Link me to the huge version, I want to see this in all its glory!
Reply

I absolutely LOVE this piece. I think the only thing I would change would be to add a little bit of a green tint to the model, IMHO it would make it a bit more cohesive.
Reply

The fire's the primary light source, she's tinted to match the fact that her white shirt & pale skin would reflect the reds & golds of the fire.

Remind me to send you a link to the HUGE version of this so you can see all the details. I'm hoping to get permission to offer it as a print.
Reply