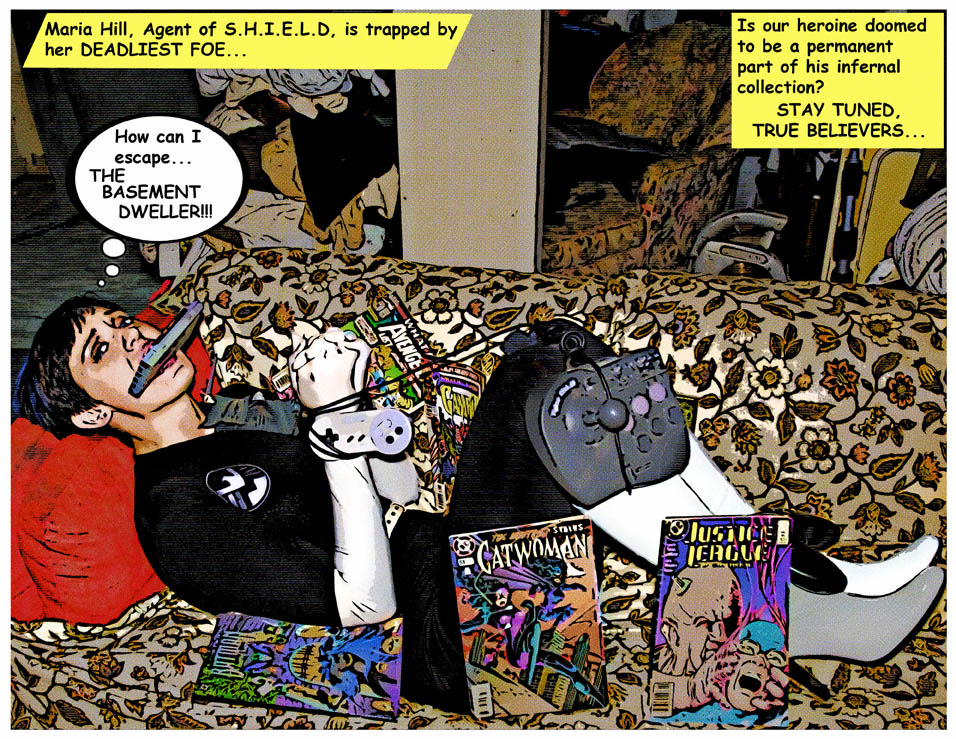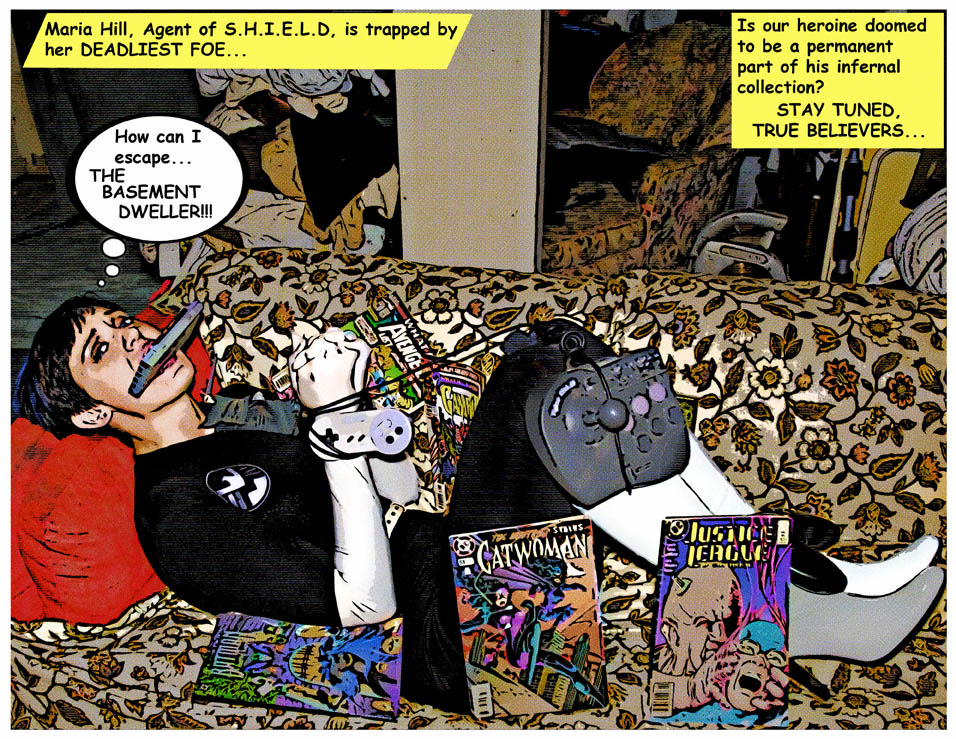 Watch
It's every heroine's nightmare, captured by the foe they fear most! Maria Hill, Agent of S.H.I.E.L.D, isn't in a complicated death trap set by HYDRA or The Red Skull, she's been captured by... THE BASEMENT DWELLER! Let's just hope she gets away before he slips her in to that protective Lucite sleeve...
Lela Gwenn
's cosplay, my basement, comics, and video game controllers, & PS work using a variety of tricks.

See the original photo:
Maria Hill cosplay No. 01
More from this set here
[link]
that image is also featured in a
Whack! Magazine interview
with Lela about her writing.
See more of my work at
my Model Insider portfolio
or
my website, SLE Photography
Prints (signed, limited edition, numbered) are available for sale directly, please contact me if you're interested.
Non-DA members can contact me for prints/merchandise at:
prints *a t* slephoto *d o t * com
Image © James Glendinning/SilverLight Esoterica Photography.
Image may not be used, copied, or distributed in any way or form without express written consent.
This work is NOT in the public domain.
This work MAY NOT be used as stock.
Maria Hill & SHIELD are © Marvel Comics. The other characters depicted in the comics & toys here are © their respective owners. I am not claiming ownership of any of these.

Considering my opinion of Maria Hill, all I can say is...GO, BASEMENT DWELLER!
Reply

We shot an entire series of "Maria Hill captured & in peril" that day, I have to finish the rest LOL.
Reply

The weird thing is, I'm more interested in the apparent fact that DC Comics exists in the 616 universe. I wonder, does Marvel Comics exist in the DC universe?
Reply

There's a lot of debate about this because of the repeated crossovers, the fact that the Amalgam universe is officially recognized in both continuities (Earth 9602!), and things like Spider Man talking about seeing Christian Bale as The Dark Knight. Marvel characters also appear in in-universe comics but comics readers also have other choices, and Superboy Prime comes form "our" world where all the DC heroes are just comic characters... which means the Marve comics exist there, too.

Lela & I had actually been joking about crossovers, which's one of the reasons I tossed DC comics up front & Marvel comics behind her... to see who'd notice LOL.

Now take a REALLY close look at the action figure in her cleavage if you want to totally blow your mind.
Reply

Reply

Holy crap - I had that copy of JLI!
Nice pic too.

Reply

Thanks! I'm waiting for someone to ask why all the comics up front are DC lol. (The two along the back of the couch are Marvel, tho, and one's featuring the Avengers.)
Reply