Sailor Moon 'Femforce 119' Tribute
Description
A little back story. This AMAZING piece, was inspired by another amazing drawing by Ed Coutts: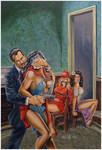 Many of you probably recognize that piece! When I saw it many years ago, it blew my mind. Back then, I couldn't make art, so I envied the amazing artists who could draw scenes like this. Well...now I can make art!
I really like the Sailor Moon characters, so I thought it would be totally awesome to draw the Femforce #119 cover using the Senshi. I think this is like, the fifth time drawn her chloroformed? Anyway, on to the story.
Usagi has just learned that her newest friends, Ami and Rei, have just been kidnapped by a general from the Dark Kingdom. She eventually locates them in an old house: Sailor Mercury and Mars are bound and gagged! She immediately transforms into Sailor Moon, and rushes in to rescue the two helpless girls. Little does she know however, that this is actually a clever trap set up by Jadeite. Mercury and Mars see Jadeite sneak up behind Sailor Moon...but with their mouths gagged they are unable to alert her! She feels a damp cloth suddenly pressed up against her mouth, and in her surprise, she takes a deep breath. The chloroform starts to make Sailor Moon sleepy. "So tired..." she thinks.
"Sweet dreams Sailor Moon...you'll be joining your friends when you wake up!"
Technical notes:
This marks the most complex piece I've drawn to date. The Photoshop file clocks in at a whopping 111 MB.
The image file is also massive: about 3600x3600 pixels. If you download the whole thing, you'll notice lots of imperfections. This definitely looks better when scaled smaller.
The whole thing took six days to complete. It was started on Jan 12th.
I'm improving on my digital painting technique. I'm doing a lot more "blending" of colors, so things look smooth.
I know you guys are going to love this. Let's make this thing go viral.
==============
Update July 9, 2022. Here is an up-to-date redraw:
Image details
Image size
3639x3600px 1.84 MB