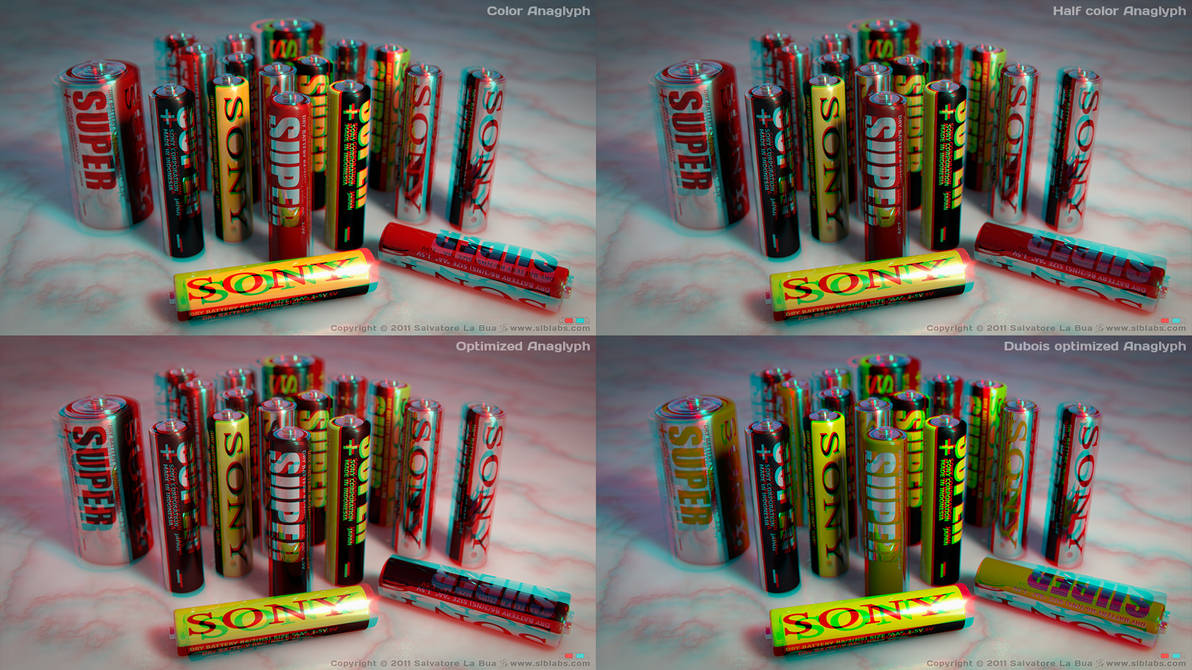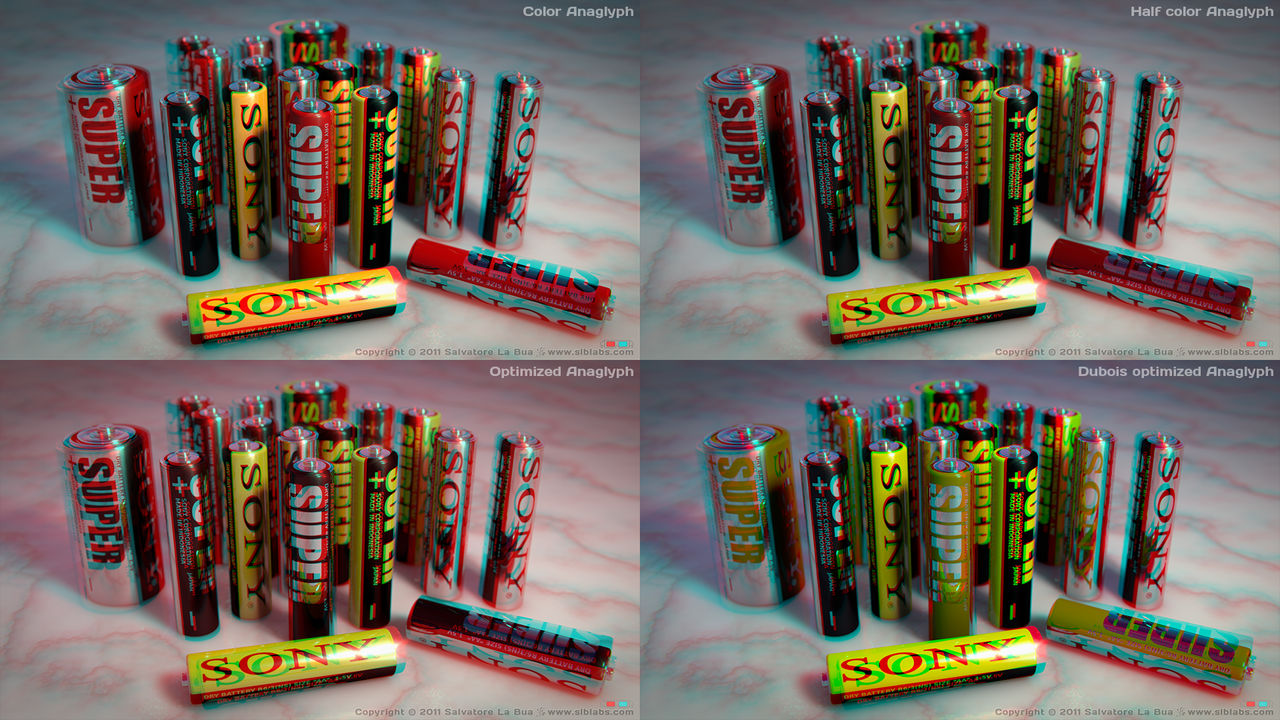 Sony® Batteries.
Model, compositing, render, anaglyph methods entirely made with Blender.
Testing some Anaglyph methods:
Top left > Color Anaglyph
Top right > Half color Anaglyph
Bottom left > Optimized Anaglyph
Bottom right > Dubois optimized Anaglyph
Original render resolution: 1920*1080px @ 72dpi
Uploaded render resolution: 1920*1080px @ 72dpi
Full size preview: 1280*720px
Sony is a registered trademark of the Sony Corporation. All rights reserved.
Please Download for full size image.
--
Artwork Copyright © 2011 Salvatore La Bua
This work is released under the terms of:
Creative Commons lincense
[
by-nc-nd
]
Attribution
Non Commercial
No Derivative Works


Dubois is the best, that's what I use for mine, but you also need to align your images before thinking of colors.

Reply

I prefer that too, yes the images are supposed to be aligned already, or did you find some problem in them? Thank you : )
Reply

You have vertical and rotation alignment problems on this one.
Reply

The camera are shifted only along the global x axis and rotated only along the global z axis as follows:

Central point of view position: (0, -15, 8.5);
Central point of view rotation: (65°, 0°, 0°);

Left camera position: (-0.5, -15, 8.5);
Left camera rotation: (65°, 0°, -2°);
Right camera position: (0.5, -15, 8.5);
Right camera rotation: (65°, 0°, 2°);

The cameras converge at about the center of the scene where there's no depth of field effect. The scene floor is centered in (0, 0, 0);

I think it's perfect, the cameras are positioned as if they were the eyes of the observer vertically aligned with the horizon and looking downwards onto the scene, focusing in the middle of it. Maybe you feel there are problems because it's a perspective view (focal lenght is 35), but as shown above the two scenes are vertically aligned and there's no rotation but on the z axis only as it should be.
Reply

Z ? Shouldn't the bertical axis be Y ? I dont understand your coordinates (X,Y,Z) (width, height, depth) How can you have Y=-15, your camera would be underground in this case .
Anyway, it will be too hard to explain in english (I'm french) and too long to type, so I made you a picture to explain, here :
[link]
Reply

In Blender the horizontal plane lies in x,y; x runs from left to right, y runs from the observer to the screen, z runs from bottom to top. My coordinates are as I said position coordinates, not dimension ones, so they were not about width, height and depth but camera placement in the 3D space. Being the batteries scene centered in 0,0,0, having the camera's y in -15 means the camera is between the observer and the scene.
Thanks for the picture (you can delete your deviation now, thanks), I knew what you meant about offset and rotation but from the values I pasted earlier I showed you that the only rotation between the two cameras is in respect of the vertical axis, z that is.
Furthermore, since you said you make anaglyphs too, I suppose you know how to place the cameras to simulate the human eyes, they are parallel only in parallel projection, not in perspective, and naturally, when you look at an object, you make your eyes converge on the object itself, so they're never parallel.
This picture shows you how the scene is set up, maybe it explains a bit more what I meant in words >
[link]
Cheers : )
Reply

Nice....very good anaglyph there....with I had thought of that one. *lol*
Reply

Reply