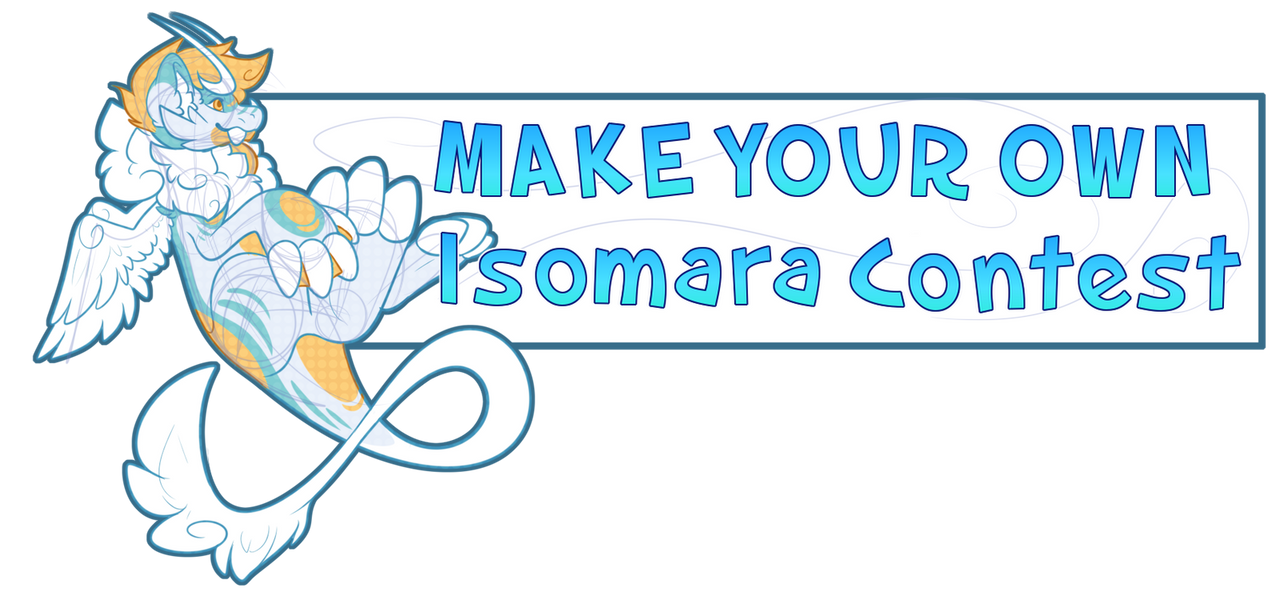 What is a MYO?
A MYO or Make Your Own is an alternate way to get your own character of a species. Instead of purchasing a pre-made design you can make your own Isomara designed by yourself. This allows you to make it how you like and also you can alter the design and have more rights to it than the ones which are designed by the staff.


---
Prizes:
This MYO contest is going to work differently this year. Instead of everyone making a myo design and only a few being chosen to become official everyone will get a free myo slot and all Isomara will become official upon approval! Read below for more inforamtion!
Receive one free Isomara MYO slot by commenting below. All MYO slots used during this contest will be eligible to earn extra prizes! All MYO designs created will be official upon approval!
SlayersStronghold
,
SirPacings
, and our Beta Testers will be choosing our top three MYO designs at the end of the contest. The owners of the top three Isomara designs will win:


1st Place:


Contest Rules


Need to be a member of
Isomara-Island

Entries must be in your gallery (No sta.sh) and added to the
contest entries
fol

No more than one MYO entry per person. You may edit the design as many time as you want until this contest ends

You can give your Isomara hair (Any style or length is allowed)

Adult Isomara or Isolings can be created for this contest

No
Special Traits
may be used for this MYO contest

If you own a MYO slot already you may use it for this contest, however, you may not use an Ultra MYO slot or one with special traits

You may not use bases, line arts, anything you did not draw yourself

Digital or Traditional entries are allowed, however, if traditional please take a picture with adequate lighting or scan the drawing
In the description of your entry please fill out this form:


Name: ??? || Gender: [Female or Male] || Stance: [Anthro or Feral]
Breed: [Standard or Duestrum] Isomara
Age: [Child or Adult]
Height: [4'0'' - 6'11'']
Traits:
??? Horns
??? Ears
??? Tail
??? Eyes
- ??? Wings [Large = Flyer or Small = Swimmer]
Inventory:
- ??? [None or (Accessory Name) Custom Accessory




Entering this Contest & Upgrading your MYO Slot
To enter this contest join
Isomara-Island
as a member and
comment in this thread below
to receive a free
common Standard Isomara MYO slot
. You may choose to keep this slot for later if you choose not to use it during this contest. If you do any of the optional tasks below you will be able to upgrade your slot! (Upgrades will remain attached to your slot even after the contest is over)
Optional Tasks:
When commenting to enter do any of these below to upgrade/ earn bonus rewards. You make multiple comments if you choose to do any of these tasks at a later date.


1a. Refer a Friend = One Custom Accessory
Tag someone and now you can add an accessory to your MYO design
EDIT:
If you tag an empty account, side account, or an account that has not been active in more than 3 Weeks it will not count! Accounts that are less than a week old or have no content/deviations/journals also do not count.


1b. Refer 3 Friends = +1 Uncommon Trait
Tag three people in your comment and now you can use up to one uncommon trait (You will receive rewards for 1a as well)


1c. Refer 5 Friends = +50ss and +1 Entry into a Goom MYO Slot Raffle
Tag five people in your comment and earn 50 seashells. A good way to start into the game
(You will receive rewards for 1a and 1b as well)

You'll also
get one raffle number into a Goom MYO Slot Raffle
1d. Refer 10 Friends = Isomara of the Month
Tag ten people and your MYO Design will be one of the January Isomara of the Month (You will receive rewards for 1a, 1b, and 1c as well)
(
Iso of the Month
earn an achievement with perks and are featured on the group homepage and on
IsomaraIndex
)


2a. Share this Contest through Journal, Poll, or Status = +1 Uncommon Trait
Promote this journal through at least one of the options listed above and you can use +1 uncommon trait (Does stack with other +1 uncommon traits)


2b. Share this Contest through Journal, Poll, AND a Status = +1 Rare Trait
Promote this journal through all of the options above and instead of an uncommon trait you can have +1 rare trait (Replaces the reward for 2a)
EDIT: If you do not have Core you do not need to do a poll! As long as you do a journal and a status you will complete task 2b!
3a. Draw an NPC = One Custom Accessory
Draw one of the
Isomara NPCs
and you can now add an accessory to your MYO design (Max of three custom accessories can be used on a MYO)
Art needs to be colored. Art does not need to be full body or have shading or a background.
3b. Draw all the NPCs = Duestrum Isomara MYO Slot Upgrade
Draw one of each of the
Isomara NPCs
and now your Common Standard Isomara MYO Slot becomes a Common
Duestrum
Isomara MYO Slot!
Art needs to be Full body and Colored. Shading and background are optional
4. Favorite this Journal = +1 Entry into a Goom MYO Slot Raffle
Favorite this journal you'll get one raffle number into a Goom MYO Slot Raffle (Total of two raffle numbers if you did 1c)
---
---
Contest ends on December 31st at 11:59 pm MST
If you have any questions or concerns ask them here -
Questions/Help Journal