Hello and welcome to my page,
I am a very small artist of the internet who has been doing art for about 6-7 years.
For the moment, I mostly do my art for fun and attempt to improve from the last 3 years.
In my gallery, you can find all my art, even my very first post from about 3 years ago. I refuse to remove my old art to show that with enough practice and effort you can really improve a ton!
I don't use a tablet for my work, I used a very long time ago but it has been broken for quite a while. So for the past about 2 years I have been using my laptop mouse, which shows that you don't really need a tablet in order to make really cool art.. but it would probably make the process faster. I'm not very good at giving advice on art, as I am still a growing artist myself, but if you want some advice or help don't be afraid to note me.
I'm not 100% sure how great my art is, even though I have clearly improved I am sure there are still faults in my work, you don't have to, but I would very much appreciate if you could possibly help me with that, if not it's alright.
One of the main reasons I joined DeviantArt at first was to admire others artwork, I really liked seeing others abilities and what inspired them. I will admit I did start out tracing but I never posted it, for I learned that it's not good to claim something you never truly made yourself. I met a little group on a game and some of them did art, which kinda inspired me to start trying to do some art of my own.. hence some of the oldest art in my gallery. They are the reason that I started doing my own art, they are the reason my gallery exists, they are the reason I don't trace anymore, and I wouldn't be here at all if it wasn't for them. Sadly I do not talk with this group anymore, I'm not even sure if they are still a group. But you know who you are, if you are reading this, Thank you for helping me get this far.. I wouldn't have been able to do this without any of you.
Thank you for reading this and I hope you have a wonderful day!
~Sky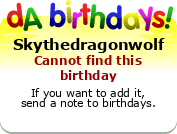 Just some good people and friends





Favourite Movies
Honestly I enjoy any movie, I am just not a huge fan of horror.
Favourite TV Shows
I don't really watch much tv, but i'll watch anything but the news and horror shows.
Favourite Bands / Musical Artists
Almost anything, I am not a big fan of heavy metal or country music...
Favourite Books
I'm not really much of a reader anymore
Favourite Games
World Of Warcraft, Feralheart, Sims 3, Minecraft, Diablo, Dragon den, and anything else I can find around the internet
Favourite Gaming Platform
Computer/laptop
Tools of the Trade
MediBang,laptop touch pad,iPhone
Other Interests
Writing,Drawing,Gaming.. not so interesting eh..