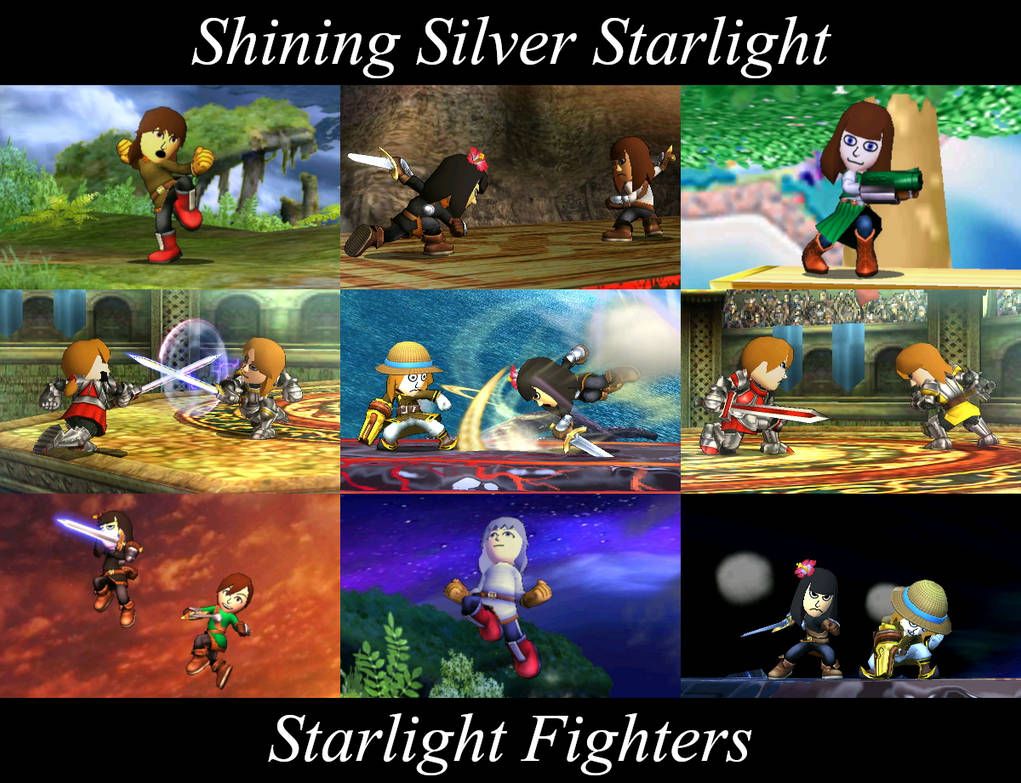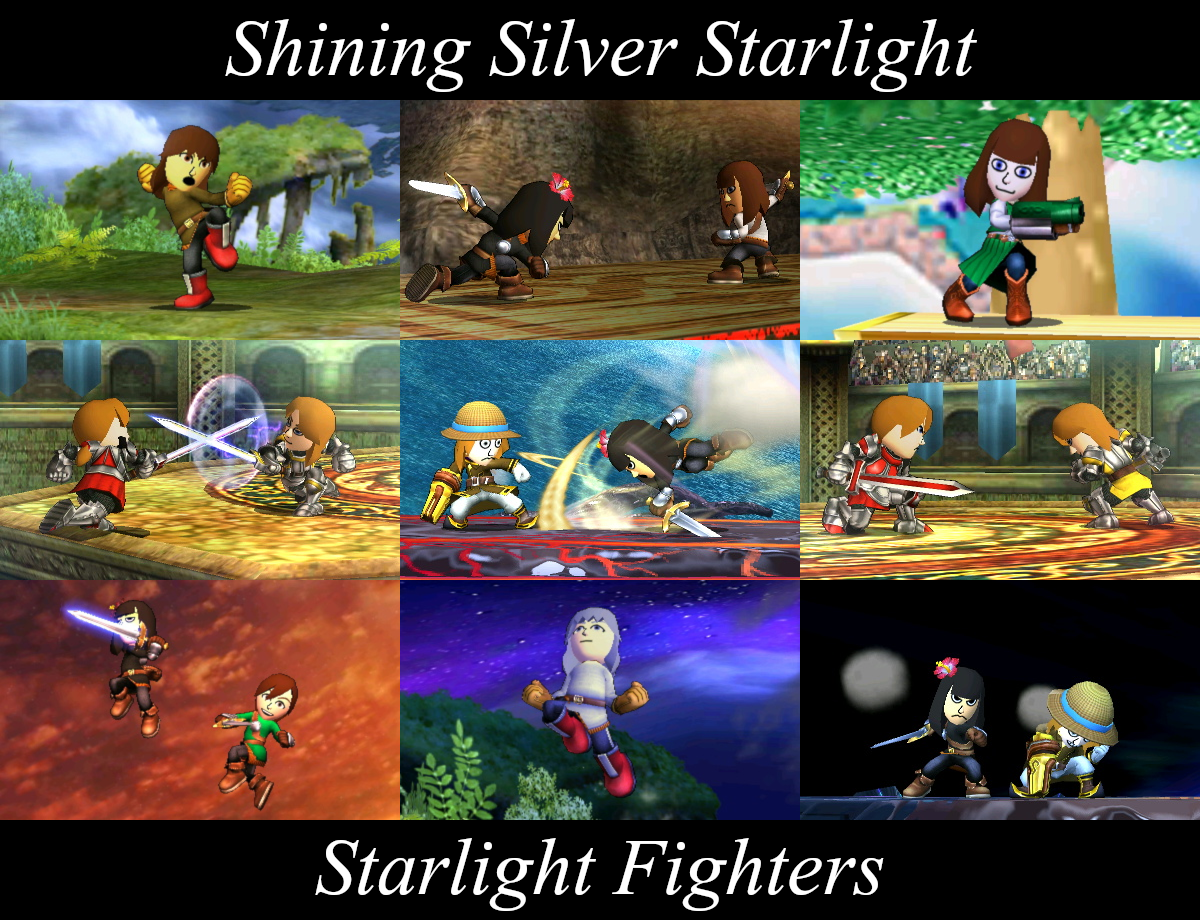 The first ever Starlight Fighters tournament is about to begin. Several contestants have entered, but only one will walk away with 50,000G and the title of champion. Everything was going well, until suddenly...
"Oh, how amusing! A tournament? 50,000G? Oh, that is far too low stakes! And this arena just won't do! Win, and have the privilege of fighting yours truly. Lose, and... well, I suggest you try and win! Good luck! Hahahaha!"
Left with no choice but to accept Lumstigethers' challenge, our heroes take to the fighting stage. Who among them is the strongest fighter? And will they be able to defeat Lumstigethers? Only one way to find out!
Skunk
Moose
Casino Grayleaf
Lydia VanVoder
Lyle VanVoder
Dog
Lunar
Squirrel
Lumstigethers
I've made several of my characters as Mii Fighters in Super Smash Bros 3DS and came up with this non-canonical storyline to go along with them. You can follow the links to their individual pages to find out more. If you'd like to play Super Smash Bros 3DS with me or would like copies of the fighters, feel free to leave a comment or send me a note. And if you have any suggestions for other games with character creators I should try, I can look into that as well.

Wow, that's quite an achievement with the Mii characters in SSB 3DS. I only made two XD
Reply

Thank you. Originally, I just had my own Mii and ones of Geno, Ashley, and Lloyd Irving with the DLC costumes. I was feeling like crap and lying in bed with my 3DS playing SSB, but then found myself in a creative mood and decided to try translating some of my characters into Mii Fighters. I imagine some of them, like Lunar or Lydia VanVoder, might possibly be overpowered, but I tried balancing them out appropriately and I like what I came up with.

I'm especially fond of how Lydia and Lyle are absolute counterparts, yet still have notable variations between each other, with Lydia being much stronger while Lyle has a projectile. Moose, meanwhile, is a bit stronger than Skunk and has two somewhat technical projectiles, while Skunk has one simple projectile and is just well-rounded overall. And Casino has a significantly different movepool, preferring more aggressive moves and lacking any sort of counter technique.

Doing this has left me wishing that Super Smash Bros had a proper character creator, and also wondering what the best games with character creators are these days. I imagine most of them are MMOs, which is well enough, but I'd really like to make more of my characters in a fighting game or something.
Reply