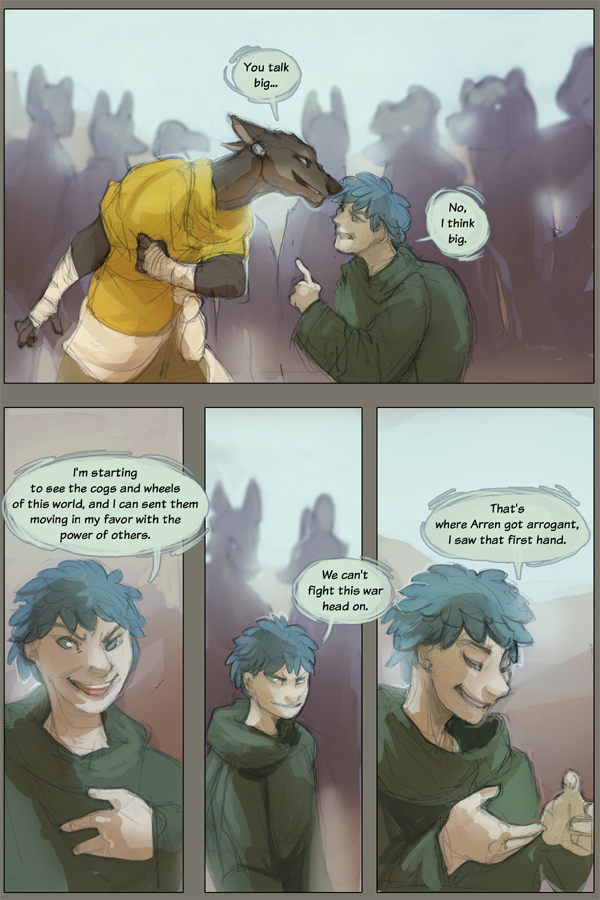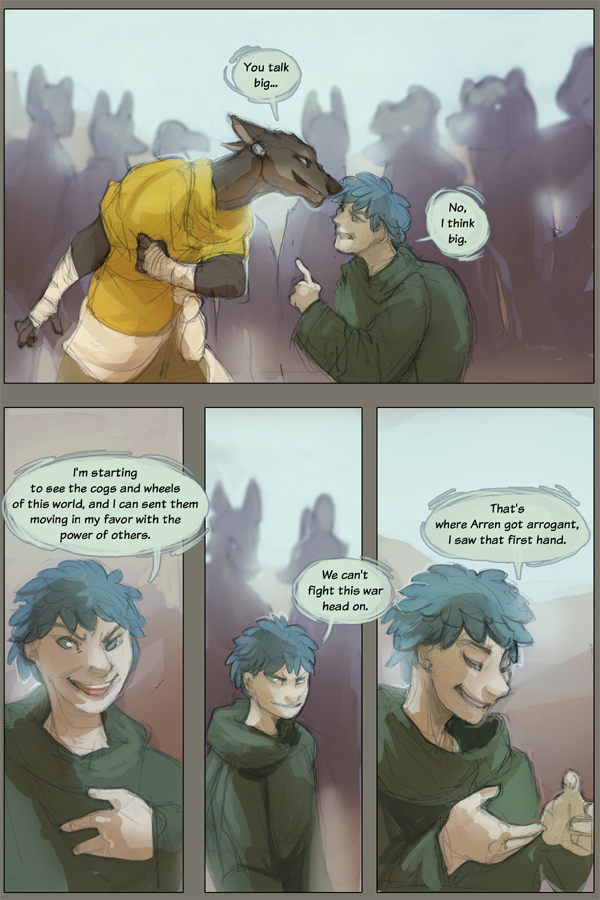 Watch
Asis - Page 239
<<||>>
Asis - Page 241
Homepage
-
Support
-
Become a Patreon of Asis!
Read from the start:
Follow on Tumblr:
asiscomic.tumblr.com/

...Sans Title in the first panel puzzles me a bit. Is that supposed to be his backpack behind his right shoulder-and-arm? If not he looks rather out-of-proportion --wait...is that bulge his 'wings'?
Reply

Yup, you got it, it is his wings under there. Not the most compact thing to hide.
Reply

Is Julianwilbury right about the backpack bit? That he was just using it to hide the bulges from his wings? Is that why it was gone when he left the city-proper?
Reply

Hah on man, you guys really do catch on to all sorts of little visual things..

Sans was using the backpack as an extra cover for his wings back in Duno for the very reason they are very anti-Asini. And slightly less interesting, he ditched it with his small crew after leaving the city, I left that out since there wasn't much of interest going on in that intermittent space.
Reply


Ah so he wasn't simply traveling alone, there ARE others with him. I was wondering about that.
Will you explain why Duno is so anti-Asini?
Reply

Yup, those are the shadowy figures seen over the ridge in page 239! Not nearly the same force that Arren had at his command, but still pretty threatening.

Part of the Asis world building for me is being able to come back and seriously tackle historic details with new shorter comics, Duno's rise is one of them. I will say, long story short, Duno is the culmination of an insecure humanity threatened by the rise of Second race post 'War of Beasts', and humans trying to niche out a place where they didn't have to face a changing society. I promise some more in comic details to be touched on, and some post main storyline back story as something I really want to focus on in the future. Ah...the woes of large scale story telling, trying to balance historic backstory and trying to only keep relevant details to the main comic, while privately writing major details for future works...haha..


Reply

Cool.

*chuckle* Makes for picking your priorities a bit difficult, eh? So you will be doing spin-offs to expand on the world itself? Cool! I look forward to reading them.
Question: Are those canines that Sans Title is talking to the variant of Second Race that's aggressive, freely eats meat without much discrimination, and is generally feared by everyone else because they're typically aggressive? (Their name escapes me ~,~; )
Reply

Oh man yes..the 'Asis' story line we're running now is one of two major story lines I plan to monthly webcomic, I have a few smaller side ones I want to tackle slowly as time and income allows. One would be a huge back story that covers the point of Asis' fall until current setting, with a focus on Second Race characters during that time, as well as some of the current cast's starts. Plus right now I'm seriously working on a concurrent set of characters that will end up being the base for the next major world story line after this one ends. (If you ever see any Asis characters I doodle, many of them are from these concurrent storylines!)

These guys are just normal Rasha and Rula Second Race, the 'Feri' generally don't speak common, interact with other races or set up dwellings.
Reply
(1 Reply)

Yeah, he's got the wings even in his human form.
Reply

That much I knew, but I didn't realize they moved. I was kind of under the impression that they couldn't really shift position.
And I saw Sans Title with a backpack a few pages back and was wondering if you had forgotten to color it differently. If that's not the case then what happened to it?
Reply

" and was wondering if you had forgotten to color it differently"

Whoops I'm not the Skulldog you're looking for, only another Asis fan.

Yeah I did do some flipping back and forth through the pages earlier today meself to try to figure out the wing thing, I dunno about them moving, but with the backpack; wasn't that when he was in Duno proper? I figured since Duno is super-anti-Asani maybe he like rigged a fake backpack to hide his wings, cause he certainly couldn't go around Duno the way he is now.

I should just hush and let Skulldog answer.
Reply

Heh heh, oops. I'm too used to Skulldog responding to my comments, this is actually the first time another Asis-fan replied to me.

Hm...that would make sense.

*snicker* Nice chatting in any case.
Reply