^^^That me!!^^^
♡♡♡


Reagan "Rea "| 21 | | ENFP
Hello I'm Reagan! (Typically known as Rea! That's pronounced like ray!) I'm a freelance artist/animator as well as the owner of my very own animation studio with out debut project and series coming out soon!!! My birthday is May 17th, I have a sweet Jenko puppy dog and I love my friends so much I gotta make them star in self insert comics with me. Please forgive how slow I am at responding to comment or fan art! I will respond to fan art if it's sent to me or shows up in my mentions, it just might take
me a bit. Sorry! I'm just a small ginger I'm overwhelmed easily TTuTT I love you all thought I hope you have a good day!!!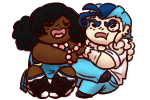 BluSilurus





<align="center">
F.A.Q.
Q:
Are you actually GinjaNinjaOwO?
A:
Yes, that's me!
Q:
How long have you been drawing/animating?
A:
Drawing since 2008 (6th grade) and animating since 2011 (9th grade) !!!
Q:
What programs do you use?
A:
Drawing: Clip Studio Paint Pro
Animating: Adobe Animate Pro
Editing: Adobe Premiere Pro
Q:
Are you dating -insert friends name here-
A:
HELL YEAH I'M DATING SOMEONE

is my lovely wonderful boyfriend I love him so muCH pls go give him love he's the best
Q:
Can I draw you fan art?
A:
Asdfg it's so sweet when people ask this ;w; You're always allowed tho! No need to ask permission to draw my characters, just tag me in it so I can see! ♡♡♡
Q:
Do you take requests/trades/commissions?
A:
I do not take requests, I only take commissions on commission livestreams (I announce when I do those) and art trades are reserved so people I'm at least acquaintances with!
Q:
Will you join my MAP?
A:
Honestly probably not ;m; I'm in too many as it is, sorry!
Q:
This person stole your art!
A:
Feel free to call them out on it but honestly unless they're making money off of it, you don't need to tell me. It happens so often that there's not much I can do about it and I'm too busy with other things to put energy into going after art thieves. Feel free to tag me in any you do find though, it's funny to see how they try to say they didn't steal.
Q:
Is this person you?
A:
These are the sites I'm on, If it's something other than one of these then theres a good chance it isn't me.
Q:
Hey my friend from school said they we're you, is it actually you?
A:
Honestly I've never gone up to anyone and introduced myself my by screennames. That usually comes out as an accident or if I'm sharing work with an artist. (And also I'm not in school oof) If someone claims to be me just ask for proof on the spot. The actual me could just show you I'm logged into my youtube on my phone.
catonfire25