Hey, folks!
I have 2 slots for colored lineart commissions in this style: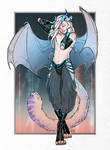 - One art - one char,
- Half body - 85 USD, full body - 150 USD,
- Any species and gender, nudity is acceptable,
- Simple background is included,
- Payment via paypal

If you are interested, pls note me!
It will be perfect if you have references (drawings or photos) of your character and important details. Be short.
PS: if you want colorless lineart note me too!
---------
Цены в деревянных по текущему курсу.
При оплате на карту, готова и с удовольствием сделаю скидку!