Welcome to the second issue of the
ANTHRO ARTIST BI-MONTHLY INTERVIEW/FEATURE
This month we speak with JayAxer
Special thanks to cooley for her help with the interview format.

Personal Information:

What is your age?
27

Do you possess any formal artistic training? (College, through work, etc. if applicable.)
I do not, no. I am self-taught.

Do you have a Web site?
Yes,
axerindustries.com

Your Inspiration:

Why or How did you become an Anthro Artist?
I actually began drawing only people. Eventually I came across some friends who enjoyed anthro art, so I began to draw it as well. It became one more thing I found fun to draw. Well I do not draw it exclusively, I do enjoy drawing anthro.

What is your source of inspiration?
Anything, really..music, friends, my dinner. Whatever.

What artist do you look up to (a member here or a historical figure)?
I don't really have a particiular artist I look up to, to be honest.

What do you do when you come across an "art block?"
Work through it. I do art as a career as well as fun, which means I cannot always just stop working when an art block occurs. With perseverance I have luckily been able to get to the point where art blocks happen so infrequently they never seem to get in the way now.

Concerning Your Characters:

Who is your most popular character?
Probably Liegh: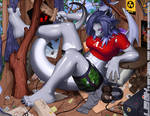 How long have you had said character?
Hmm, since around 2004.

How did you develop Liegh?
Was just toying around one day. I wanted to have a character that didn't have any major life problems and was rather happy. Since most characters I develop tend to have issues in some way or another, Leigh was to stand out by having no major problems.

What else would you like to share about her?
Uhm. She will be present in my comic series eventually ,but only in a marginal way.

About Media:

What media do you most enjoy?
For drawing, I cannot beat pencil on paper. I tried drawing digital and it just wasn't that fun. For colouring I find digital is fun because there is less mess/cleanup.

Which media do you like the least?
Hum... charcoal.

Please share with us your favorite piece from your gallery. Explain why you favor it.
Uh... I don't usually have favourites. I guess this one works...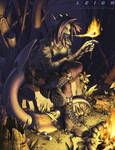 I like it because I got the feeling across I wanted to.

I challenge you to try something new. If you have the time, what might you try?
Hum... hard to say. In the course of work i do for fun and work i do for work, I end up drawing almost everything... I suppose super speed painting would apply here. I don't like just slopping things out as fast as I can so getting myself to do that would be something newer.

DeviantART as a Community:

How has DeviantART aided you in developing your artistic talent?
I'm not really involved community-wise with DA, so if I have to be honest I would have to say it hasn't really.


What do you enjoy most about being a member here?
It gives another avenue for people to view work that people do aside from personal websites.

What would you like to see changed in order to improve the anthro community?
I really have no idea.

Last Thoughts:

Have you any advice on building a better portfolio?
Variance to some degree tends to be a good thing. If you treat it as a portfolio it should be showing in various ways what you are capable of. If you show only the same thing then people will figure that is all you are capable of.

What other wisdom would you like to impart to our readers?
keep drawing. practice is the best method to find improvement. Everyone seems to want to find the magic method to cheat the idea that hard work leads to good results.

Do you have any other comments you would like to share?
Not really. Cheers.