Description
This download includes a collection of props from my map of Sunset Shimmer's Apartment, for use in DIY decoration or what have you. ALL the customization potential!
Find the main map download here;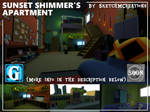 Also, to clarify; you don't need this pack to view the map properly, it is only a separate collection of props for easy convenience of scenebuilding!
The props included in this pack were all made by
me!
The props included are:
- Sunset's alarm clock
- Sunset's guitar amp found next to her cabinet, including the foot pedal part which is a separate prop
- Thirteen different books
- Some cardboard boxes, because custom cartoon-y design
- A bag of presumably chips
- A cylindrical container of some kind
- The corkboard found behind her computer
- The potted plant found behind her couch
- Two video game cases
- The three guitars from her wall
- The generic disc jewelcases found in front of her TV
- Sunset's journal, which includes skins for the first journal from Rainbow Rocks, the second journal from Mirror Magic, and Celestia's journal that Twilight keeps, as well as an open variant of the model with blank pages
- Sunset's computer chair
- The two shoeboxes from under the big window
- Two bowl props, because she doesn't have a kitchen sink to rinse them
- Two soda cans
- A box of chinese takeout (no takeout included within the box)
- Sunset's toothbrush and toothpaste
- Sunset's basketball-hoop trashbin (with basic collision)
- Sunset's TV remote, for if you want to re-create Adam Sandler's 'Click'
- Sunset's bathroom products, including the horse shampoo
- A yearbook, which includes skins of the yearbook Twilight consulted in the first movie, the yearbook that Sunset had in Forgotten Friendship, some alternate designs and an open variant of the model with blank pages
- Sunset's boots. Or, well, boot, with bodygroups for the buckles to determine which side they are.
So, there we have it. All of these, all
made by me!
I think I've got a decent handle on modelling props now.
Buy me a cup o' cocoa!
EDIT:
Patched in the textures for the books, bathroom products, and chips bag
EDIT 2:
Patched some more missing textures
*disclaimer: sunset shimmer model by Rockset, Stefano96 and CreatorOfPony not included
Main map download:
Map - Sunset Shimmer's Apartment