Description
She has a part time job, and it's a room and board situation. Also she's not real, it a cartoon.
~ Katrina Hadley having absolutely no chill
A project that ideally only would've taken a few months but ended up taking a bit over a year due to an IRL problem, I present to you the residence of Sunset Shimmer! Her apartment as seen in the short
Monday Blues
and the special
Forgotten Friendship
! After all this time, hopefully it was worth the wait.
Map features included:
-
The full apartment, plus a little extra.
I scoured every screencap I could find for this baby.
- The computer and TV can be toggled on/off, as can the main lights in the main room and bathroom
- The bathroom sink and shower work, but you might require
Half-Life 2: Episode Two
to be mounted to see them
- Several props in the map have customizable features, like bodygroups
- Ray is here! Never forget Ray after Boulder Media never gave his animation assets to the main animation crew.
- There is both the full interior and an exterior facade, for limited exterior shots
- Some extra customizable features are included, information is in the
enclosed instruction manual.Full-res preview images: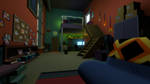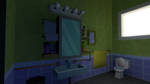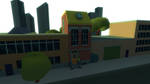 Sunset Shimmer's my fave Equestria Girl, so I made this entire map as a testament to that. And I'm sure all of you can enjoy it as well! And even have a better time running it than CHS, to boot. This map was a bit of a collaborative effort, as well;
CREDITS:
-
Dracagon
Modeled Sunset's bed and all the potted plants (except for one of them)
-
Ultiman9711
Made some models and helped with the lighting design
-
Tonkano
Started one of the models in the map, which I then got finished. Thanks for trying!
-
Sig Hoovestrong, again
Your MLP-styled trees are still the best, my dude.
- And everyone else that contributed!
Separate props pack: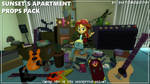 Man, that took longer than I would've preferred, but Real Life Things happen. Still, it's out, now! Hope you all enjoy!
GMOD
download is on the right, and the
SFM
download is right
here!
Also like last time, someone reuploaded the file download to PonySFM, so here's a link like before.
ponysfm.com/sunset-shimmer-s-a…
Buy me a cup o' cocoa!

when I try to turn the lights on in the console I get this error "lightsAndDecals sorted model list count incorrect! A model was probably unable to load!CModelRenderSystem::SetupFlashlightsAndDecals sorted model list count incorrect! A model was probably unable to load!"