Map - Canterlot High School
Description
After
5 whole months
in development, the thing you've been waiting for
(I presume some of you were waiting for this)
is finally here! Canterlot High School, the map! The kids love this one.
An ambitious project after no one else would take the torch,
(though I am aware at least one other person is making
a
canterlot high recreation of their own)
I bring to you my own recreation of Canterlot High from the Equestria Girls movies! Usable in both Garry's Mod and Source Filmmaker, like the maps before it. But hey, before you go slamming that Download button, lemme clue you in a bit on the features going on in this map, because it's a li'l important this time around.
Map features included:
-
The whole of the school property
with nearly every important relevant location from the first three films and several of the shorts and a bit of the specials (with some attempt to place them logically in the building; I really did page through the whole of the first three movies for this project) (The library did take a bit of a beating because of this attempt to merge all the media into one element)
-
Faithful assets
; just about everything you see here was created specifically for this project, sampled directly from the movies
-
DIY Classrooms
; the known, important rooms from the films don't nearly completely fill out the number of classrooms available in the building; there is a total count of 58 classroom spaces, inclusive of the known established rooms. Not counting those, there are 52 empty classrooms and 2 pre-decorated classrooms. Included in this download is a basic pack of props from the map to decorate the blank classrooms as you please; as well, some of the classrooms have see-through windows on their doors for that extra touch of detail, inclusive of the entire west half of the third floor. And, as well, the third floor is also taller and has lots of windows in the outer halls, if you desire such an environment for your scenebuilding purposes.
-
Smaller miscalleneous details
include being able to open the trophy cases in the lobby (with use of the context menu or some other unlocking/opening apparatus), toggling the up/down state of the blinds on Luna's window (no dynamic light changes included), access to the roof via the library, and the same general room controls the gym had in the beta map.
-
Evening and Nighttime variants
; this mainly only changes the outside of the building, the library, and the two frontmost corridors in the side wings. The Daytime version is the one true complete version, however.
- Layout maps of each floor are also provided in the download as nice, crisp .png files.
Full-res preview images: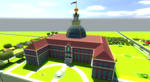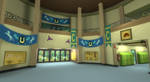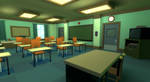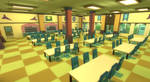 Now, this is quite a big map, and a lot went into making it as accurate as sanely possible. But, well, that comes at a bit of a price; there are a lot of empty classrooms due to me nearly overloading the map file and breaking everything, several times. But, since there aren't that many individual special locations to begin with, that opens up all the more scenebuilding potential for some of you out there! It also kind of detracts a little if you just want to explore or RP or something, but, well, prices to pay and all that. You can just hang around in the established areas if that's the case for you.
And, unlike the last few maps, this map was a collaborative effort, so as to get it done better and more efficiently than it would have been should I have worked alone the entire time. Friendship is magic, huh? Some directly contributed to the project, while I credit others for use of their models and hope they're totally okay with me using them.
CREDITS:
-
Stefano96
Created the student desk models
-
Dracagon
Modeled the various horse-y decorations and a lot of the smaller, intricate props around the map
-
Sig Hoovestrong
I needed some MLP-styled trees, and you had just what I needed. Hopefully you're okay with me using these!
-
Ultiman9711
Designed the kitchen, helped fix my terrible optimization, and helped with a few other small detail things
-
Fauna-Joy
,
HerrDoktorSteam
and
NavyBr0wnie
Providing general support and ideas
- Anyone else creditable that I may have forgotten since starting this project
-
Captain_n00bva
for making the original Killing Floor 2 map that inspired me to start this one. Because while a Great Resemblance is good and all, it's simply not enough. We needed to go deeper.
So. Development of CHS is finally done. Well, for the most part, in the event some detrimental bug is found somehow or else my packing tool failed to pack in a certain material. Regardless, that's that endeavor finally done. Though, that does not mean I am done making maps to post here; if you buy me a cuppa cocoa on Ko-Fi (button below), I can do map requests for you. Context may apply. For now, I hope you enjoy the work that I and several other people (but mostly me) slaved over for several months to bring it to you. Thanks for bein' here.
Click
here
to download the map. Let's help Twilight win the crown in a battle of the bands so we can find those pennants for the Friendship Games and brag about our victory at Camp Everfree, shall we?
you read that description, right? i know it's a bit wordy, but that's all the important pertinent information you could need going into this. get those reading glasses on!
also, since i had to outsource the download link for this thing, i can't see a counter for how many people have downloaded the map. so it would be cool if you left a comment after downloading so i'd know!
Also may as well mention, someone uploaded a file download of just the maps on PonySFM if you don't want the prop pack bonus or don't like Google Drive.
ponysfm.com/canterlot-high-sch…
But however, you are not authorized to repost this to the Steam Workshop.
Featured on Equestria Daily!
www.equestriadaily.com/2018/06…
Buy me a cup o' cocoa!
Image size
1032x774px 1.04 MB

I... I am at loss of words, Sketchmcreations. Everything about the Canterlot High School map, and the blood, sweat and tears you've put into transforming into an explorable 3D environment for Gmod is just... jawdropping!
The fact that you've went all the way to ensure all the fine details, the assets, and structure of the main center location of the Equestria Girls series are as accurate as possible is just astounding! I honestly can't tell you how blown away I am. I think this is possibly your best work next to the map of New Donk City (I still have it in my Gmod Library of assets I've subscribed to) that you've recreated! Props to you and your map designing skills!😁