Image made by

If I miss your birthday, I am sorry, and HAPPY BIRTHDAY.
HELLO~
I am a 20 year old blond haired, blue eyed, gay (lesbian) asexual, autistic college student, making it out as a PBS Kid in a Discovery Channel world.
Here have some dancing emotes,
~(o.o~)~(o.o)~(~o.o)~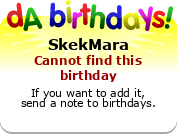 Favourite Visual Artist
...
Favourite Movies
Pokemon Movies, Most Disney Movies, Silent Hill (1&2), Haunting in Connecticut (1&2), Anastasia, Studio Ghibli, The Avengers, X-men First Class, Ponyo, Disney Movies, Star Wars, Lord of the Rings, The Dark Crystal, Coraline, most Marvel Movies, etc.
Favourite TV Shows
Alien Planet, My Little Pony FIM, Steven Universe, Adventure Time, Chowder, Face off, The Little Couple, Jim Henson's Creature Shop Challenge, Hetalia, Black Butler, Tsukuyomi: Moon Phase, Clannad, Monster Quest, Over Garden Wall, a lot of anime, Etc.
Favourite Bands / Musical Artists
Steam Powered Giraffe, Gorillaz, The Corrs, Vocaloid, Skrillix, The Beatles, Internet Songs, Video Game Soundtracks, etc.
Favourite Books
Childhood's End, Maximum Ride Series, Miss Peregrine's Home For Peculiar Children Series, Lord Of The Rings, Expedition (by Wayne Douglas Barlowe), Harry Potter, Needful Things, Manga (counts), etc.
Favourite Writers
James Patterson, Rainbow Rowell, Wayne Barlowe, J.R.R Tolkien , Stephen King, etc.
Favourite Games
Alot To Name
Favourite Gaming Platform
3DS, anything handheld I guess
Tools of the Trade
...Computer Programmer? Early Childhood Education??
Other Interests
Singing, Dancing, Stories, Drawing, Reading, etc.