As the title says, commissions are now open! Feel free to step right up and pay me for art, though remember to read the rules below first!
What I will draw:
Fakemon (duh!).
Pokémon-related things in general (

Pokémon, items, locations, scenes, etc.

).

Fantasy creatures and creature designs.
Animals in general, both living and extinct.
Fanart, as long as it's SFW, bonus points for if it's a fandom I'm familiar with.
Your OCs and OC concepts. This includes you or your persona, as long as you keep any reference images of yourself confidential so as to avoid accidental leakage of private information.

Single-subject pictures, or anything involving at most two subjects.
Weapons and items. Keep in mind that these are usually 3D-modeled and may take longer or shorter than usual to produce depending on how complex they are.
Logos and emblems.
General character artwork, scenes, etc.
What I'll consider drawing:
Group pictures. I've done pics with up to ten people before, but that's a very taxing endeavor. I'll generally be most comfortable with five subjects or less, especially for finished pics. Lineart or base color pics carry a little more leeway for me.

My OCs. I'm currently in the process of revising more or less all of my characters, and I haven't finalized any of them just yet; I'd rather hold off on doing artwork with them until I've done so. If I post a finalized design I'll also provide an indicator that yes, they can be used with my commission work, provided that you do the research regarding their characterization and acceptable scenarios involving them. Exceptions to this rule include my eligible PPC characters (I'll put up a list of them ASAP for reference) and characters whom I've adopted from other people.
Canon characters from continua I'm not familiar with. Please provide as much ref art as you can in such instances, so I can have a better reference pool for work featuring such characters.
Comics (four panels or less is fine, but more than that would require further discussion; no multi-page comics, period).
SFW anthro. I'm not interested in drawing NSFW anthro stuff, of course, but I've drawn vanilla anthro before and while I don't have as much interest in it as general creature design, I'm open to anthro commissions as long as you keep them family friendly.
Pics involving creature violence, up to and including gory battle scenes. Snuff artwork and mutilation of canon characters are exceptions to this possibility and fall under inflammatory artwork, though.
What I WON'T draw:
NSFW content in general - this is my (mostly) SFW account for a reason. I do have NSFW commission info but if you want a NSFW commission then you'll have to PM me for it so I can route the info to you. (As noted above, though, monster violence involving gore is a possible exception. It shouldn't be the main subject, though.)

Inflammatory subject matter, e.g. hate art. Whether it's directed towards canon characters or other real-life people doesn't matter, it's always off-limits. This also goes for offensive subject matter in general, e.g. anything that slanders religion, race, sexual orientation, politics, etc.

Anything to do with current events, e.g. political cartoons. This can potentially fall under inflammatory content as noted above.
Commission Directions
NOTE ME FIRST. Discussing ideas before putting them on paper is a very important step to getting a commission done. Please let me know what scenario you want, what characters, and whether or not you want lineart, base colors, etc.
BE SPECIFIC. Send me as much ref art as possible, and try to describe what you want for your scenario as much as you're able. This way I'll have a better idea of what to draw.
I only accept cash commissions at this time. As tempting as point commissions sound, I need the cash money right now and I'd rather be able to use my earnings for things.
If you want me to draw artwork featuring another person's characters, ask the other person first. This goes without saying - I don't want to have to draw a character without their owner's consent!
Once we get the details taken care of, I'll determine whether or not I'll be able to draw the commission, and send you my e-mail address if I am. Be ready to send the appropriate payment through PayPal as soon as possible; I won't start drawing until the payment is provided in full. Again, I reserve the right to refuse a commission if it doesn't abide by the above rules, but do be aware that I'm a very busy person, and I have to turn down a commission if I simply don't have the time or resources to create it.
When the work is finished, I'll let you know ASAP and we can discuss whether to post the pic or not. If you want to post it on your account, I'll send you the completed pic so you can do so, but otherwise I'll put it up on my DeviantArt and Tumblr accounts. If you don't want me to post the work publicly, let me know as soon as possible.
Tying to the above, if you want to share the finished work online yourself, DO NOT DISRESPECT MY CREATIVE EFFORTS. This includes failing to credit me or linking back to my dA account, removing my signature from the finished work, or claiming that you created the work and deserve all the credit for it. I've seen the front and back ends of too many kerfuffles over this matter, and my stance is clear on this matter: I, THE CREATOR OF THE WORK, AM ALSO THE LEGAL OWNER OF IT, AND ERASING ME FROM THE WORK OR OTHERWISE NOT CREDITING ME WHEN SHARING IT IS ILLEGAL AS WELL AS POOR CONDUCT. So if you think removing my signature when sharing something YOU PAID ME to create is a good idea, don't commission me at all.
Likewise, when it comes to my prices, WHAT YOU SEE IS WHAT YOU GET, PERIOD. Do not ask me to lower my prices, do NOT bargain with me regarding prices, and do NOT ask if you can hold off your payment until after I finish the work. Be aware that I'm in a less stellar position than I feel I should be in terms of savings money, so every penny counts towards keeping me being able to afford the things I need and want. I THEREFORE HAVE EVERY RIGHT TO REFUSE A COMMISSION IF THE EFFORT REQUIRED DOES NOT MATCH THE SUM YOU'RE OFFERING. That being said, if you're willing to change your offer to a cheaper commission type, e.g. a $15 lineart instead of a $20 color piece, please note me as soon as possible so I can adjust accordingly. I'm willing to take lower payments as long as you understand that this affects the outcome of the commission and as long as you keep the discussion civil.
I'm a SLOOOOOW drawer. Work, family, chores, and just plain old procrastination are all to blame for that. If you feel that I've unknowingly neglected a commission you paid for or which we've otherwise settled, please let me know as soon as possible and I'll add or re-add you to the commission to-do list for future reference. Or just remind me in general so I won't forget.
Prices
Standard Commissions:

Lineart:
$15 (1 subject) + $5 per extra subject

Base Color, No Background:
$20 (1 subject) + $10 per extra subject; $5 extra for shading

Finished Artwork (Fully shaded):
$30 (1 subject) + $10 per extra subject; $10 extra for background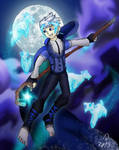 Special Commissions:

Fakemon:
$10 per stage (i.e. a 3-stage line would cost $30); shiny colors are $2 extra. This pricing also goes for Mega Evolutions, regional variants, and form changes, which require their own separate artworks and count as separate "stages".

Character Concept Sheets:
$20 (1 subject only). Additional fees for supplementary sketches may apply; feel free to talk to me about such extra material.

Logos, Emblems, and Sprite Work (transparent):
$5 per subject or logo; $1 extra for sprite shading; alternatively, $20 for a
Pokémon-style sprite sheet.

Literature:
$50 (up to 10 pages on GDocs) + $10 per extra 5 pages. I have very little time for writing as it is, so I'll need a very good reason to write something for you! Any number of characters is fine, as long as they abide by the rules above.
That's all, folks! Here's to making a lot of good commissions in the future!

-SkarmorySilver