Hey guys!
Happy Friday to you!
As you might know, today is also page day.
Our lost traveler seems to have spotted something on the horizon... Nowhere ain't a long way to go when you don't know what you want anymore.
This page was a lot of fun to work on, especially when it came to the background and colors. I really hope you enjoy it!
Check out more gorgeous entries from my
#drawthisinyourstyle
contest I'm holding
contest I'm holding on
Instagram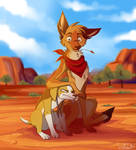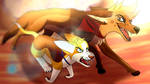 If you'd like to support my work and get access to early pages, consider joining the Patreon pack!

www.patreon.com/skailla
</h3>
Image details
Image size
900x1273px 1.01 MB