HEY GUYS!
How have you been?
Here's another concept art for the upcoming comic, No North.
It's coming this year, folks, I'm pretty excited about this!
Part two: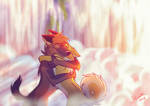 Won't say much about this one, but you've probably seen a smaller and more simplified version of it here:
This painting is from my artbook,
The Art of No North
, which has 145 pages filled with paintings, concept art, sketches, lore, characters, exclusive content and many more things!
If you'd like a copy, you can purchase the book here:
gumroad.com/l/theartofnonorth
Thank you all for the incredible support, I hope you enjoy this!

Have an awesome weekend!
---

Would you like to join our pack? Get access to some exclusive art, tutorials and more at my Patreon!

www.patreon.com/skailla

Instagram
|

YouTube
|

Facebook
Tumblr
Image details
Image size
3508x2480px 14.54 MB