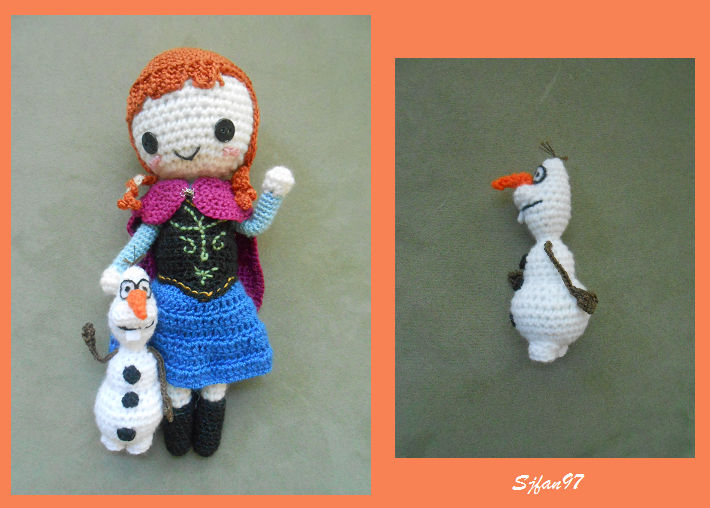 Material
I'm sure it would be just as easy to use a different yarn and hook. Just make sure you use the right size hook for your yarn.


-2.10 mm crochet hook
-1.5mm knitting needles (optional)
-Fingered weight yarn in the colors;
white
black
orange
brown
-White felt (for eyes)
-Black paint (for eyes)

Pattern
This pattern is worked from the bottom to the top of his head, all in one piece. The nose, buttons, feet, upper lip and arms are all crocheted and sewn on after.

start with 6sc in magic ring
1. inc all sc (12)
2. *2sc in sc, 1sc* repeat around (18)
3. *2sc in sc, 2sc* repeat around (24)
4. 2sc in sc, 3sc* repeat around (30)
5.-8. sc in each sc (30)
9. *dec, 3sc* repeat around (24)
10. *dec, 2sc* repeat around (18)
Stuff
11. sc in front loops of all sc
12.-14. sc in each sc
15. *dec, 1sc* repeat around (12)
16. *dec, 1sc* repeat around (8)
Stuff
17. sc in front loops of all sc (8)
18. inc, 2sc, inc, 2sc, inc, 1sc (11)
19. inc, 3sc, inc, 3sc, inc, 2sc (14)
20. sc all sc (14)
21. inc, 2sc, inc, 3sc, inc, 2sc, inc, 3sc (18)
22.-23. sc all sc
24. 3sc *dec, 1sc* x4, 3sc (14)
25. 4sc, dec, 2sc, dec, 4sc (12)
26.-27. sc all sc
Stuff
28. dec around.
F/O


Upper Lip


Ch 7
starting in 2nd ch from hook, sc all ch, 2sc in last ch, sc around other side of ch (12)

Inc, 4sc, inc x2, 4sc, inc (24)
F/O Sew to face


Carrot Nose

Using orange yarn, ch5, slip stitch to first ch.
1.-2. sc all sc (6)
3. dec, 1sc, dec, 1sc (4)
4.-6. sc all sc
Sc into 2nd sc, F/O


Arms
For the arms I used brown yarn and size 1.5mm knitting needles, if you cannot knit I would create a ch about the length of the arm, then double crochet about 3-4 in the third to last sc. If you can knit, the pattern will be below

Cast on 2 sc
1-15. knit in I-cord
16. inc both stitches
17-18. knit in icord for two more rows.
19. Knit one stitch, transfer to other needle, knit again, repeat this one more time so you have knitted the stitch three times. Repeat for each stitch. You could break yarn and start a new yarn for each stitch, but I was lazy and didn't do that.




Feet
Using white yarn and your crochet hook

start with 6sc in magic ring.
1. inc all sc (12)
2. sc in back loops of each sc (12)
3-4. sc all sc (12)
F/O make one more and sew to bottom

Buttons
Using black yarn, make a 6sc magic ring. Slip stitch to first sc, F/O make three of these and sew to body. Two on lower part, one in middle part.

Details
The eyes are made with two small circles cut from felt. I painted around the edge with black paint and put a small dot in the center of each. I glued the eyes to Olaf using a strong fabric glue.

The tooth is a small rectangle of felt, which is sewn directly over top of where the bottom part of the mouth is sewn
Then I used black embroidery floss (or split the black yarn into a small enough piece) and embroidered a line to show where his mouth is.

His hair is made with the same brown yarn as his arm, knotted to the top of his head and split into many pieces.

I hope you have fun making the Olaf! Please let me know if you have any questions, or if I made any mistakes! ^.^