And it's in Polish~!
Skradzione od kogoś.
1) Twoje imię?
Kinga c:
2) Jeśli możesz podać, Twój wiek?
...gorąca osiemnastka :I powiedzmy.
3) Kiedy zacząłeś rysować?
Odkąd moje małe parówkowate paluchy były wstanie utrzymać ołówek/kredkę/długopis i naskrobać coś na papierze :'D
Bo tak dokładnie to naprawdę nie pamiętam, więc chyba od zawsze c:"
4) Której ręki używasz do rysowania?
prawej~
5) Jaki jest Twój nick na dA, co oznacza i skąd się wziął?
Weirdcartoonist, znaczy to co znaczy dosłownie, a wziął się sama nie wiem skąd właściwie" jakoś tak sobie wymyśliłam jednego dnia i już tak zostało :'D
6) Skąd dowiedziałeś się o dA?
Szukałam jakichś obrazków z Xiaolinu i tu trafiłam 8D"
7) Czemu założyłeś sobie tu konto?
Nie pamiętam? c:" pewnie żeby się derpnymi rysunkami chwalić w internecie~
8) Na punkcie czego byłeś ześwirowany, kiedy zakładałeś sobie konto na dA?
Xiaolin Showdown all the way 8D""
9) Czy podczas przebywania na deviancie doszło coś do tego? Dowiedziałeś się o tym na dA?
ermm? ale że...? aaa, chodzi czy jakieś inne fandomy? Doszło dość sporo, ale jak już coś to znajomi mnie zarazili :'D
10) Rysujesz fanarty lub fan-komiksy?
Fanarty jak już coś, i to raczej rzadko. Wolę rysować swoje własne i cudze OCki c: (czasem jakieś pokemony ostatnio tak z fan-artów.)
11) Masz swoje własne postaci? Jeśli tak, to czy tworzysz z nimi jakieś opowiadanie, książkę, komiks lub mangę?
mam! No i plotka głosi że jest o nich jakiś-tam-komiks-gdzieś-na-SJ"""""
12) Spójrz w swoje statystyki, co jest Twoją:
- deviacją z największą ilością fave'ów: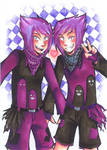 z jakiegoś powodu te derpy :'D
- najczęściej oglądaną deviacją: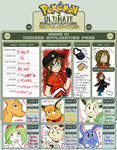 Jakie to stare i brzydkie o retyyyyy aaaaaa

- deviacją z największą ilością komentarzy: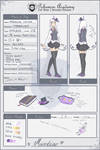 (to mnie jakoś nie dziwi akurat xD")
13) Twój pierwszy prezent w postaci rysunku powędrował do:
Tak jeszcze ze starego konta...? o rany" nie pamiętam muszę zer-
NARYSOWAŁAM FANARTA DLA

: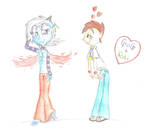 NAJZABAWNIEJSZE JEST TO ŻE MYŚLAŁAM ŻE NIEBIESKI GOSTEK TO NIE GOSTEK, TYLKO BABKA BEZ CYCKÓW I ŻE JEST FAKTYCZNIE POSTACIĄ Z XIAOLIN KTÓRA BĘDZIE W PRZYSZŁYCH SEZONACH KTÓRYCH W POLSCE JESZCZE WTEDY NIE BYŁO UAAAHAHAHAHAHA"
Pierwszy gift otrzymałeś od:
Prawdopodobnie od

:'D
14) Ilu masz watchersów w tym momencie?
242
15) Pierwsza osoba, która dodała Cię do obserwowanych?
Na tym koncie?

c:" (znajoma ze szkoły, yo~)
16) Ile masz w tej chwili pageviewsów?
Nie bardzo zwracam na nie uagę, ale: 7381
17) Która praca znaczy dla Ciebie najwięcej?
errmmm...
MOJA MAGICZNA PARODY FURSONA..? c:" LOL NIE WIEM
18) Twoje najlepsze dzieło według Ciebie?
o rety"
um, ten derp: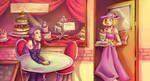 bo nawet mi się podoba i napracowałam się przy tym sporo 8D"
19) Jak dużo czasu zajęło Ci zrobienie tego?
DUŻO. BARDZO DUŻO.
20) Kto jest łatwiejszy do rysowania – kobiety czy mężczyźni?
Kobiety ;w; ale z jednym i drugim mam problemy x'D
21) Co jest łatwiejsze do rysowania – krótkie czy długie włosy?
eeyyyh, wszystko jedno...?
Chociaż chyba jednak długie, bo sobie właśnie przypomniałam jak wkurwiające jest ogarnięcie grzywy Deviego, z długo-włosymi postaciami nie ma nigdy takich problemów c:"""
ALE TO OD FRYZURY CHYBA ZALEŻY WIĘC~
22) Łatwiej jest rysować twarze z profilu czy z przodu?
Z przodu, ssę w profilach :'D
23) Jakie są Twoje największe problemy podczas rysowania?
lol wszystko :'D ale głównie to kuleję jeśli chodzi o perspektywę, chciałabym się nauczyć"""
24) Co najbardziej lubisz rysować?
Porosy!
I gijinki!
PORNOSY Z GIJINKAMI!

25) Jesteś tradycyjnym twórcą czy może preferujesz grafikę komputerową?
Lubię jedno i drugie, wszystkie techniki mają swoje wady i zalety c:
26) Kiedy rysujesz na komputerze używasz myszki czy tabletu?
Tabletu, myszki to ja nawet nie posiadam :'D
27) Co Cię inspiruje do rysowania?
erm, cokolwiek? masa różnych rzeczy, naprawdę. Czasem nawet tak z dupy mam jakieś pomysły :'D
28) Masz jakieś przyzwyczajenie, którego podczas rysowania starasz się unikać?
oj, dużo c:" sporo mi pozostało z rysowania magowych rzeczy, i staram się ich pozbyć"
29) Masz jakieś sztuczki, które ułatwiają Ci kolorowanie lub cieniowanie?
Ano mam tam jakieś swoje techniki na różne rzeczy, ale czy ułatwiają to ja nie wiem :'D
30) Ile czasu zazwyczaj poświęcasz na narysowanie jednej pracy?
a pfff, zależy. No i nie mierzę sobie czasu jakoś nigdy, więc nie mam pojęcia, naprawdę c:"
31) Słuchasz muzyki podczas rysowania? Jeśli tak, to jakiej?
Tak c: Przeróżnej, ale lubię sobie dobierać piosenki które nastrojem pasują do tego co rysuję akurat, jeśli to możliwe c:
A ostatnio lubie jeszcze puścić sobie jakiś głupi serial w tle zamiast muzyki, bo lubie słyszeć ludzkie głosy.""

32) Dużo czasu zajmuje Ci wymyślenie tego, co masz narysować?
Nope, ja to z reguły mam sraczkę pomysłów i ciężko mi się zdecydować od czego zacząć.
33) Ulubione przybory do rysowania?
copic markery i ostatnio akwarele oł yea
34) Jaki jest Twój ulubiony kolor? Którego koloru/zestawienia kolorystycznego używasz najczęściej podczas kolorowania?
Fioletowy :'D No i lubię rzeczy w pastelowych kolorach, yo~
35) Kto jest twoim ulubionym artystą, jeśli chodzi o DA?
Ojej, dużo ich. Zrobię niedługo oddzielny żur na to~!
36) Twórca, który wywarł największy wpływ na Twoją kreskę?
Było ich kilku :'D
37) Jakiego rodzaju artystą chciałbyś być?
LEPSZYM.
38) Czy są strony, które odwiedzasz codziennie?
tumblr."""
39) Czy jesteś na innych portalach społecznościowych związanych ze sztuką?
niby mam konta ale ich nie używam x'D (tumblr się liczy?)
40) Pamiętasz jeszcze stary wygląd dA?
tak ;w;
41) Jesteś dalej tak samo zafascynowany tworzeniem, jak wtedy kiedy zakładałeś tutaj konto?
Jeszcze bardziej :'D
42) Co najbardziej lubisz w dA?
Sympatyczni ludzie tu się trafiają c: no i miło zawsze jakiś feedback dostać~!
43) A czego nie cierpisz?
dwa słowa:
ANIME. BASES.
44) Przeszkadzają Ci nagie zdjęcia/rysunki z nagimi postaciami?
....
dlaczego
miały by
mi przeszkadzać................?

45) Czy masz dużo znajomych, którzy też rysują?
w sumie mam tylko jedną znajomą która nie rysuje c:"""" (BO ZE MNĄ SIĘ NIE DA O NICZYM INNYM POGADAĆ""")
46) Czy masz dużo internetowych przyjaciół?
czy ja wiem czy dużo...? c:"
47) Poznałeś ich na dA?
Większość tak :'D
48)Spotkałeś kogoś poznanego w necie "w realu"? Jeśli nie, to z kim chciałbyś się spotkać.
Tak :'D
ale chciałabym się jeszcze spotkać z

49) Czy twoja kreska/styl bardzo zmieniły się odkąd założyłeś konto na DA?
HAHAHA I TO JAK :'D
50) Lubisz swoje rysunki?
eeeee....
51) Czy planujesz związać swoją przyszłość ze sztuką?
Tak, jak dobrze pójdzie i się dostanę to będę studiować animację ccc':
CO JA ROBIĘ ZE SWOIM ŻYCIEM?"""""
UMRĘ Z GŁODU POD MOSTEM.
ALE CO MI TAM?