1K Favourites
25 Comments
9K Views
Click the pic to zoom in! (If you're looking at this on a phone, it might not let you. Image is only computer-friendly)
You may NOT use my characters or my art for your Roleplays.
You may NOT alter my art in any way.
Please Do Not repost/upload my artwork anywhere.
Would appreciate it so much ;u; thank you!

This isn't his official ref sheet yet, there's still more I have to do! But these are the doodles that I will be putting in it and I couldn't wait to post it <3333
You can be sure that I'll add a non-shaded thing in there so you can see his actual colors, 'cause right now theres overlays and highlights all over this boy LOL.
I also found a neat lil circle stamp on photoshop LOL
This is Zero's Human Ref, with some extra info: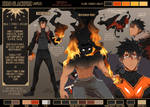 Learn all about Zero here:

ALL about ZeroEverything current on Zero Blackfire
Sorry, but he is NOT free to use for your RP.
▌▌GENERAL
Species: LINK
Species Deets: Nova Faction, Berserker Class
Old 2019 Ref Sheet: LINK
Current Human Form Ref Sheet: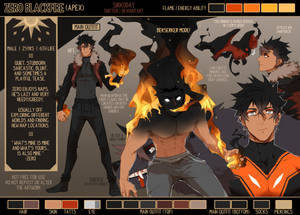 Current Wolf Form Ref Sheet: Still in the process of being created, but His wolf form hasn't changed much, so he can still be referenced on his 2019 ref sheet until I get a 2020 one done! The only thing I'll be adding to it is the red eye mark, and extra black fluff between his shoulder-blades & the back of his head. His 'Berserker Mode' / Ability mech in his wolf form (with all the colorful fire) is still the same too - Shown in 2019 ref.
UPDATE: Most recent doodles here showing the black fur puffs o
Some other recent doodles of my boy: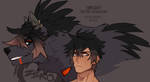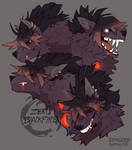 Old doodles of him using his fire: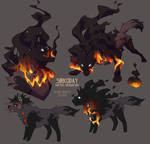 IMAGE DETAILS
Image size
6792x5413px 8.02 MB