First, thank you all so much for the wonderful birthday wishes! I could use them for a whole year : )
LOVE YOU ALL!♥
Here's some good news for you!
EPITANIME in FRANCE!
Bonjour~
Je suis très contente de vous annoncer que mes doujinshis vont participier à EPITANIME, la 20ème
convention de L'animation à Paris.
Vous pouvez y acheter deux affiches et classeurs differents de ONE PIECE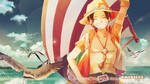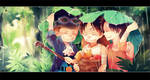 et mon fanzine de VOCALOID <DUET>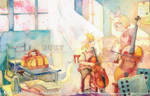 Cherchez-nous au stande: [DL05] Track of Dream, SVP~~
A bientôt ~
Site de la convention:
www.epita-convention.com/
Adresse et Metro :
www.epita-convention.com/infos…
The event will be held from May 25 to May 27, to get more information please check the links above.
My recent doujin publications and illustrations will be exhibited in both the two events.
See you there then! ♥