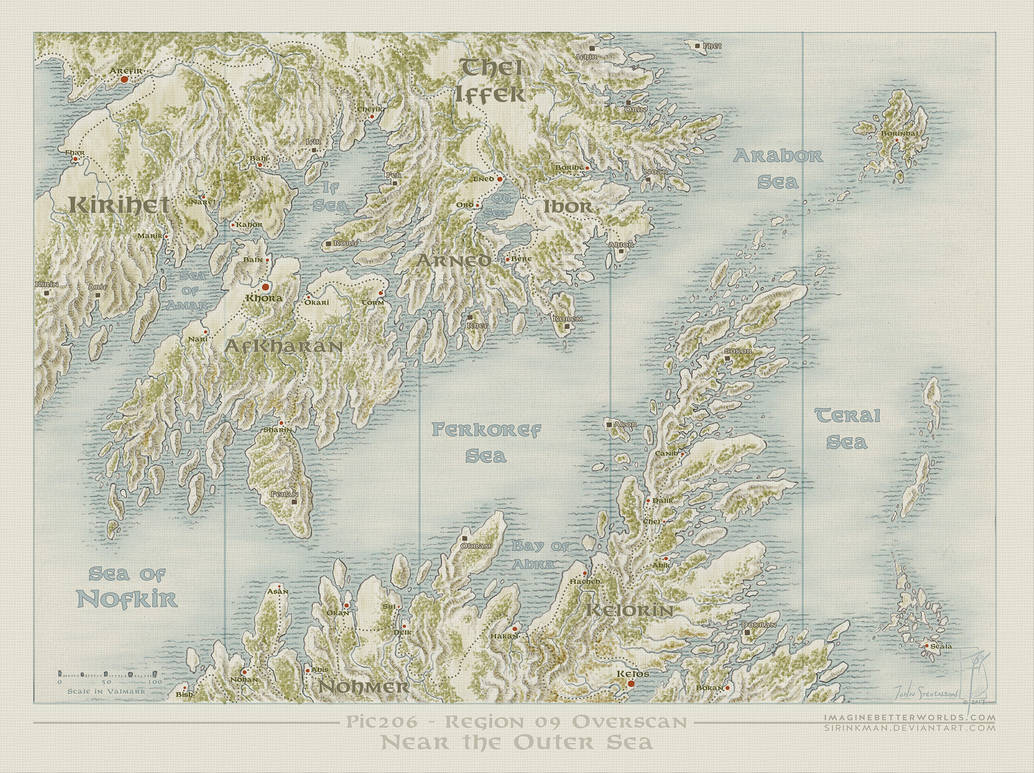 Watch
Pencil sketch, scanned, then painted in PS
Over on the Guild we were doing map bookmarks for a Guild 11th year thing.
I had meant to just do something simple and fun and quick.
It didn't happen that way.
I seriously put too much time into this.

I just meant to do a lil bookmark and it sort of got out of control.
So, now there are two map versions and 10 bookmarks.
You can see all that stuff over here on the
Cartographers Guild
There's a really cool dark version that I will post here later.
I actually started the map with the intention to cut it into 5 bookmarks.
Then as it progressed, I realized I wanted to make a real map out of it.
The name is a funny twist that Chashio

suggested.
The scan was pic206 and I had no name yet for this region, as I normally do.
She thought pic206 sounded like some alien species doing a fly-over just recording world data on some off-world survey.
So I went with the name under the thought that this was just a snapshot form a global survey probe...
one with nice hand rendering techniques. Cus.. aliens can do all sorts of cool stuff, right?
Other bits....

Sooo detailed. I'm in awe.
Reply

Looks like sometime in the past this place was worked over by glaciers.
Reply

Oh wow, I like the details of the grassy mountains. Good job.
Reply

Reply

Reply

Nice one as allways

Maps give me allways the feeling that this places could really exist.
Also it makes it easier to imagine such lands and worlds.
Reply

Please, please, give us more in this style ! And please, please, please, I need prints

On a little less fanboy note, you inspired me for a new bookmark

... yeah, not so less fanboy
Reply

I am actually trying to work out some prints right at the moment.
I had gotten some posters made of Haerlech, but the print company has messed the first order, and then also the replacement order.
They are unsellable as they are. Which is sad. 20 large posters that are just no where near clear and sharp in focus.

But, once I work out a decent printer I can work with, I may have some prints available.
But, I have no idea when that will be.
Reply