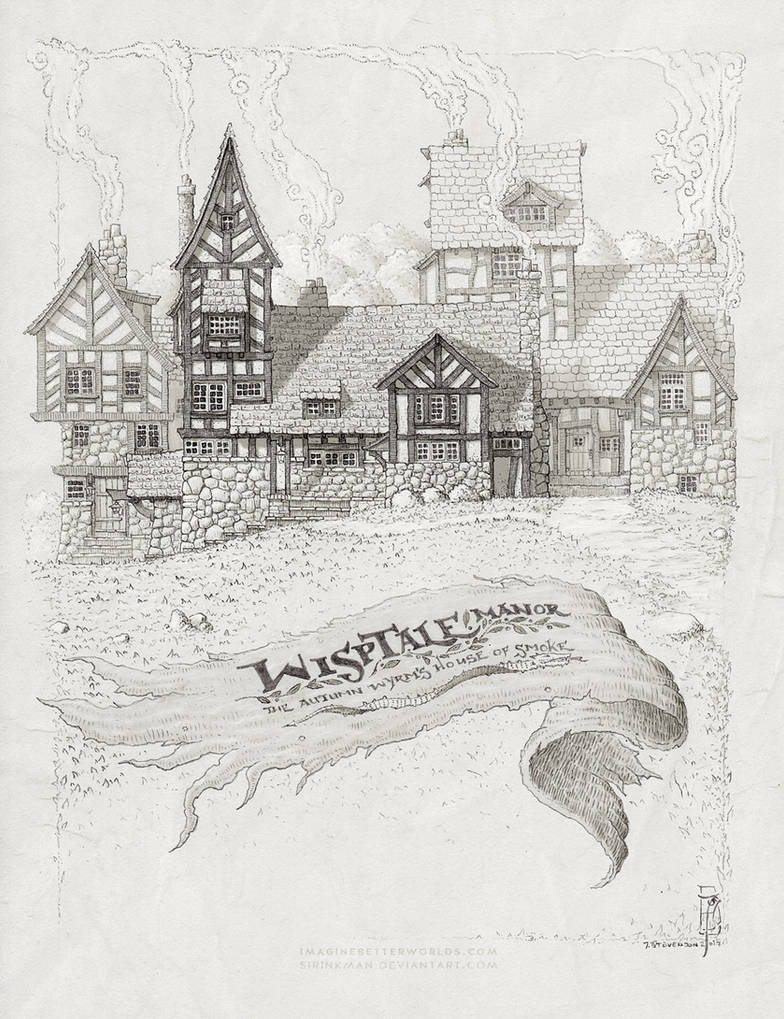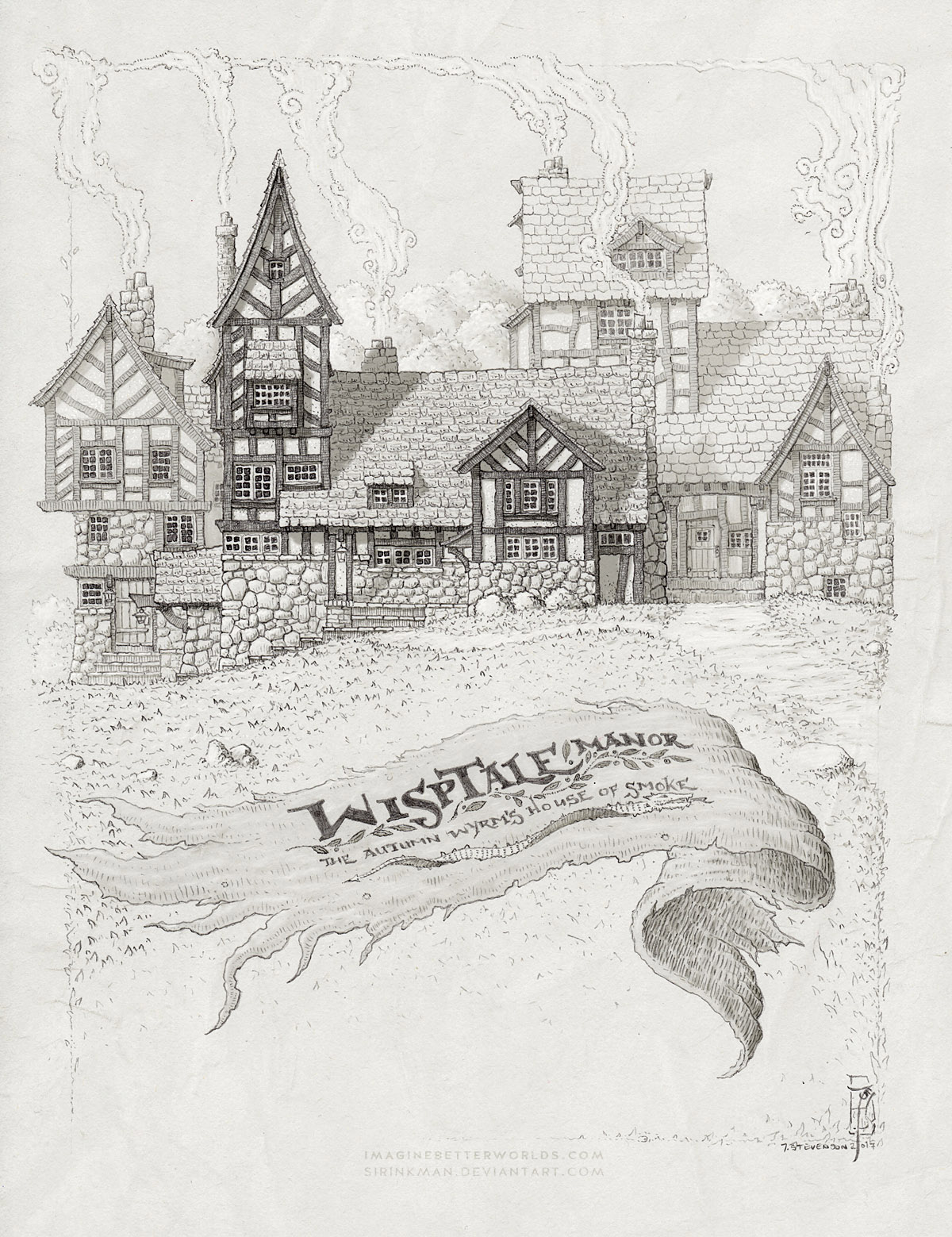 Watch
pencil on Neenah paper, scanned and tweaked digitally in PS
This is an odd piece. It is at once old and new. It is a total redraw of an older piece done back in 2007 but contains much that is new. It came about because I missed posting on Monday because I wanted to show something that wasn't done yet. So, why not start a whole new piece. Sure.
And then it began to take on a new life and connection to the other new piece, which is a map of the Nightswane region. That map is already drawn and scanned but I'm not sure how I am going to render it. It might have a nice old antique version and then a color version. Of course, so might this one. A color version of WispTale Manor might be nice.
Anyways, here's a bit of backstory that goes along with the House. Enjoy.

WispTale Manor
In the rugged land north of the old ruined city of Heve lies a rolling valley on the very fingertip of enchantment. The Volnarnd, or Vale of Smoke, rests in the mountains on the edge of Gorse. Not yet a part of the Shadow Vale, it does bare traces of that twilight energy.
Down at the mouth of the vale sits the lively town of Ninigrag, on the serpentine, wandering river Hvuln. Known for full bodied brews and spicy concoctions, Ninigrag is a mellow town, even for all its lively and boisterous activity.
If you take the forest road north out of town, you will eventually pass the one-time estate of Thurlis Marn who was, of old, a lord of Gorse but who died of grave injuries incurred on a hunt long ago. The object of that hunt was never spied or caught, save for Lord Marn himself, though it is believed to be the source of Marn's fatal injuries.
Thurlis, having no wife and as such no legitimate progeny, had no heir apparent to take over the grand estate and so it fell to delinquency and disrepair for a time.
Then one crisp cool day that all changed.
The home was claimed and repairs begun. None had seen the Manor's new Lord nor was aught known but scanty whispers, half-heard and ill-informed, if not, indeed, ill-conceived. The new Lord was not one for public scrutiny and lived a splendid and reclusive life within the arms of the Manor's reach.
The name, as well, changed, though it was not spoken to the public at large and was long a mystery known only to the grass and wind. Yet, on a legal scroll in the basement archives of the Town Hall under lock and key held by the Shreve of Ninigrag is scrawled the lawful name of WispTale Manor, the Autumn Wyrm's House of Smoke and rightful home of Szilhnar of Nightswane.
Look out for the map of Nightswane, coming soon. Possibly next week.
Other bits....