Jul 24 2016
My dear followers, you are already in the best place to watch my art

But if you needed more or preferred other services I just made a FB fanpage, here it is:
:bademoticon:
www.facebook.com/sirielleart/
deviantART is still my favorite place to publish artworks

Also the best place to see details, given image quality at FB.
Though I posted some images with details at Instagram, which have never been posted here

I'll re-post it with time.
Jul 4 2016
::: Instagram and Redbubble :::


If your'e into seeing sketches, WIPs, details and random who knows what

with my art - follow me at Instagram:
www.instagram.com/sirielleart/
Photos happen, too. Some of it gets published at dA, some don't. Also I post at Instagram randomly.

Also I have added more images and products at Redbuble:
www.redbubble.com/people/sirie…
Check it, especially if you have considered a print of my artwork with fire or ice - metallic paper works best for this and you'll get it at Redbubble

One of t-shirts examples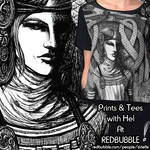 .