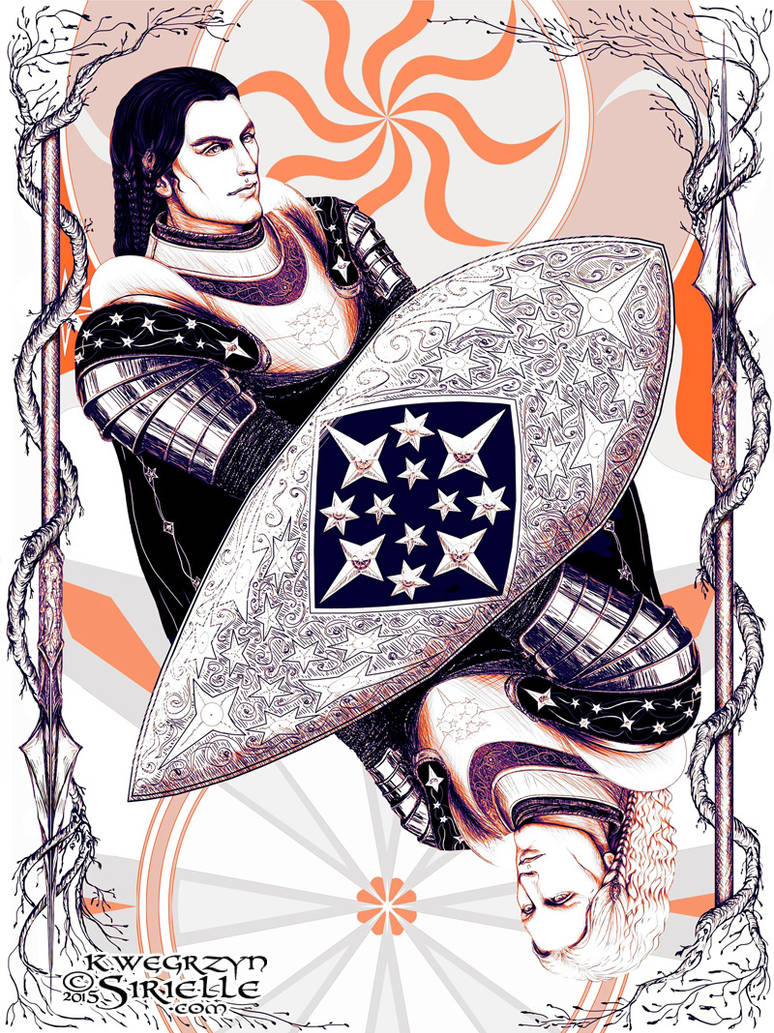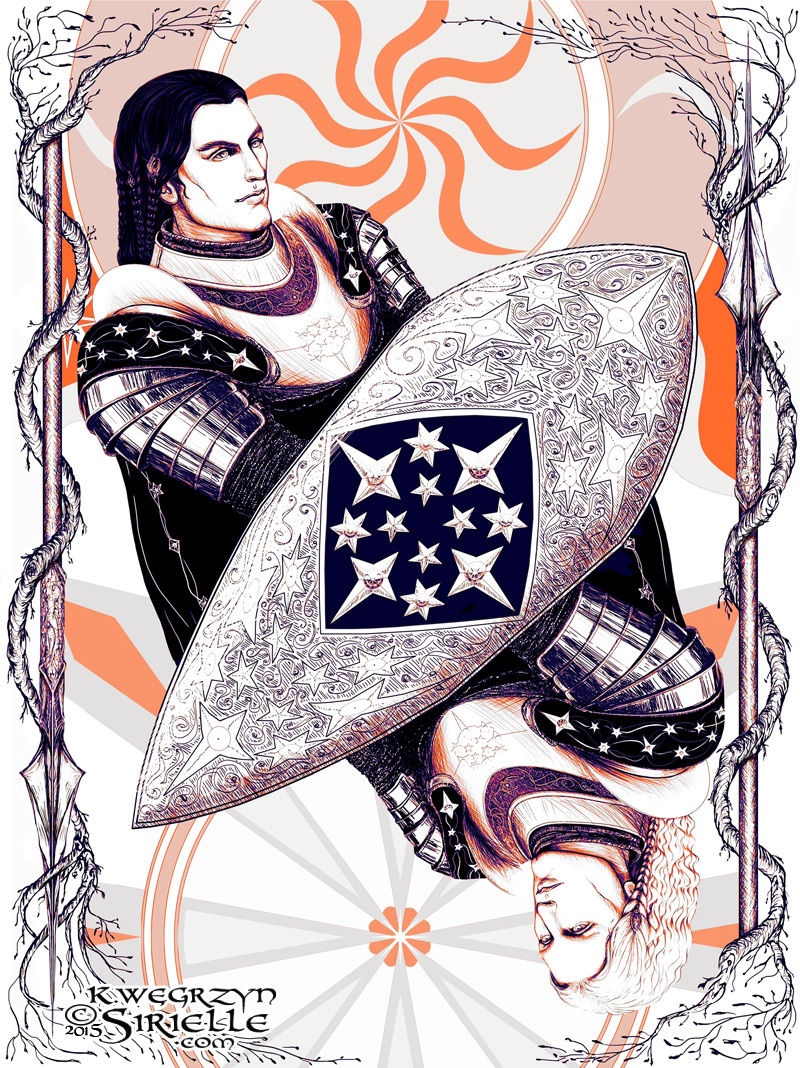 Watch
Ereinion Gil-galad,
the sixth and last
High King of the Noldor
.
While
in the published
"Silmarillion"
he is the son of Fingon, JRRT's latest idea was to make him the son of Orodreth. Illustration to a polemic about his parentage in the jubilee 20th issue of the almanac
"Aiglos"
(Polish language issue), with the son of Fingon at the top and the son of Orodreth mirrored in the bottom. Base for this was a mirrored image, colour added with filters in Photoshop. Done in Painter & Photoshop.
Ereinion
means "Scion of Kings" thus the title, a words play between the
epessë
and the complicated parentage. By the way I recommend Tehta's humorous story which inspired me to make a double-portrait of the "son kings", not just a portrait of one parentage variation and also to give such title -
The Scion of Kings
by
Tehta
Art prints at RedBubble
www.redbubble.com/people/sirie…

Follow me at Facebook!
www.facebook.com/sirielleart/

Original in b&w:

and his possible father
.
Gil-galad as son of Orodreth:


Gil-Galad Fingonicz jednak fajniejsza wersja jak dla mnie

Reply

I love this detail! Magnetism!

Reply

Reply

Ten wariant imo najlepszy!

I podobają mi się detale - ornamenty.

Reply

Really beautiful work, my friend, depicting what Erenion -- both (a) and (b) -- ought, and might, and indeed as I think
should
look like! I always come to think of him as dark-haired personally, even if he was ultimately of the Third House; I guess since I always went by the original published
Silm.
Still, it's not completely implausible that he'd remain dark-haired if his mother happened to be also. In any case, I love his contemplative look here. He really looks like a figure here to connect the FA to the TA, if that makes sense. I also very much love the elaborate design of his shield, which is both faithful to Tolkien's design and yet also exhibits some incredibly beautiful flourishes of your own. Wonderful

Reply

Thank you so much Peet!

I also see him dark haired in my mind and I think of the both of my portraits I like better the dark haired, though at times cannot decide and switch to the blond one

I also believe he could be dark haired after Orodreth and the Sindarin mother, who probably was dark haired as most of her kin. I gave the son of Orodreth golden hair to stress the difference, but he could be dark or blond haired depending on personal interpretation

I'm glad you like the shield ornament. I didn't want to leve it clean and thought of such "engravings" with "
the countless stars of heaven's field (...)
mirrored in his silver shield". Though now that I look at it I have forgotten to finish the gems in the stylized stars

Oops! Or I saved it without a layer where I drew them? No idea!
Gems/crystals should be there, as on his emblem in the center. M
aybe I'll add it one day. Or leave it as it is, since it has been printed this way.
Reply

great idea. i love the composition and all the details and the colors.
Reply

Thank you

Although the colours are thanks to gradient layer in Photoshop I have changed them from the original settings.
Reply

it doesn't matter that a machine did the work (that's what machines are for), yours was the idea to use certain colors in a certain way and it turn out great
Reply

very good depiction of one of my favorite characters!
Reply