Old work from October 14, 2015.
Re-edited with changes.
Original version uploaded to my old account: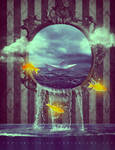 This time a surreal piece I made a long time ago (I think the only surreal work I've ever made). I had to work a little more on this one as the original had a lot of mistakes. More work should be done but I didn't want to change the main things in the image to mantain it's vibe. I personally like it because for me it represents the need and desire to go out of our frames, our reality, back into our dreams and fantasies in order to regain tranquility and inner peace, reconnecting with our inner world in this sometimes shallow society. What does it represent for you?

Credits:
Goldfish
-
artistengg
Texture
-
AsunderStock
Frame
-
1989juni
Background
-
darkrose42-stock
Water
-
Tigers-stock
Water Brushes
-
redheadstock
Paper Boat
-
SStocker
.You may not change, modify or reproduce my art without my permission.
©
SireneArcana
Follow me on
www.instagram.com/sirenearcana…
Image details
Image size
2022x2620px 5.65 MB