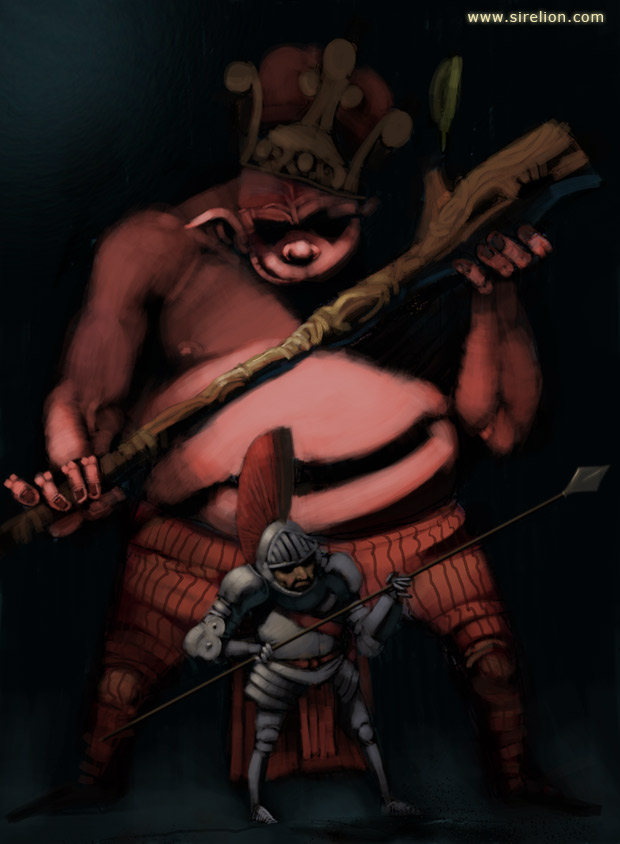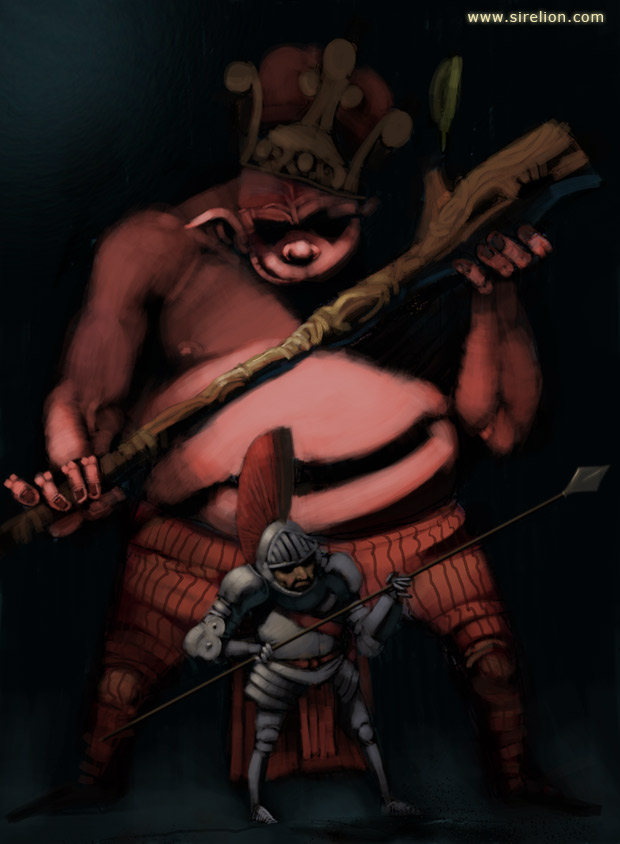 Watch
Las pruebas de 4 reyes de la baraja. Popolón el herrero, antaño el tonto del pueblo. Quiso demostrar su valor partiendo lejos de su hogar para superar las 4 pruebas y conseguir la corona. Sufrió inumerables horrores en los bosques gemelos, derrotó demonios con su porra, eliminó lobos hasta lograr su objetivo. Popolón, rey de bastos se transformaría en un ser grotesco cuyo único motivo de existencia se basaría en la destrucción y el sufrimiento.
Personaje solitario y huraño, existe a solas sin ningún tipo de séquito; aplasta toda forma de vida que respira a su alrededor. Se alimenta de lugareños, lobos, zombies, caballeros extranjeros o incluso brujas. Boceto a Painter.

---------------------------


The tests of 4 kings of the deck. Popolón the blacksmith, long ago the idiot of the town. It wanted to demonstrate his value starting off far from his home to surpass the 4 tests and to obtain the crown. It underwent inumerables horrors in the twin forests, it defeated demons with his club, it eliminated wolves until obtaining his objective. Popolón, king of coarse would be transformed into a monstrous being whose only reason for existence would be based on the destruction and the suffering.
Solitary personage, exists solo without no type of company; he squashes all form of life that breathes around to his. He feeds himself on foreign villagers, wolves, zombies, horsemen or even witches. Sketch to Painter.

woo esta increible esta ilustracion

que buen uso del claroscuro...muy bisley ese uso del negro
Reply

gracias tio!,, esto es Painter (realmente un boceto),,, para esta serie iba a utilizar exclusivamente painter, pero al final me he decantado por los medios tradicionales,,, ya subiré muestras
Reply

EXCELENTE ME HACE ACORDAR EN ALGO AL GHOST AND GOBLINS ( UN JUEGO)
Reply

ey,,gracias! realmente esta ilustración pertenece a un cuento largo que engloba iconos que me marcaron en la infancia,, entre ellos el ghost and goblins,,, y el hecho de que lo hayas apreciado me llena de alegría, porque esa era la idea,, gracias!

Reply

Cool gallery. Love the dark look to it.
Reply

tio mencanta tu estilo... de verdad es muy personal y transmite un guevo... me llegan un monton tus ilustraciones...
jejjej de guays!!

Reply

Reply

si, estos dibujos forman parte de un proyecto: "Las pruebas de 4 reyes de la baraja". Ya iré contando más

Reply

Otra vez.. menuda pasada jajajaja voy a ser tu fan xD (parezco ya una lameculos)

Intenta mejorar los metales, te salen un poco plan plastelina.. y la mano izquierda del ogro, tb se la arreglaría un poco.. Todo lo demás lo veo muy decente y los fallos no son destacables xD

Por cierto, ¿todos estos dibujos tienen que ver con algún proyecto tuyo o alguna historia?

Besos
Reply

ey!,,, gracias!,
He pensado mucho en lo que me decías de las texturas, de hecho cuando pintaba la porra pensaba en el comentario sobre la textura de las alas del demonio que me dijiste,, al final lo lograré

Si,, es que aunque el dibujo sea detallado, después en el proceso de coloreado dejo de ver muchas lineas de referencia y acabo pintando casi a ojo, y las manos y en general detallitos más minuciosos acaban perdiendo calidad,,,
gracias de nuevo, un abrazo!
Reply

Reply