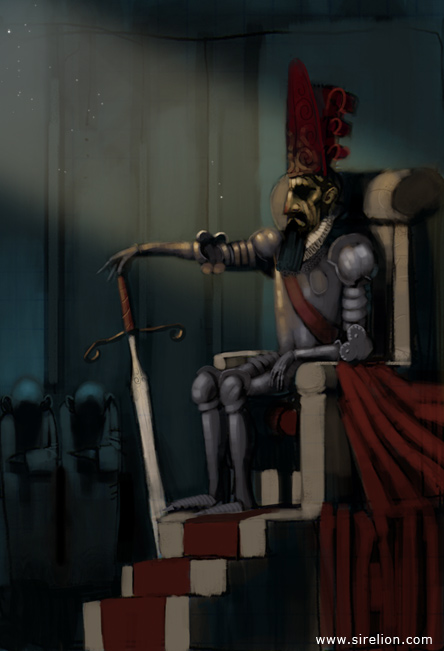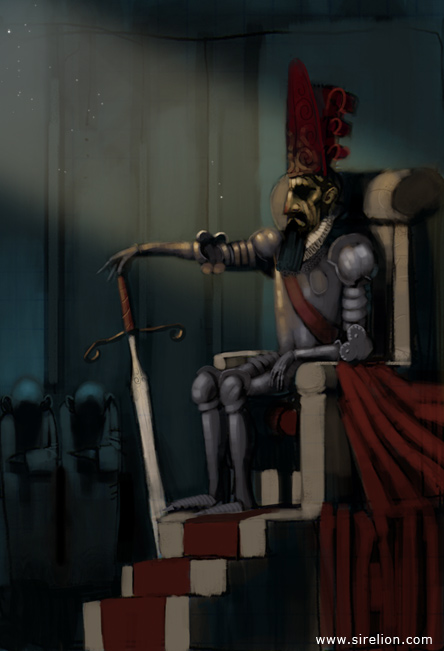 Watch
Las pruebas de 4 reyes de la baraja. Macirás, hombre débil y mezquino, artesano errante. Años de nómada malvendiendo su trabajo por las villas que encontraba, durmiendo bajo las estrellas, robando si le era preciso, linchado y desterrado de un pueblo por cada tres debido a su bajo trato y lugubridad.
El odio de este artesano frustrado fue la motivación que le guió a emprender el camino a las pruebas. Debido a su escasa fortaleza física, Macirás fué el futuro rey que más sufrió para conseguir su corona; fue mutilado, quemado y torturado en su viaje, muriendo de gangrena mórbida tras concluir. Pero su propia ira y sentimiento de crueldad, sumado al poder bizarro de la corona le devolvieron la vida bajo la existencia en forma de espectro.
Incapacitado para la creación, transformó su reino en un valle de silencio, donde reina la oscuridad día y noche, poblada por zombies, enanos, demonios vagabundos y espectros. Boceto a painter.

---------------------

The tests of 4 kings of the deck. Macirás, weak and stingy man, nomadic craftsman. Years of nomad selling at a loss its work by the villas that found, sleeping under stars, robbing if it were precise to him, lynched and exiled of a town by each three due to his under treatment and lugubridad.
The hatred of this frustrated craftsman was the motivation that guided to him to undertake the way to the tests. Due to its little physical strength, Macirás fué the future king who suffered more to obtain his crown; it was mutilated, burned and tortured in his trip, dying of gangrene mórbida after concluding. But their own wrath and feeling of cruelty, added to the gallant power of the crown gave back the life to him under the existence in phantom form.
Incapacitated for the creation, it transformed his kingdom into a silence valley, where it reigns the dark day and night, populated by vagabond zombies, dwarves, demons and phantoms. Sketch to painter.
im loving your style

very creative
Reply

tienes un estilo muy peculiar tio....tienen como atmosfera....no se como expresarlo
Reply

tio me ha encantado ver esta ilustración guiada por el texto... en serio por separado son buenissimas las dos cosas pero juntas las hacen supremas... es la caña....

kuidate y sigui asi!
Reply

Muy guapo todo lo que estás haciendo últimamente tio, me gusta mucho el personaje y la textura que le has dado al fondo.
Reply