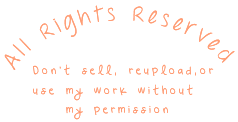 ---
---

---
---

✿ REQUESTS ✿

requests are really heavily based on how i feel at the time, so i might offer different things to different people. remember, i'm doing these for free, so please don't rush me or get angry that I wasn't up to doing your request.
i usually won't do multiple characters in one drawing or fullbody drawings. (unless i tell you otherwise)
please be clear in exactly what you want when you ask for a collaboration, request, trade, or commission, and include references if you want me to draw a specific character. if i'm not sure what you're asking me for, i'll be more likely to decline or you might not get what you wanted.

commissions take priority over requests.

limit is one request per person!
---
---

✿ COMMISSIONS ✿

prices can vary depending on what you want me to draw, but a general guideline to pricing is -

colored + shaded art =

700


colored unshaded art =

500


colored unshaded sketch =

200


colored + shaded icon =

100 (+50 for animation)
All commission prices besides icons and sketches are +100 per extra character
✿
i will not draw anything r18.
✿
send me a note to ask for a commission!
if you're not sure about pricing or content, feel free to send me a note asking about it!

DO NOT send me commission payment before i agree to do your commission. your points will be considered a donation and WILL NOT be refunded, even if i don't agree to do your commission.
---
---


nothing right now!
---
---