Hello guys!

I'm still collecting all works involving Yaroslav and Sif. Please keep in mind that English isn't my native language. But I will try my best to develop their story.
Also, huge thanks to my best friend and co-author


We combined our worlds and created a new exciting story!
Self-advertising stamps!





About Yaroslav:
:
Yaroslav is one of the four ancient gods who once took a part in creating a world, where Taho rules for now.
Yar is responsible for the destruction of worlds, which are listed as 'finished their life'. He is often assists at the wars and cataclysms, which foreshadow the destruction of worlds. His has stealthy and quiet character, he is silent and rarely seen in anger.
He has no magic as such, excluding congenital peculiarities - his presence has a detrimental effect on every creature. All who are close to him die sooner or later. Therefore, Yaroslav lives alone and the other gods are not eager to communicate with him.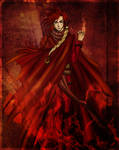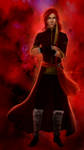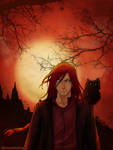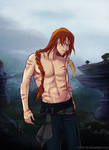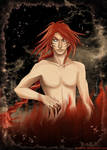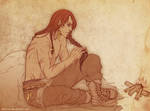 Once he tried to learn magic, but only two lessons were given to him - the ability to move through space quickly and the ability to transform into a white tiger. Therefore Yaroslav started do science and craft, he can do almost everything with his hands, himself (besides no one agrees to have affairs with the god of destruction, so that even the simplest things he has to do manually). Most of all he enjoys blacksmithing, weapon forged by Yar, is famous as the most lethal.
He does not stay in one place and travels constantly. There is one lonely place where he returns to rest occasionally. A small piece of a dead world, the one where he destroys the aura of barely shows itself. This place is a small valley, where his house is surrounded by forest It's hidden and closed place for all there and only Yaroslav can find the way to it.
As you can see, Yaroslav is lonely because of his nature. Many years ago he did not abandon attempts to find someone who could share a life with him, but all searches ended tragically.

About Sif:
:
Sif is a daughter of archangel Azazel(Kitana) and demon of time Mephistos. She inherited her father's ability to walk through the time. Her initiation should take place when she was supposed to become a woman. Being a child she met Lis and felt in love with him so deeply that she always dreamed of becoming his wife. Unfortunately for her Eva was first woman in Lis's life.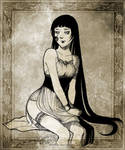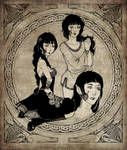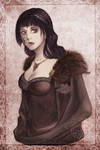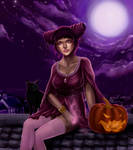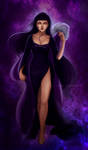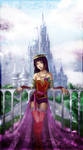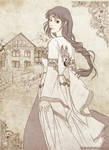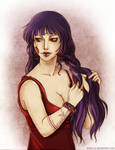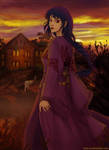 Sif was very persistent but in same time she was upset about her fail with her feelings to Lis.
Ambitious girl went to Taho's world to take a look at man who 'stole' her beloved sister Misteria. Taho has a fun to see how she pissed off by her sister's relations with this 'awful, disgusting, impudent god!'
After her long stay in his castle she started feel some sympathy to him and it scared her so much. She run to Lis in tears and told him that she loves him and want to be only with him… but he could not return her feelings because he was married. Poor girl. Anyway she wanted Lis to become her first man… like a biggest gift he could give her.
After she returned to Taho's castle and accepted his work offer to become his personal witch. She received her own luxury laboratory and many adepts.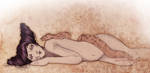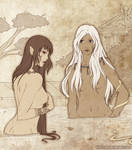 But what the hell Taho was busy too, he could play with his little witch but returned to Misteria every time. Sif wasn't satisfied to be only a Taho's lover and she started to search for her own man who can become her husband.
And she met young angel and prophet Sefer. Demon and angel what could be more senseless? This relations initially were unsuccessful idea. It was long and painful romance. And it ended with Sefer death.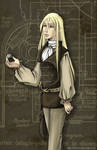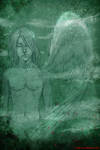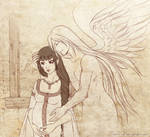 How did they met?
One day, Yaroslav came to Taho, who needed a weapon in the coming battle. In that period Misteria went everywhere where Taho was, and so she was first introduced to the Yar.
After she saw him again, at a time when she was overwhelmed with doubts about the chosen path. And Yaroslav invited her to travel with him. Misteria accepted his invitation and was gone with him being pregnant (if only Yar knew it, he would never make that proposal). That same night, Mist was on the verge of death, and her baby could die. God called the best healer, but even this did not help.
Misteria and her child were saved by her powerful grandfather Lucifer. And Yaroslav renouncing to deal with people again. After some time, Misteria wrote a letter to Yar and handed it to her sister Sif warning her to afraid to stay close to the dangerous god. But Sif didn't listen her older sister. When she saw Yaroslav first time he was very calm, unemotional and he didn't pay her any attention. Sif was very curious about him from first sight.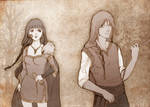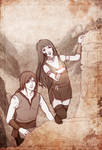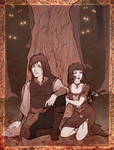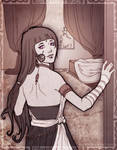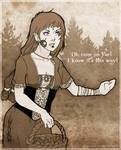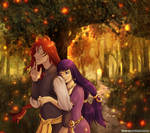 And Yaroslav noticed that his destructive aura doesn't effect much on Sif... so he made cunning girl to stay with him even briefly. And Sif was not against it. She took the idea to seduce this unapproachable handsome god... But Yaroslav set the condition that his woman should belong only to him, and if Sif wants to be near, she should forget about any other men.
Surprisingly, very passionate and amorous Sif agreed. It was like a interesting bet for her. She broke up with her lovers and become faithful to Yaroslav.
She was the only one who could stay with him and give him joy, and Yaroslav surrounded her with love and care. He brought Sif to his house and met all her wishes, revealing another side of his character, for her sake he was willing to do anything.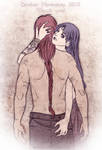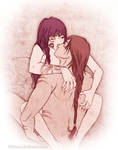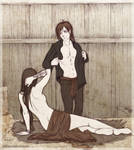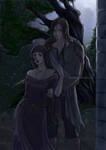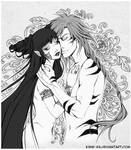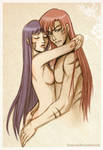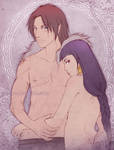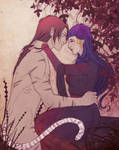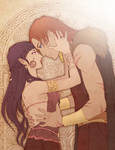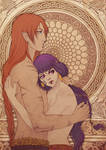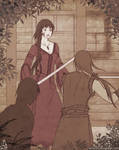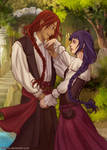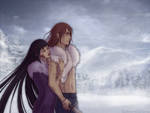 After many years Yar make a proposal to Sif. And she accepted it happily! Their marriage was in Yar's world which became Sif's home too. They had no luxuriant ceremony, just they two.
When Sif became pregnant, Yaroslav called gods, and they imposed a spell on his house. Now entering in he loses his power, becoming similar to the average person. Thus their children were born without the danger of falling under the destructive influence of their father.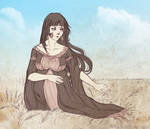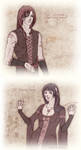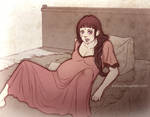 Since then all the family lived happily, Yar absented only at his work. But Sif had to interrupt her career Taho's of witch for the sake of her little children. Now they are parents of three sons.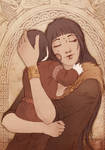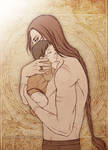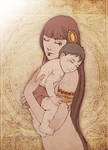 Comic about Yaroslav and Sif ->
sionra.deviantart.com/gallery/…
:
Adoptions: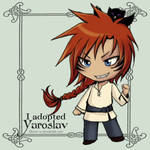 :thumb167884994:

Fanart by other artists: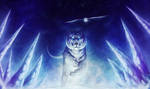 :thumb174199991::thumb155465480:
:thumb172017988: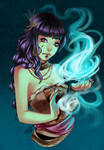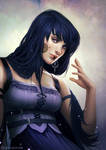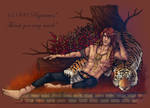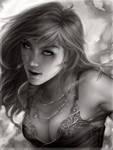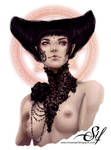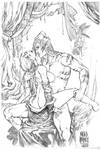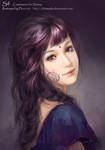 Ta-dah, that's not all but I hope I will add some more story soon ^^

Русская версия текста здесь ->
www.diary.ru/~Sion-Kimirra-Art…

Commissions
-
info >>>

Next kiriban
-
???'??? pv

Tumblr
-
here>>>

Formspring.me
-
here >>>

Livestream
-
here>>>

My photo account
-
here>>>

Fox U fanart
-
here >>>

Sketchbook 'Fox U'
-
info >>>

Prints
-
info >>>

'Fox U' Character sheets
-
sionra.deviantart.com/gallery/…
-
kimir-ra.deviantart.com/galler…

'OUT' comics
-
sionra.deviantart.com/gallery/…