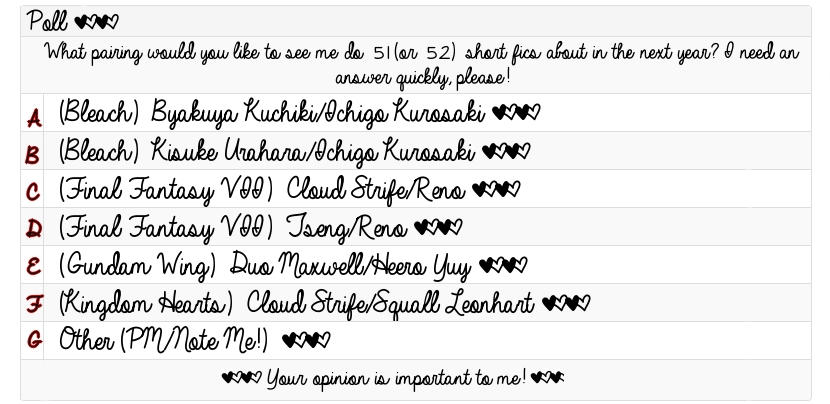 No, this is never getting posted as art. This is me, being a desperate no talent hack, alright? lol
Yep. It's an all-important question, since I'll be posting these in three or four different places when I get started!
If you really want to cheat, you can also vote for this on
my Fanfiction.net profile
or
my blog entry
... That way, you could vote more than once, I guess...?
Anyway!
Answer A-G in the comments! If your answer is G, please just add your idea in your comment....

I do need an answer quickly, so get your votes in soon!
Poll will close at the end of the week (AUGUST 31st)!
EDIT 09/01/2013:
Thank you to all who voted! The poll is officially closed as of September 1st!
Unfortunately, I have a three-way tie across the board. The first person to comment or note to select one of the three will decide what I write!</h3>
And the three are:
~Kisuke Urahara/Ichigo Kurosaki [Bleach]
~Cloud Strife/Squall Leonhart [Kingdom Hearts]
~Tseng/Reno [Final Fantasy VII]
Happy Voting!
The image is my modification of the template image FF.net uses for polls. I thought I'd get a few more results with it posted here, but I forgot to change what "G" said...



Thank you for giving me your opinion!

This is one of the pairings I was really leaning towards, so I'm glad to see it get a vote!

Thank you for voting! Looks like, across the board (with my three separate posts) Tseng/Reno is the favorite~