Art History Week
Have you ever wondered why every baby is creepy-looking in Medieval art?
That's one creepy baby you've got there, lady...
It's not just one artist in one place painting children as if they are going into their fourth decade of life fighting tooth and nail either. It's a pandemic of ugly-looking babies held by morose-looking mothers. Her face is almost always inexplicably sad. It is almost as if she's secretly asking herself "Where have I gone wrong?" in every single painting. Was it simply a case of people being bad at painting everywhere? Or was there a secret plague that deformed every single baby across the continent during those dark, dark ages?
The Utility of Symbolism
It's hard to take our eyes away from the bizarre babies, but if one take a closer look at these paintings, one thing jumps out to the fore. These are all religious paintings. That's no ordinary creepy-looking baby and the woman holding him isn't just a sad-looking mother. These scenes are all depicting a certain sad mother holding her very special child: The Virgin Mary and baby Jesus.
A culture's ideas and concept of what they see in front of them will dictate what they put down on paper.
During the Medieval period, paintings weren't just pieces of art; they were a means to convey ideas and to tell stories.
Most of the population during these days were illiterate, after all. They depend on the Church-issued iconography and symbolism to make sense of the world around them. Realism, therefore, was not an essential element in painting during the Medieval period. Expressionism was the artistic convention of the time for its usefulness. The artists themselves would have followed that convention both for their own sense of prestige but also for conformity. During the Dark Ages, only religious bodies have the power and money to commission artworks with very few exceptions. It was important for the artists to keep the
status quo
for good business (you really don't want to get on the bad side of the Church...) This meant that each one of these paintings are actually a kind of unified iconography that is meant to recount the Biblical stories and give the viewers a sense of awe and respect as expected by those who had commissioned them. This meant these man-babies were deliberately painted as "miniature old men" because they were meant to be respected as one would respect a fully-grown adult. A mean-looking, man-child adult.
What you are seeing is an allegory... of something...
The Invisible Hand of Pythagoras
The Greek philosopher Pythagoras didn't just come up with equations about triangles; he was the first person to come up with the idea that we will eventually call "Preformationism". It was a belief that was once very popular, and for a while it made a lot of sense - all things grow from miniature versions of themselves. When translated into people, this meant that
that humans existed as miniature versions of themselves inside the father and they needed the mother's womb as an incubation chamber to grow up to a certain size in order to be born.
Put in another way, we have all of the faculties and features that we would ever have before the moment we are born, wrinkles and all.
Fast forward to Medieval ages, the idea of preformationism was sanctioned by the Church and was deeply rooted in the popular conscience. This is also the reason why alchemists of this era were looking for ways to create a "homunculus", which is just a miniature version of a living, breathing human outside of the womb. (It also explains why the creation of such "artifacts" required blood and semen from the alchemist.) Indeed, when the human sperm was first put under the microscope by Antonie van Leeuwenhoek in 1677, he described seeing miniature humans crouched inside the head. The understanding was so wide-spread and well-understood that it wasn't until late 1800's that preformationism started to fall out of favour. Therefore, preformationism was taken as the "natural order of things" during the Dark Ages. And according to Professor Michael Averett, an art history professor at Creighton University who edited the anthology
The Early Modern Child in Art and History
: "There's the idea that Jesus was perfectly formed and unchanged. And if you combine that with Byzantine painting, it became a standard way to depict Jesus. In some of these images, it looks like he had male pattern baldness."
In the eyes of the artists, they were painting Jesus the way he
ought
to be seen. They thought they were painting the "real" version of him, so to speak. It's just too bad that their idea of baby Jesus is nothing short of horrifying.
Honestly... this is nightmare fuel...
Making Babies Beautiful Again
If there was a reason for these
les enfants terrible
, then how did we we come to painting babies that look like babies again?
The Renaissance eventually saw a more peaceful period in Europe
where there were fewer wars and more trade
. The cities grew up around the merchant class and the Churches were not the only property holders - both in material goods and intellectual property. This meant there was more knowledge transfer and exchange between different places as well. As a consequence, we as a society have started seeing our world and our children in a different light. Now that people are no longer living under the shadow of the Black Death, children are seen as innocent again. With the rise of the middle class, art was commissioned by lords and ladies and even rich merchants. Gone were the days where the Church's sanction dictated what you can or cannot draw. There was a trend towards breaking away from the old way of doing things during the Renaissance. A renewed interest in classicism where human bodies were depicted in a more naturalistic way crept back into the public consciousness, too. With more artists willing to try their hands on depicting what they see around them instead of what they were told to see around them, our babies became beautiful in paintings again.
"If we're thinking about children in a fundamentally different light, the painting will reflect the attitudes," Professor Averett says. "Style is chosen. We might look at medieval art and go, 'These people don't look right.' But if your goal is to look like Picasso and you make a realistic painting, they'd say you didn't do it right, either."
Comparing to the way it was...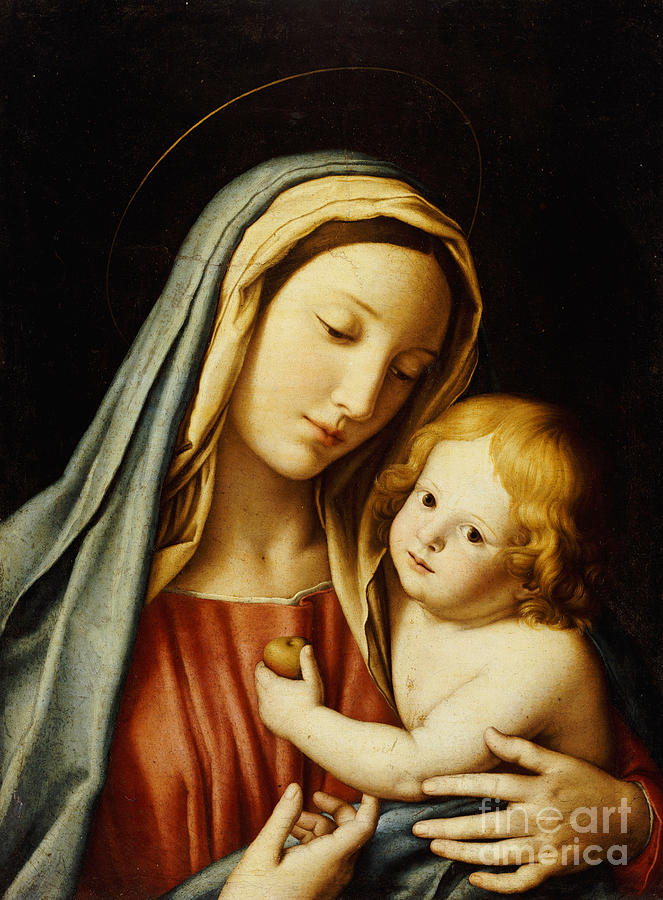 I am
so
glad we paint normal-looking babies now...
If "the paintings reflect our attitudes," have you noticed any recurrent themes in your own work?
Do you think your own work is more symbolic or naturalistic? Which do you prefer?
Have you encountered anything that's as inexplicable as these "ugly babies" that you have always wanted to ask about? Let us know!