Greetings.
I am not an articulate person. But I'll try.
Yours truly was born in 1981, Taipei, Taiwan.
Moved to Canada in 1993.
During the day, he's "Dextrose Phosphate": a recently-employed primary-care physician trying to look sharp while learning how to save lives. At night, he becomes "Sinistrose Phosphate": an amateurish busy-body who dreams of one day getting a hang at this "art" business.
... in my humble opinion, I need a lot of work on both sides...

More importantly... thanks a million for visiting my little proverbial hole in the wall (of the Internet). Stay a while, have some tea, leave a comment... maybe even start a conversation.
I'm not an articulate person, but I will most definitely try.
Current Residence: Ontario, Canada
Favourite genre of music: I will give anything a listen.
Operating System: Windows 10
MP3 player of choice: Windows Media Player
Shell of choice: ... Nautilus?
Wallpaper of choice: I don't have wallpaper, I have paint on the walls.

Skin of choice: My own, definitely. I'm born with it.
Personal Quote: "One apple a day... keeps me and my ilk away."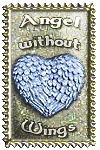 Proud to be inducted as an AWW in March, 2019
Favourite Visual Artist
It's impossible to pick a favourite. I have a soft spot for the Pre-Raphaelites and Deco artists. Andy Warhol and Salvador Dali are my perpetual muses. And I admire H.R. Giger and Bob Ross (yes, the guy who teaches you to paint "happy little trees".)
Favourite Movies
I'm fond of horror and suspense movies. I will watch them from all over the world. Other than that, I love epic adventure type of movies.
Favourite TV Shows
... I actually don't watch TV. I haven't owned one since 1999.
Favourite Bands / Musical Artists
I listen to a lot of classical music and classical cross-over. I sing in a choir! And I have learned the rudimentary beginnings on how to play the piano, the oboe and the violin. But I will give anything a listen, in any language.
Favourite Books
I read almost anything with the exception of romance. I read non-fiction about twice as fast as fiction. Unfortunately, I don't have a favourite book. My "To Read" list is too long for that!
Favourite Writers
See above answer.
Favourite Games
I used to be good at side-scrolling fighting games (like the old Street Fighter). I like RPGs and CCGs. Board games are still really, really fun, too. But I don't have a lot of time for games now.
Favourite Gaming Platform
Pen-Paper-People-Dice (for table-top RPGs, you can't beat that.)
Tools of the Trade
Pencils, pens, paper. Scalpels, stethoscopes and reflex hammers.
Other Interests
I'm a bit of a "Jack of All Trades" - I write (poetry and prose), I paint (acrylic) & I tinker (make things, fix things, break things...). I am learning how to knit, trying to learn a couple of new languages and somehow find time to sleep and eat.