Community Week - PLZ Accounts

Overview

Can you spot the difference between :thumb335661017: and

?
If you hover your mouse over it, you'll see that the first is a link to a deviation (fav.me/d5judp5), while the second is an icon for a special type of account called a PLZ account.
PLZ accounts are deviantART accounts made for the sole reason of being an emoticon. Anyone can make these accounts. (For more information on making PLZ accounts, see this previous Project Educate journal fav.me/d3jjwiv.) The deviant chooses an account name that represents the image he/she wishes to display, and usually adds the phrase 'PLZ' at the end, so other deviants are aware that that account exists to be an emote (in the example above, the account name is "gladlikeplz").
To use the PLZ account, you merely type in the account's name the same way you do for any other deviant when you wish to show their icon:
:icon(deviantname):
For our example, type:
:icongladlikeplz:
And, voila, we have

.
It's true we could use the thumb code for this one with identical results, but :icongladlikeplz: is so much easier to remember. Also, thumbs don't work in comments, while icons do.
If you ever see a PLZ account you like, and might want to use later, simply hover over it to learn its name.

Let's Get Fancy

PLZ accounts can be placed side-by-side, for added effect. They can be divider lines, like these:
Just repeat the pattern for however long you want your divider to be (or, in the case of the black divider, just :iconblackdivider5plz: ).
Or they can fill up a screen. Why have one bunny, when you can have a hundred or more?
Okay, enough of that.

Also, if deviantART's default font isn't snazzy enough for you, and italicizing or bolding just don't cut it, try PLZing it with these alphabet PLZ accounts:
If finding all the individual letters is a bit daunting, you can use a premade message like these:
Here are some useful status PLZ accounts: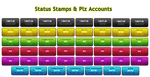 And I'm sure you've seen these (or something similar):


and


There's many, many options to choose from.

Finding PLZ Accounts

There's a lot of PLZ accounts out there. Thankfully, there's a lot of resources for tracking down just the right one for you. Here's a few of them to get you started.
Groups-
Addons-
Website-
Your Fellow Deviants-

has listed out numerous PLZ accounts in easy-to-understand lists.

is a great resourse for "la" icons.

has a huge number of PLZ icons displayed in his/her deviant ID.

has made a journal with a PLZ account list. fav.me/d3uth1f

is well known for her gorgeous and well-detailed emotes. Here is a list of her PLZ accounts: fav.me/d3kmr30
This is just a sampling of the resources to find the numerous PLZ accounts on deviantART. If you know of more, please feel free to share them in the comments.
PLZ accounts allow us to personalize and decorate our posts on deviantART in an easy and fun way. With the millions of creative deviants here, there's no end to the possiblities that we can create using these. Enjoy them and don't let those bunnies get out of hand!