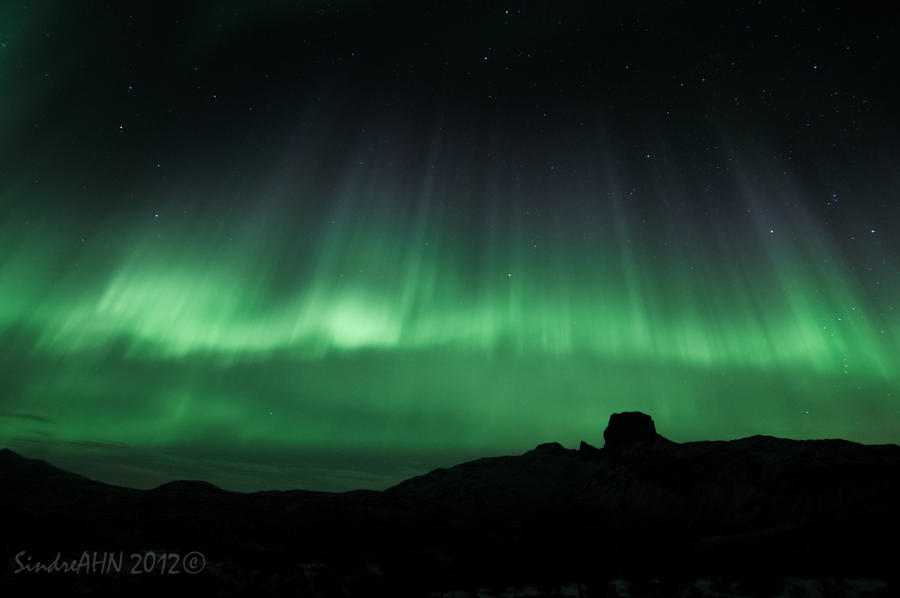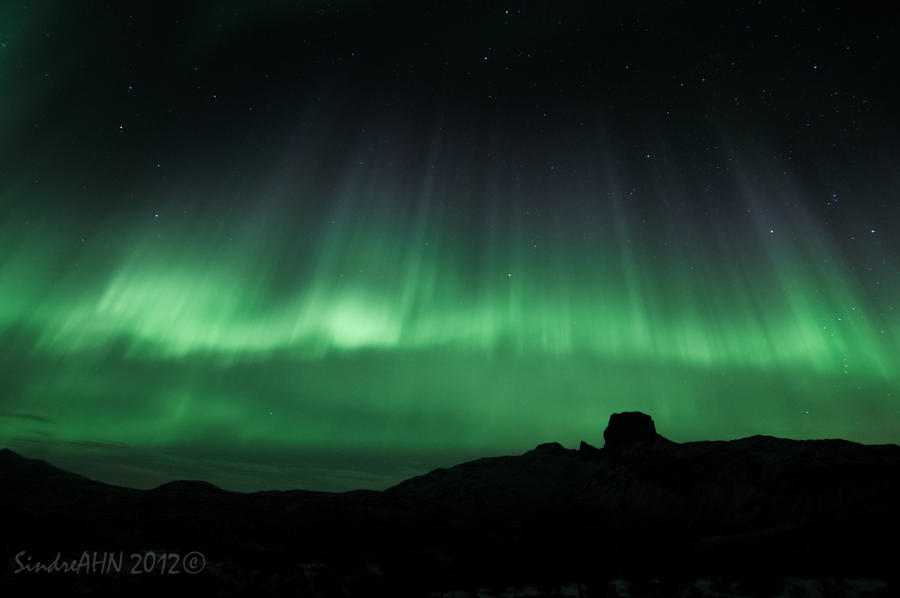 22/1-2012
Norway, Bodø, Mjelle

The Northern Lights of this night was awesome ! The snow and the wind the cold temperature, and sharing it with good friends !
My goal for this night was to get some of the Lights together with the peak, Steigtind, to the right in the picture. Steigtind is 793 MASL

At around 17:50PM at sunday i saw the first lines just above my home !
So i rushed out with my gear and got some shots of the this auroras !
At 19:29PM i drowe to a fortress just at the other side of our local harbour and started shooting pictures there !
So finally i`ve also got my first good shots of northern lights above my hometown

!
I was going to pick up a nice friend of me, she realy wanted to see this phenomen`s activity, light and colour ! She got a great night to see it !
Joining me and Gaute out for some hours of aurora chasing on Bodø`s northside.
When the clock was 22:51PM we had arrived to our new spot at Skarrvatnet when we found at our year`s first shoot :
[link]
When we first got there we saw some 4-5 lines with weak auroras and 1 of them quite active !
It was perfect conditions we had no moon, with a clear sky filled with stars !

15 Minutes later it was about to explode !
The weak lines looked like joining each others and growing in it`s activity !
It was a strong line which moved around up there, it had some columns and it was pulsating, so we knew there was going to be something ! At the same time a weak line started growing behind Steigtind, (the peak in the picture). It would have bin awesome if i could get a shot of vibrant auroras around Steigtind !

And so the activity picked up quite fast around 23:19PM the weak line suddenly changed and got more intense with giant columns stretching over the dark peak !
This change in activity was going to do my picture ! The auroras was so vibrant and moved so much that it got all wiped out with shutters above 10 seconds !
That weak line really was the sparkle to this amazing show we whitnessed

So capturing the movement and all the giant columns with the weak line`s sparkle in the background of Steigtind was really a success !

The show lasted to 00:09AM, i`ve shot some 132 pictures there

The Northern Lights got weaker around 00:53AM I was back home again around 03:00AM so it was a long night shoot ! We had -7*C with 8m/s wind so probably -13 to -16*C !
I will be submitting more pictures from this night !
I have picked 37 pictures of 415 from the night so i`m very happy with the shoot !
For more of my aurora pictures please see my folder :
[link]