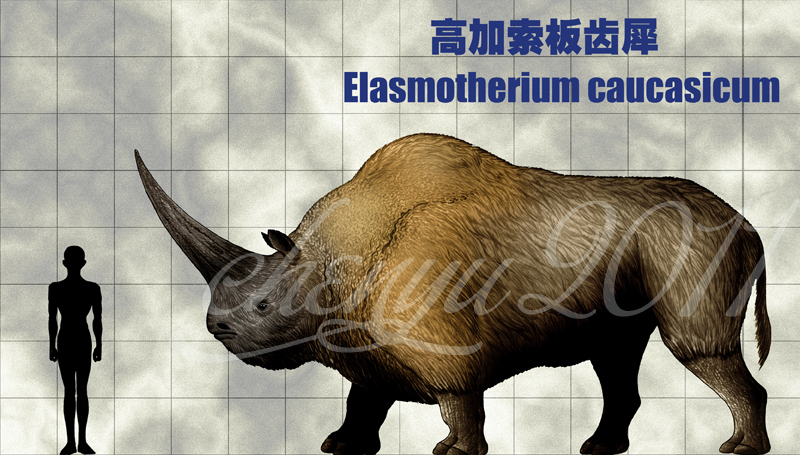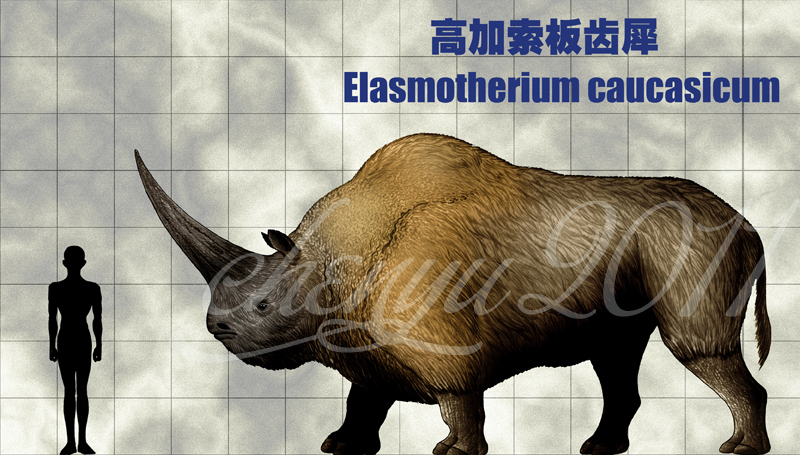 Watch
高加索板齿犀(Elasmotherium caucasicum)
Elasmotherium which stood, on average, 2.7 metres (8.9 ft) high and 6 metres (20 ft) long, with a single two-meter-long horn in the forehead. The animal may have weighed up to 7 tonnes (7.7 short tons). Its legs were longer than those of other rhinos and were designed for galloping, giving it a horse-like gait. It was probably a fast runner, in spite of its size. Its teeth were similar to those of horses, and it probably grazed low herbs

I remember falling in love with Elasmotherium after seeing it on Prehistoric Park (Though I believe that specimen was E. sibiricum rather than E. caucasicum) and this representation perfectly shows why. It is a stunning creature, from the rather unique horn to the delightful fur coat. It is simply magnificent.

I wish that we would focus on the revivification on this species rather than Woolly Mammoths, which would both both harder to control and harder to transfer to wherever the scientific community elects as suitable for them. I mean, just imagine going to Siberia and seeing a few of these walking around. Sadly, it probably will not happen and I will settle for mammoths, which let's face it is not a bad substitute.
Reply

I also like it very much

, I hope I can see it with my own eyes,this magical animals.


Reply

Reply

Is this species larger than E. sibiricum?
Thanks.
Reply

In the ordinary individuals, the E.caucasicum is big than the E.siibiricum.
Reply

Thank you for the info.
Do you have any scientific resource I can read?
Thanks again, I'm a great fan of your work.

Reply

I do have some, but mostly is also use Google scholar.
And a French writing monographs, but I don't remember the name.
if you are interested in, maybe you can search it on some Online bookstore.
In addition, I am so happy for you like my job.

Reply

Thank you, I'll do my research.
I liked your work for a very long time... I found it very elegant keep going

Reply
Reply

Very cool! I love prehistoric mammals and you nailed this one. Have you done a smilodon fatalis?
Reply

Nicely done....good job.
It was mentioned as 4 tonnes for Elasmotherium in Wiki.
Anyway...i want to know which extinct Rhino is equally heavy to the African Elephant.
Reply

I'm not quite sure, but I think the Sinotherium,Elasmotherium,Parelasmotherium,Ningxiatherium and other rhino can compare with the African elephant.For example:Chinese scholars calculation of Parelasmotherium weight is 6.7 to 8 tons,Ningxiatherium is 6 tons.

PS:I think Sinotherium and Elasmotherium's weight may be more.
Reply

I didnt heard about those names -- Sinotherium,Parelasmotherium,Ningxiatherium..Now i checked...None of those 3 species weight are mentioned.Ive seen before some days...there are some more similar rhino species.Its just confusing.And as for Elasmotherium, its weight was mentioned as 4 tonnes in some site.In another site it was 5 tonnes.I remember on one site it was mentioned as may be it was 7 tonnes.So i think Elasmotherium is the only rhino
species which could be comparable to African elephant.
Reply

Different scholars have different opinions, and their personal views may also results difference in the conclusions made. Hence it is reasonable, in fact common, to see discrepencies between different materials.
Reply

Reply