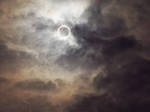 Just a small video on Youtube

金環日食 Annular Eclipse 2012-05-21
Solar eclipse of May 20, 2012 - Wikipedia, the free encyclopedia
---
05/21/2012 at about Japan Standard Time 7:40 AM
It was a interesting astronomy show!
I went to the park to see it,
there was a lot of the people with small astro scopes, cameras,
and "eclipse glasses" (protect eyes from strong sunlight).
When the sun and moon become like ring,
we were so glad with handclaps.

---
I took this video by old compact digital camera
with ND4 filter (reduce light entering to lens).
Wind sound is from iMovie's default resource.