Hey all! New updates were made to my profile directory that may be of interest to those who have purchased one:
Custom column layout: You can now make 3, 4, 5, etc. columns for the main buttons and fill your directory with buttons to your heart's content.
Long buttons: Within the column layout, you can pick specific buttons to fill the entire directory
Font Styling: Fonts can now be italic, bold, or letter-spaced
Google Fonts should now work in the preview, so you can see exactly how the fonts will appear on your page.
Basically, you can now make weird layouts like so:

Website:
Profile Directory Creator
On Deviantart: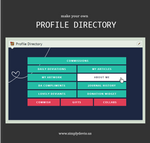 If you guys have any other suggestions, please send them my way! I know people have been asking about adding images to the buttons, and I'm currently working on that one. Any other suggestions, however, are most welcome.